Thursday Recap:
There should be some sort of a bounce the next day or so before the final leg lower. 
Friday:
The market traded in a sideways, choppy fashion, typically of a correction. Despite the positive close, the market only managed to close at yesterday's down opening SPY gap. Drilling down into the intraday charts, say a 15min or so, today's action was, again, not terribly bullish; the SPY closed near the highs of the day, but all the other secondary indexes closed well off the highs they established in the morning, the SPY threatened to break out several times but never really gained any traction and lacked follow through. Again, all typical of a correction rather than the start of a new rally leg. The 115 area, or a retest of the broken August-September trend line remains a logical target.
$SPX Hourly: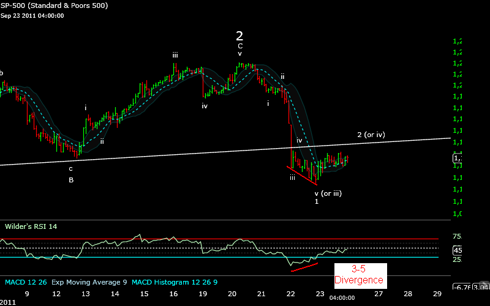 I'm thinking there is still more downside because the $NYMOT isn't as oversold as I am expecting it to get. The current move is typically proportional to the previous move, so a +2 stdev overbought event should followed by a sell off that moves the $NYMOT to he downside furhter. The 5 DMA has yet to reach -1 stdev.
$SPX / $NYMOT Daily: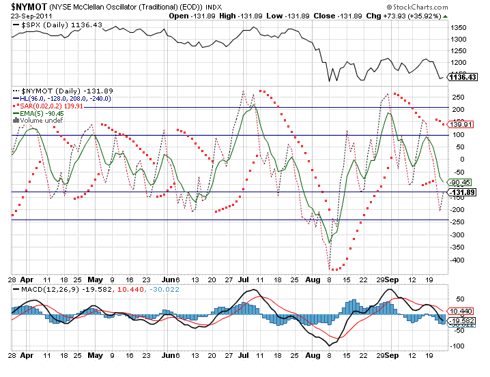 Summary:
There is likely more downside once this bounce is exhausted. The last push downwards will most likely move indicators to levels making the bull side interesting, and ironically coinciding with the majority declaring a bear market.

Traders:
Hold short, that said, the probability of further decline is lower, and the reward smaller, therefore: t
hose in my short SPY trade move stops down again to 117 on the remaining half.
 I would wait from more evidence of a bottom before attempting to play the long side in any sizable manner.
I am currently flat.
Investors:
Hopefully by now you are in a large cash position, with any stock investments in utilities, staples, etc. Again, a September close in the SPY below 120 will signal a new bear market. Once a bear market begins, there is typically a sizable rally following the first wave down. Most stock investors are fooled into thinking the worst is over, I would use that rally to exit all remain stock positions.
On a personal note, a friend passed of cancer this week and I will be attending the wake tonight. If you'll allow me a brief moment of reflection, time is a resource, perhaps the most precious resource we have. Spend it wisely; spend your time on meaningful endeavors important to you, and on the people who care enough to want to spend theirs on you.
Have a nice weekend, we'll talk again Monday,
-Bill L.