Monday Recap:
If this is a correction it should end immediately, further upside would
may
move me from neutral to the bullish side.

Tuesday:
Friday, many of the indicators I watch were oversold, and there was a break out on a hourly charts. The reason I did not take the long setup was the market just didn't get oversold enough for me to believe there was a bottom in. Yesterday's price action moved me into the neutral camp. Today, was another question mark. This morning the market surged
above
the Fibonacci 13, 21, and 34 day moving averages. By the closed, the market reversed and close
below
these moving averages.
Opening gaps are extremely difficult to play: they either run off without you, or they reverse in your face, and even if you do play the direction of the gap correctly, it's very difficult to set a good risk adjusted stop.
To add to the confusion, the McClellan Oscillator has yo-yo-ed almost back to overbought. The 5-DMA has still not yet reached the significant -1 stdev area, which to me would signal a reliable bottom.
$SPX / $NYMOT: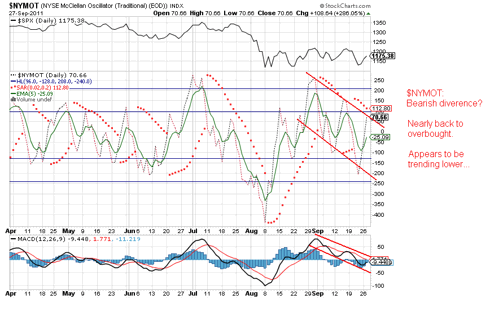 Summary:Traders:
While there is a bullish setup in play, it is not that attractive to me in terms of risk/reward. By the close, my volatility adjusted stop would be place around 115.30 in the SPY, or 2 points lower. I prefer a 3-1 risk reward, and 80% probability of success before I get really interested. Seeing as how there is an iron wall of resistance at 122 in the SPY, I would need a target of at least 123.50, which also happens to be the highs of the trading range we've been stuck in. Achieving that target just doesn't seem likely to me at this point.
If you're bullish, I think this is the best way to play it:
If the market drops tomorrow to the 116.00 area I will be buying because then the risk reward on the long side will be much better. Set your stops at an hourly close below 115.00 SPY.
If you're still leaning to the bearish side:
If it continues to drop and has an hourly close below the stop of 115.00, stop and reverse, betting on a break

of

the

lows.
I'll probably put on both trades tomorrow if we get down to the116 area. This way, on the long side I risk only a point , with the possibility of a 5 to 6 point return if we return to the highs. If my original assumption that we haven't bottomed yet turns out to be correct, we can still get some more on the short side.


Investors:
The market is really battling to close above/below the very important 120 mark in the SPY, which is the line in the sand for a confirmed bear market. Safety first.
Performance Screen Shot: 
In the interest of discloser, I've started using an old updown.com account; starting last month I've begun making nearly identical trades (compared to my own personal account). I'll update this maybe every Friday or so.

Next update tomorrow, where hopefully some clarity emerges,
-Bill L.