Wednesday Recap:
"Stay long SPY"
Thursday:
The good news: another good "risk on" day; stocks rose along with the Euro while the TLT, VXX and UUP all fell. A continuation of what we wanted to see yesterday.
The bad news: short term trading indicators have gone from oversold to overbought. Furthermore, in the last hour or so the higher beta transport index produced a small bearish divergence, failing to trend higher while the SPY did. Volume also fell as prices went higher. Tomorrow, it looks like the SPY is running right into the 50 day moving average, a technical level I'm sure traders will be watching as possible resistance.
SPY: Running into the 50 DMA, prices up, volume down.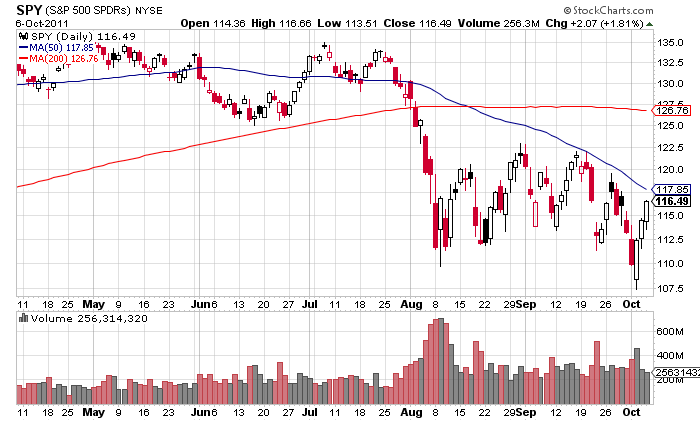 Trading Indicators:
SPY / Hourly Cycles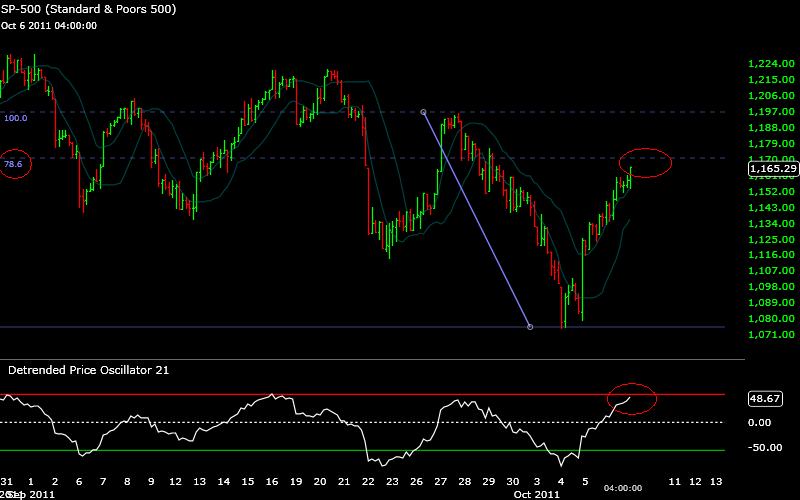 Notes: Cycle high as we approach Fibonacci "last stand" .786% resistance.
SPY / 3 DAY $TRIN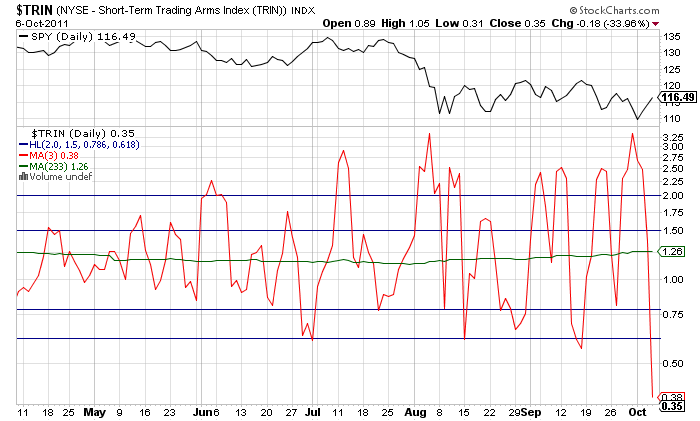 Notes: From very oversold, to one of the most overbought readings in recent memory.
SPY / 3 DAY $TICK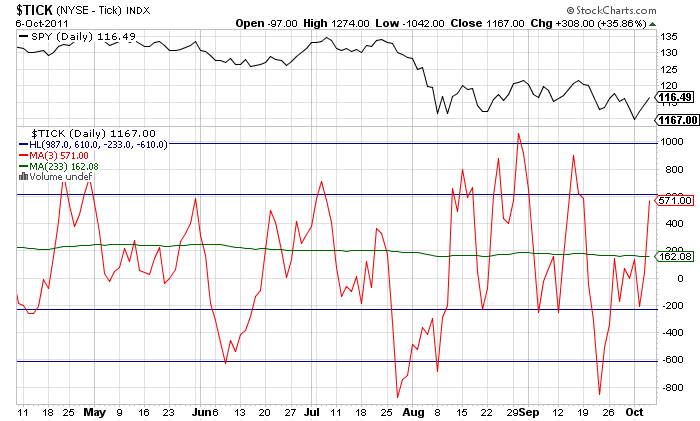 Notes: Very close to 1 standard deviation overbought level.
SPY / 3 DAY $NYUD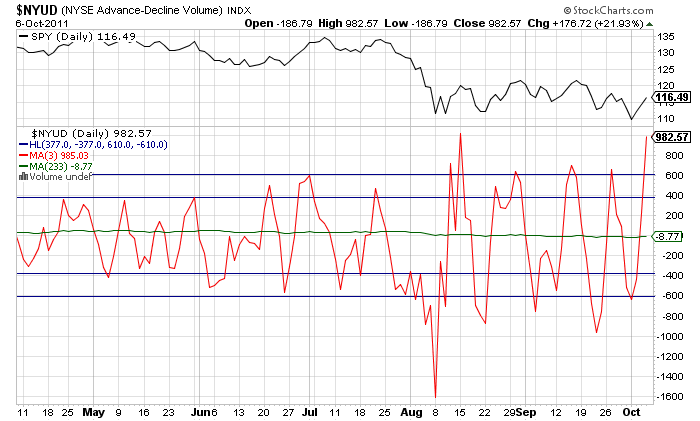 Notes: Very overbought.
Swing Indicators:
$NYMOT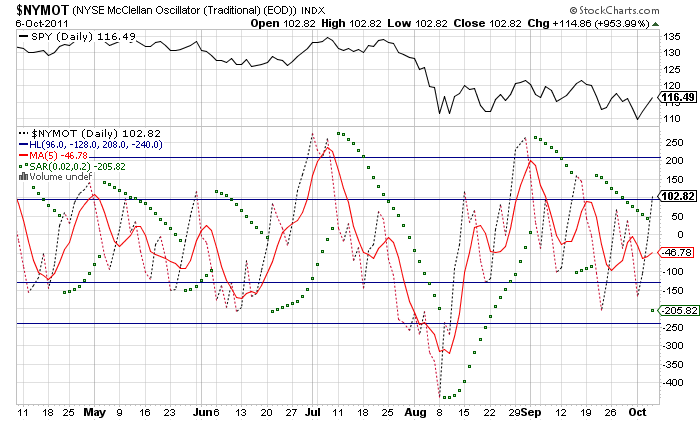 Notes: One day close at overbought 1 standard deviation, 5 day moving average in no man's land. No clear directional bias on the summation index.
Summary:Traders:
I'm currently flat ahead of the non-farm payroll number.
The market could continue to trend higher, but it's no longer an 80%-20% bet.  It's more like a coin flip and I'm not interested in playing a game with 50%-50% odds. If the SPY falls to a more attractive area I 
may
add a small long position depending on what the indicators look like.
The market did get very severely oversold last month. With room to the upside on swing indicators and with sentiment this poor, I'm more interested in the long side than the short side this month. But that doesn't mean I want to be terribly long when indicators are so rich either.
Investors:
Funny, three days ago no one wanted stocks. Today, if you were watching CNBC, they were partying like we were at all time highs. Trading indicators are very rich, use this as an opportunity to sell equity positions and raise cash. I still think we can move a lot higher by the end of October, but I'm inclined to use this as an opportunity to lighten up again. If cycles, swing, and trading indicators line up this month, longer term investors may get a low risk opportunity to add puts or sell the SPY short as hedges against other long equity positions (or just sell anything left over from the '09-'11 bull run).
A fantastic trading week.
I may take tomorrow or a few days off.
Have a great weekend!
-Bill L.