I will be a bit busier than usual this week so updates may be a bit shorter. I should be back to my regular schedule next week. I will try and have a full long term update this weekend.


Monday Recap
:
Prices have broken 1230, which opens up 1250.

1250 was reached in short order.

In doing so, some indicators have once again been moved to extremes, some of which occur maybe only once a year.
Tuesday:
In classic "hate 'em low, love 'em high" market herd behavior, we've seen short term sentiment surge as prices have broken out of its past trading range.

I got more bearish yesterday when the McClellan oscillator surged to the most extreme reading I've seen on over a year. It's a 2.25 standard deviation move. Meaning it should happen on average twice a year. All I could do yesterday was roll my eyes and shake my head as I read all the bullish chatter on stock talk yesterday. I'm not saying that this market has been easy. It hasn't. That said, being happy and content to own stocks when they are in an overbought condition that occurs maybe twice a year at exactly the 61.8% retracement is, well, dumb.
Trading Indicators:
Without going through all the short term trading indicators, they basically all look the same:

$SPX /  $TICK 3 DMA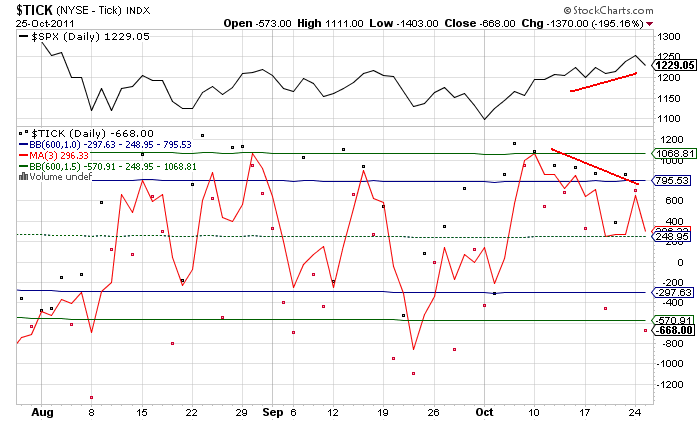 Notes: Most indicators have this same pattern; after reaching an overbought extreme they've continued to deteriorate despite higher prices, a bearish divergence.

Swing Indicators:
 Notes: The most overbought since July 2010.

Summary:
Traders:
I've put out a test short on today's weak opening. While it looks go so far, I've been stopped out a few times last week on similar setups. Keep positions small. For me, small equals less than a -1% loss if stopped out. A break below 1190 still remains the market's first test if we are indeed heading back down. I'll consider adding if we can hold below 1190.

Investors:
According to my long term trend model we are in a bear market. Operating under this assumption, longer term investors should be selling aggressively when the McClellan oscillator reaches a +1 standard deviation extreme. Once the bear market signal is tripped, there is usually a large rally back to the break down level. This appears to be what is playing out currently. 2011 is playing out almost identically to 2007-2008 thus far, another reason for maximum caution.


We'll talk again tomorrow,
-Bill L.