October was a huge month for the bulls, as markets had the biggest one month rise since 1987, which actually hurt the Blog performance; ultimately October was a statistical outlier, and since such outliers are very hard to anticipate, I was on the wrong side of the market for half of October.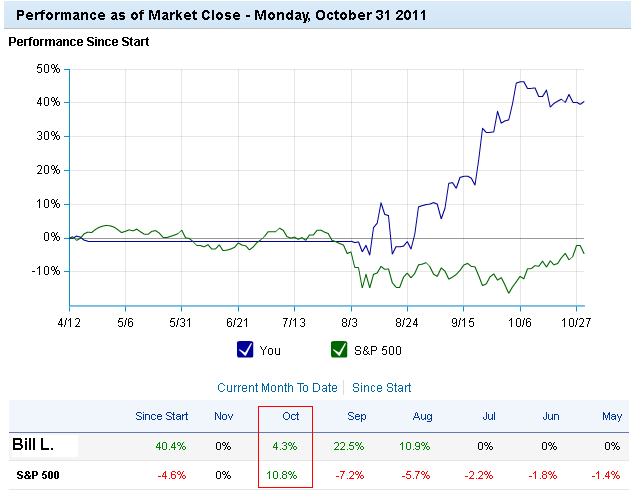 The way I, as a trader, deal with such outliers resides in my risk management, which ultimately salvaged my performance, and kept the Blog in the green. I typically see a lot of bragging on how much leverage others are taking on SA; "I own X shares of this triple leveraged ETF," or "I own X amount of options." What I don't see is a lot of risk management; "My stop is at X." I remember reading an internal investigative report from TDAmertirade, where they examined which of there clients had the best investing results. What they found was the investors that actively managed risk had the best long term results, and were much more likely to have positive returns. To that point, my percentage of winning trades this month was only about 25% yet I still managed to have positive performance by limiting the risk I was taking, letting my winning trades run, continually lowering my stops, and cutting off losers early.

Let's hope for a better November,
-Bill L.