House Keeping
: 
Unfortunately, I have to stop using updown.com for my reported blog results. The last time I tried to log on, I received a notice from Google that the website may have been hacked and is possibly spreading malicious software. Providing trading results is important to me because it provides transparency. In a world where anyone can blog about trading ideas, few report what their proprietary ideas generate in terms of actual returns. I'll be checking out some of similar sites such as wallstreetsurvior.com, if anyone has any other suggestions, feel free to comment.
Update
:
My long term trend model suggest we are in a bear market. Once the signal is tripped, there is typically a very large re-tracment. This was part of the reason I was expecting a large rally beginning in early October, and part of the reason I've now became bearish once the minimum rally requirements were met.
For example, when the signal was tripped in 2000: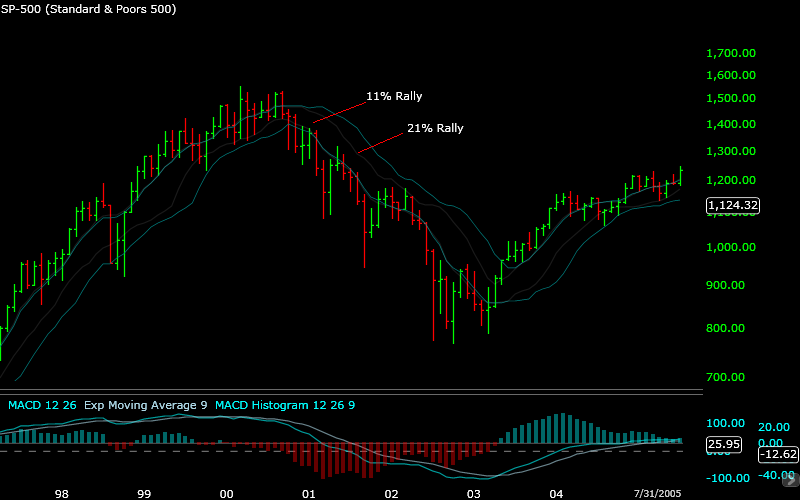 And in 2007: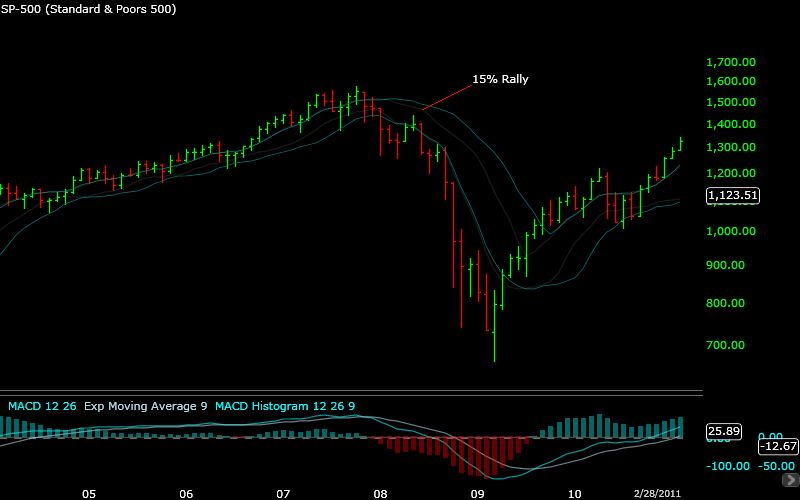 Nearer term, there is a pretty decent amount of evidence that this rally is almost over, if not already over. The McClellan oscillator is generally a very good indicators over the next few weeks/month. It starting becoming extreme mid October and appears to have topped on October 27th. It spent a much longer amount of time than usual above what I would consider an overbought level of 1 standard deviation.
6 Month McClellan with 3 and 5 DMA: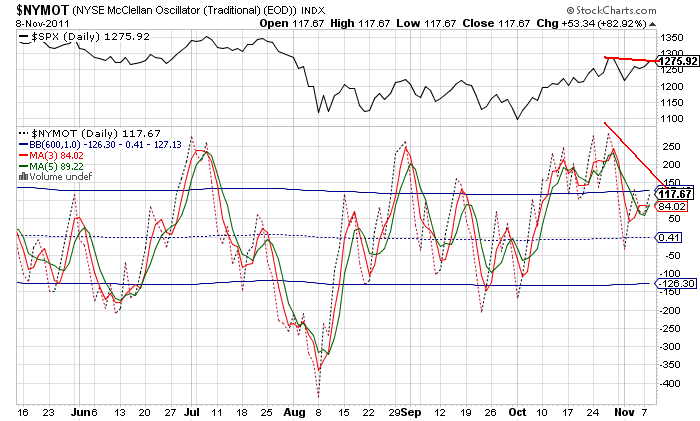 Notes: While it's pulled back, it's still suggesting that the current down move is not yet complete. I would expect the 3 and 5 DMAs to at least reach -1 Stdev before considering this down move complete. I would look to see at least a one day print of -200 before considering this down move complete.
Looking at shorter term indicators we see some more evidence that this rally leg has been losing steam.
SPY / Advance Decline Line: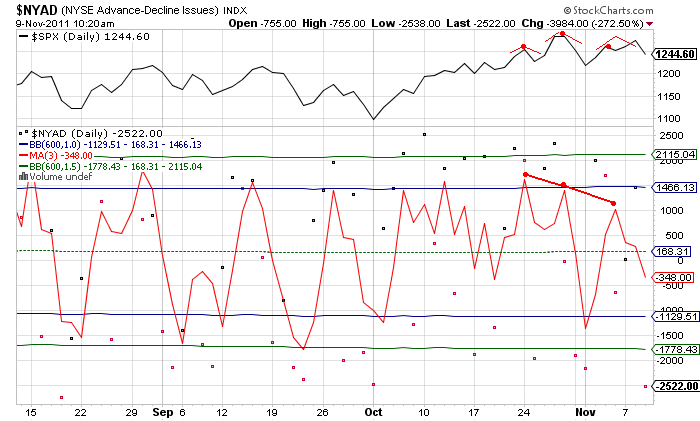 Notes: Looking at the Advance / Decline line 3 DMA, the SPY has a somewhat head and shoulders look to it's last 3 peaks. But looking at the $NYAD, each peak as been made with fewer and fewer advancers compared to decliners; a sign of internal weakness.
Summary
:
Bearish sentiment has more or less returned to normal, which was the major tailwind for the rising stock market. The technicals have been bearish for several weeks now, and continue to look worse now that there is a huge McClellan divergence. Short interest is updated tonight after the close. I'm looking to lightly sell short as long as we stay below 1265.
-Bill L.