In my last few articles I was looking for a major bottom in the US Dollar (NYSEARCA:UUP) and major top in stocks (NYSEARCA:SPY) and other risky assets. While the dollar has since cooperated and is trending higher, the stock market is still clawing higher. While it has been taking longer than I expected, I still hold this view as a wide variety of technical evidence continues to show a consistent trend of deterioration.
Market Structure
The overall structure of the stock market remains consistent with a bear market rally; a strong primary trend down, followed by a corrective pattern that has since retraced a touch over 50% of the preceding trend.  This is a completely normal retracement amount and similar to the retracement in 1930 following the 1929 collapse.  What gives me so much confidence in this view is that most measures of technical strength appear to be deteriorating quickly, consistent with a tiring and nearly complete counter trend rally.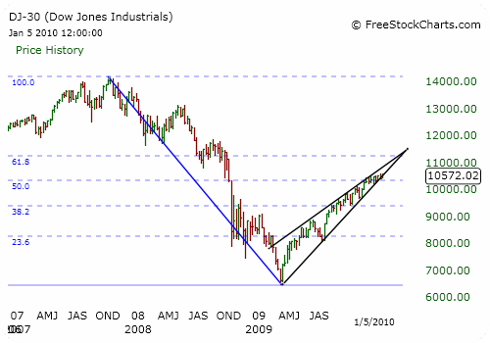 Volume
Probably one of the oldest measures of technical strength is volume. Volume expanding confirms the primary trend, while declining volume during a trend is a red flag. In the chart below we can see that volume expanded throughout the down trend, and has since been in a clear and persistent decline during the last several months, creating a bearish non-confirmation.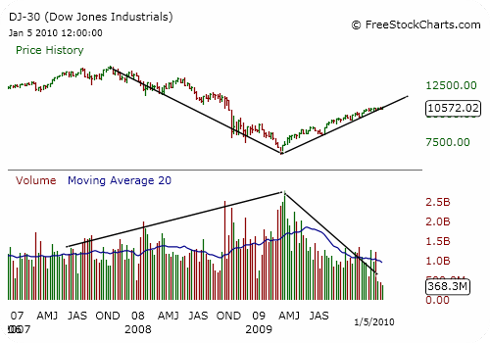 Furthermore, for more perspective on volume we can look at the NYSE up-volume/down -volume ratio.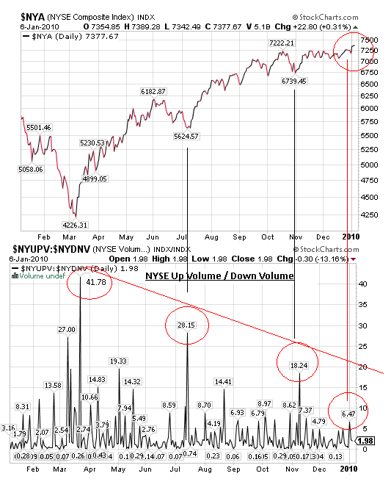 Not only has volume been contracting since the intermediate term bottom in March, but the up/down volume ratio is contracting. Each short term rally higher since March has started with a surge in the up/down volume ratio, a typical occurrence as pent up buyers come back into the market. However each subsequent leg up has started with lower and lower up/down volume ratio, and the January 4th, 2010 kickoff rally had a muted 6.47 to 1 up/down volume ratio despite a solid point gain.
Inversing the ratio to NYSE down-volume/up-volume we can get a clue as to whether there is increasing selling pressure.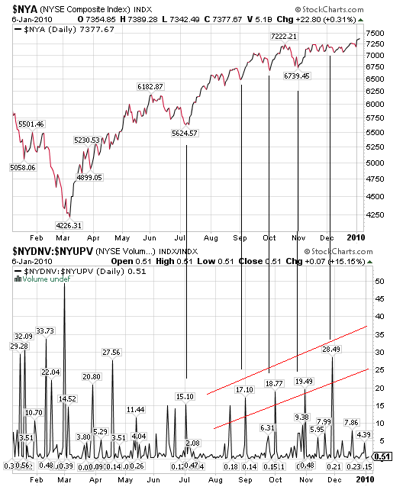 This chart shows that not only have kick-offs been weakening, but down volume has started to trend up on distribution days despite smaller and small point declines, even achieving a ratio of 28:1 on a rather small point decline, not something you would expect to see if the rally was strengthening.
Momentum
Momentum indicators are simple yet useful tools that often give early warnings signs as trends tire.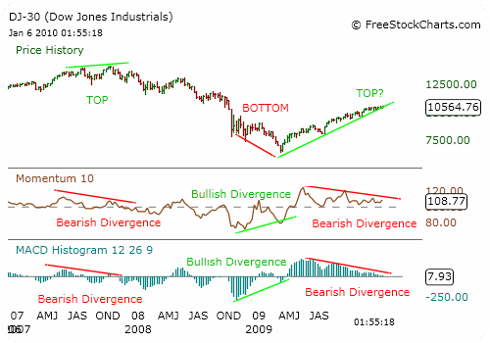 On a weekly chart momentum divergences have occurred ahead of the October 2007 top, as well as the March 2009 bottom. Now momentum indicators are showing a clear and persistent decline, and are also about to cross the zero line, indicating a tiring trend that is about to reverse. While momentum indicators should not be used by themselves as an action signal, they are another piece of evidence that falls on the bearish side of the ledger, and do not confirm the current trend.

 
Market Breadth
Breadth indicators also provide a useful view of the internals of the market. Strong internal strength is money is flowing into the market almost indiscriminately; to coin a phrase, a rising tide causes all boats to rise. If buyers are starting to become scare breadth indicators will deteriorate.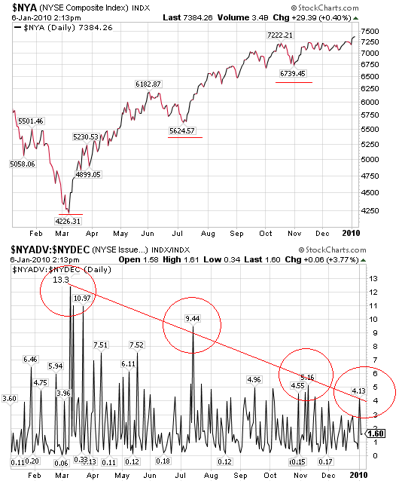 Since March, each correction and subsequent rally has seen a spike in advancing issues compared to declining issues at the start of each leg higher, indicating pent up buyers surging back into the market. However each leg higher has seen diminishing buying power and on the welcome back rally on January 4th, despite having a large point gain, the rally registered a rather muted Advance/Decline ratio of only 4.13 to 1. This condition of declining breadth has also manifesting itself in the financial media; CNBC guests now regularly impart to us their financial genius with such phrases as, "the easy money has been made," and "this is now a stock pickers market." Translation: money is no longer flowing freely into the market, and it is getting much more difficult to find something that is working.

Sentiment
Last week Investor's Intelligence released the results of their latest sentiment survey; there are now the lowest percent of bearish respondents since 1987. Nothing bad happened that year in the stock market… right? CNBC contributors have been quick to write this off, saying that while this would usually be bearish, these are not normal circumstances. An example of cognitive dissonance and the rationalization process at its finest.
 
Most of the other sentiment measures available are also at the high ends of their range, as well as above where they were during the October 2007 peak. Baron's popular Round Table survey, Bloomberg's economist polling, cash levels at mutual funds (near all time lows), American Association of Individual Investor's sentiment survey, etc have all moved into the wildly bullish territory. Option speculators have not been immune to the swing in sentiment either. The chart below shows the 5 day average of the Put to Call ratio, which has dropped to the lowest level in over 3 years. No one wants insurance when your house isn't on fire, though traders will soon most likely wish they had bought cheap puts as their portfolios go down in flames.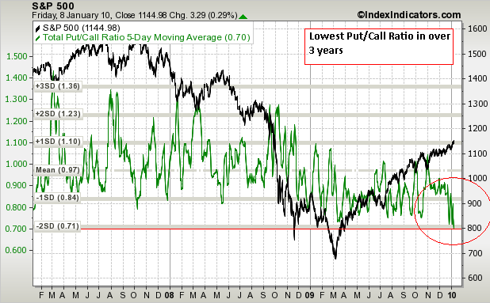 This optimistic view of the stock market has materialized in many other ways such as Ben Bernanke being hailed as Time's Person of the year. This is an incredible juxtaposition; the proclamation that he saved the financial world, yet several  refusing to vote for his reconfirmation, and only a few short months ago Bernanke was ridiculed as an academic who has never been outside of the class room. By the time an idea has reached the cover of a major publication, in this case the idea the financial system has now be saved, such a trend is undoubtedly near its end.
We can observe the manifestation of this mood in other qualitative aspects; popular bears who correctly called the recession are now once again ridiculed or ignored. Several of the more outspoken bears were hot commodities last year as the stock market crashed. CNBC regularly had Nouriel Roubini as a guest, however now with a 50+% retracement, the once genius is now regularly mocked by Cramer for being an "academic" and being much too bearish. Yahoo Finance's popular Tech Ticker Blog recently ran an article entitled, "Wall Street's Memo to Meredith Whitney: You're So 2009." The article goes on to say, " …During the depths of the financial crisis, when Whitney spoke the market listened. Nowadays, the charging bulls on Wall Street drown out her bearish predictions…" Not to imply these people are incapable of being wrong, however the change in attitude and collective mood are what's important. Like rats fleeing a sinking ship there has been record insider selling, not to mention numerous secondary sharing offerings, meanwhile the public is at a bullish extreme and this is by far the biggest reason to be bearish on stocks.

Disclosure:
Long SPY puts