A quick update:
In the short term I think stocks can continue to rally. Looking at the percentage of stocks that are above of their 20 DMA, we can see that there's still some room to run for getting into the "overbought" range. Sell reversals or tops tend to be more rounded, so what I would look for before calling a top is for the indicator to spend several days above the 70 mark, then some sideways movement with declining momentum, before finally producing some kind of sell signal.
Percentage of stocks above their 20 day moving average: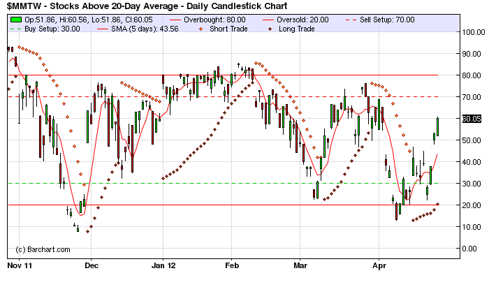 Looking at the percentage of stocks that are both their 50 DMA we get a similar view. The indicator momentarily dropped below 30, but is now given several buy signals. With the 20 DMA indicator near 60, and the 50 DMA indicator near 51, it still looks like there's room to run in both.
Percentage of stocks above their 50 day moving average: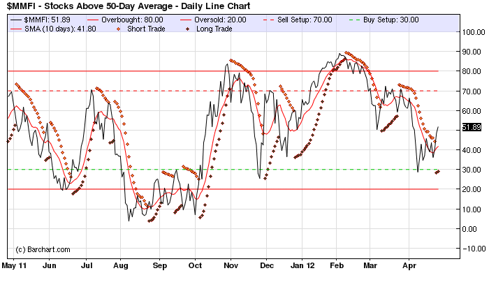 Looking at McClellan oscillator, we can see that the 3 and 5 day moving averages are only about neutral. There was a buy setup in mid April when the 3 day moving average crossed the 5 day moving average. The signal had more meaning than a general crossover because it occurred below the 1 standard deviation from the mean mark. I will begin to get worried once the three day moving average has risen to near 100.
NYSE McClellan Oscillator: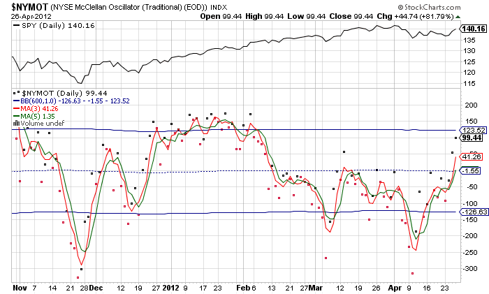 The only indicator that I watch that starting to get a bit frothy is the 5 day advance decline line, however this tends to be one of the more sensitive indicators and can reach extremes a few days before all the others. So by itself is not a reason to turn bearish just quite yet.
NYSE 5 Day Advance-Decline Oscillator: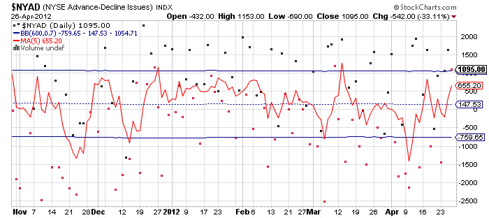 Summary:
My long-term trend model recently experienced whiplash, so in the short term my response is to be more cautious and reduce position sizes on all trades whether they be bullish or bearish at least until some more clarity emerges and the indexes align. My main concern is that long-term measures of value remain elevated, Europe's debt crisis continues and that this latest bullish signal could be a huge fake out caused by Apple pushing around the indexes due to its large capitalization size. One day at a time, and let's just focus on trading the market that's in front of us.
In the short term, the markets look like they've made a short-term bottom, and they haven't yet pushed the indicators I follow to the point where I would become nervous or bearish.
I'm long the SPY with a stop below 136.
-Bill L.
Disclosure: I am long SPY.