Overview:
I look at measures of valuation to determine the direction, and possible turning points of the long-term trend. I use several methods of technical analysis models to determine whether the long-term trend is up or down, then I use several shorter term indicators to help me find high probability low risk points of entry in the direction of the longer term trend.
Measures of Valuation:
Measures of long-term valuation such as the Schiller PE ratio, the dividend yield on the S&P 500, and the Q-ratio remain at levels that indicate to me that the long-term bullish trend should be nearing some sort of end. I say "should" because many of these indicators of actually remained elevated for quite some time. The Schiller PE for example has remained elevated for much of the last 10 years since reaching an all time peak in 2000. To as the famous quote goes, "the market can remain irrational longer than one can remain solvent," still it would be foolish to simply dismiss these long-term tried and true the measures a valuation.
Example:
Schiller PE: courtesy of multpl.com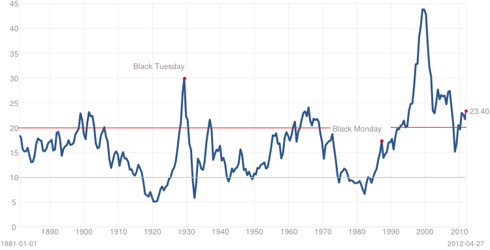 Notes: We can see here that the Schiller PE ratio stands at over 23, generally speaking anything over 20 is considered a market that is long-term expensive. When analysts on CNBC say that the S&P is trading at a "cheap" multiple they are typically referring to a PE ratio that is constructed using either a trailing year's earnings, or next year estimates. The problem with using a previous year's earnings when calculating the PE ratio is that this measure fluctuates wildly and thus is not very predictive. The obvious problem with using next year's estimates is just that, they're estimates. At market peaks estimates will always be too enthusiastic thus making the PE ratio look cheap even the market is at a turning point.
Long Term Trend Model :
LTTM - SPY (standard)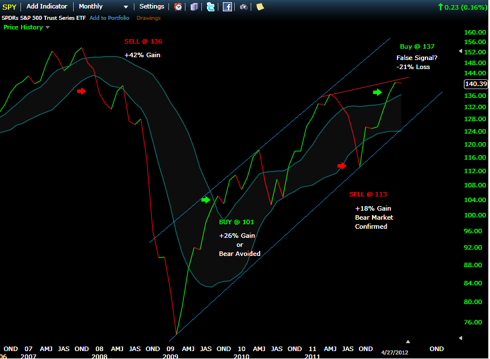 Notes: Possible slowing of momentum (failing to rise to the top of the trend channel).
In a previous short term update I mention them a long-term trend model recently suffered some whiplash, and here we can see the false their signal, and subsequent resumption of the bullish trend. There are some problems with this however, for example the NYSE composite index, which does not get the benefit of Apple, has not confirmed this bullish signal and remains underneath its previous swing high.
LTTM - NYSE Composite (standard):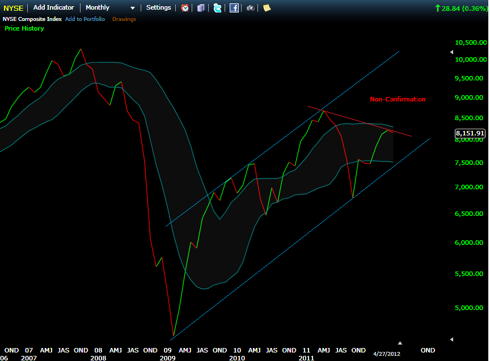 One must be careful with non-confirmations because in the vast universe of the indicators and methods there'll always be some indicator that fails to confirm. Still, it is something to take note of and with long-term measures of value still very elevated this does in my opinion raise the probability that this recent breakout could be a false signal. So I'm not getting too married to the idea that we're back in a bull market.
Summary: According to my long-term trend model the S&P 500 is back in bull market mode. That said, whiplash is unusual and there is some non-confirmation when looking at the other indexes. While I accept the signal at face value, in the near term my response to this is to temper my bullish expectations, and reduce position sizes on trades taken until the non-confirmations disappear and the indexes once again align.
Short Term:
The short term picture hasn't changed much since yesterday's post but the indicators I watch have risen again to the point where there should be no further buying. Long positions should be held and maintained, with a trailing stop in place.
NYSE 5 Day Advance Decline Line: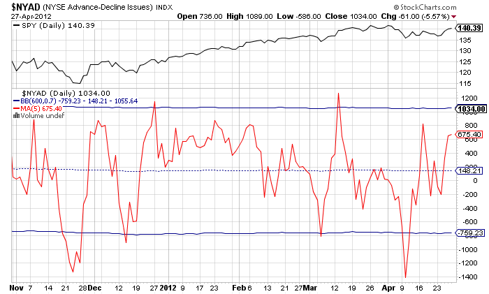 NYSE 5 Day Up/Down Volume Oscillator: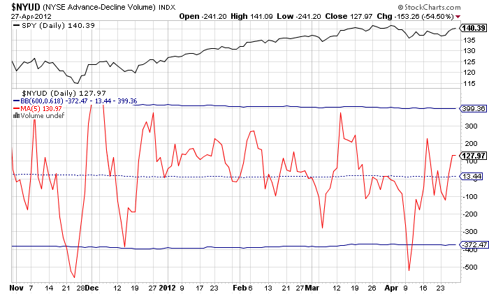 NYSE 5 Day Tick: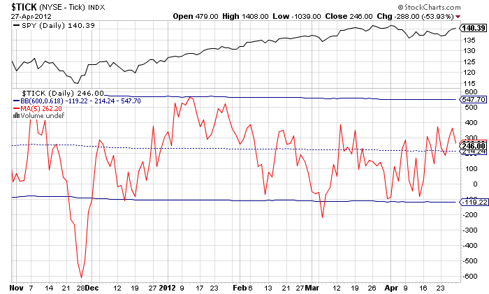 NYSE TRIN: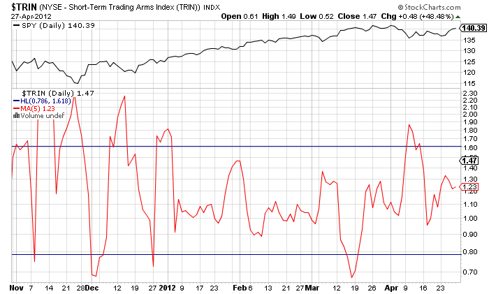 NYSE McClellan Oscillator: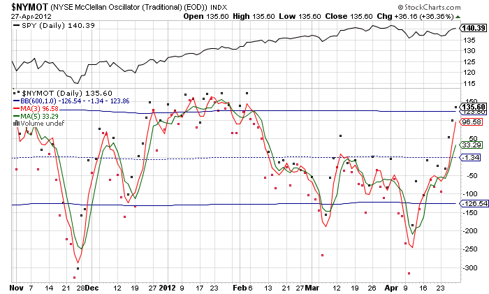 NASDAQ McClellan Oscillator: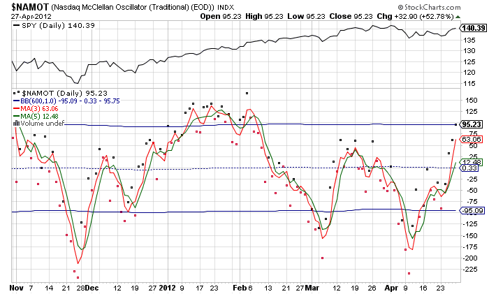 Percentage of Stocks Above their 20 Day Moving Average: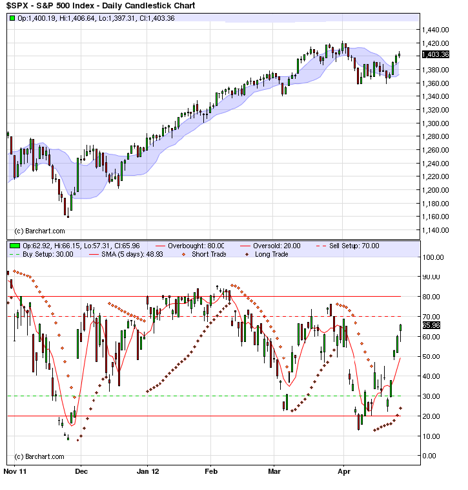 Summary: The short term indicators that I follow have reversed past neutral or higher. While they're not quite yet of level or I would expect a reversal, they are to level where I would feel uncomfortable putting more money a risk on the long side. I'm maintaining a long position in SPY with a trailing stop, and if this is the new bullish trend we should stair step higher. The next step is for the SPY to continue higher without breaching the 136 swing low on any pull back. Since the market just experienced whiplash as well as the non-confirmation with some of the other indexes, it is important to maintain this level and to continue breaking out to new highs.
-Bill L.
Disclosure: I am long SPY.