Update:
Many of the indicators I watch are now at levels where I start to get concerned. Further complicating matters, while my long-term trend model on the S&P has turned bullish, it has failed to do so on other indexes such as the NYSE. As I said in a previous post I'm taking the bullish signal at face value, but with some serious reservations. Tomorrow looks like it could be the first real test of this swing up.
Short Term Picture:
Last Tuesday the S&P crossed above the top trading band with oversold the short term indicators, producing a buy signal and establishing my stop at that swing low, approximately 1360 in the S&P. The S&P then broke down below the bands yesterday but had a positive TICK divergence throughout the day and quickly reversed back into bull mode today. This also gives us a new pivot low of approximately 1393 in the S&P. I'm willing to hold on for tomorrow because as we can see on the indicator below, the TICK is at a one standard deviation intra-day low, a short term bullish condition.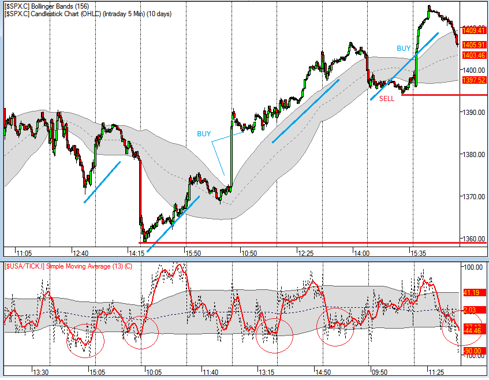 I have two concerns here: one, many the indicators I watch are starting to get a bit frothy, two, we are very close to breaching the previous sell signal's pivot low. But if we breach that pivot low, price action is starting to look more like we're stair stepping lower rather than higher. Combine this with the fact that I'm already skeptical about the most recent long-term bull signal, a breach of this level will convince me to sell my long position, at least for the moment and watch how things play out.
Short Term Indicators:
5 Day Advance-Decline Line: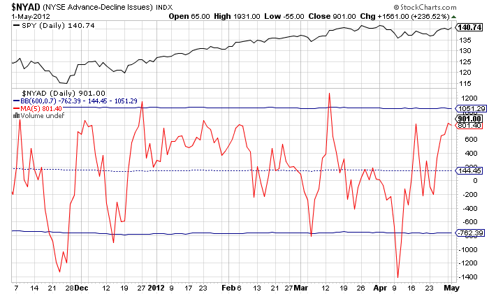 Notes: Bearish.
5 Day Up/Down Volume: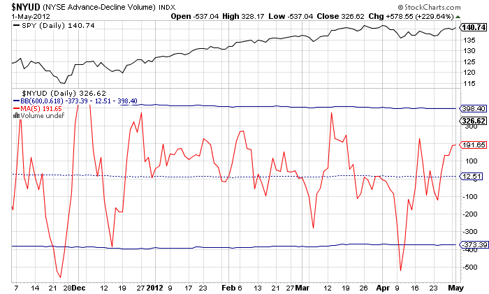 Notes: Not quite as high but also near the upper end of the range.
5 Day NYSE TICK: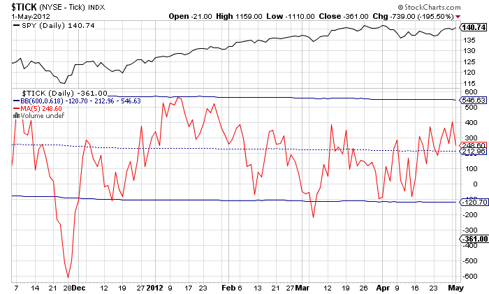 Notes: Bearish/Neutral.
5 Day TRIN: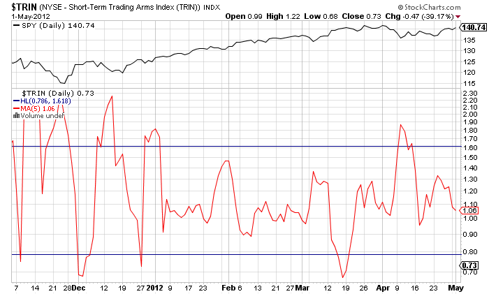 Notes: Neutral.
Percentage of Stocks Above Their 20 DMA: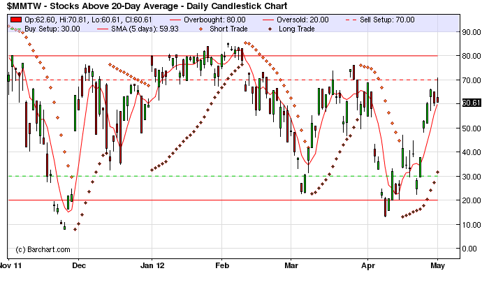 Notes: Intra-day the percentage of stocks above their 20 day moving average momentarily got above 70%. While this indicator can get much higher, observe how the previous peak occurred without the five day moving average reaching 70%. Instead, the percentage reached over 70 for two days before falling and triggering a SAR sell signal.
Swing Indicators:
NYSE McClellan Oscillator: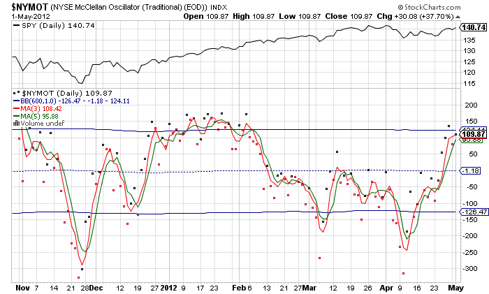 Notes: This is one of the indicators that has me nervous, both the three and five day moving averages are very close to the one standard deviation mark.
NASDAQ McClellan Oscillator: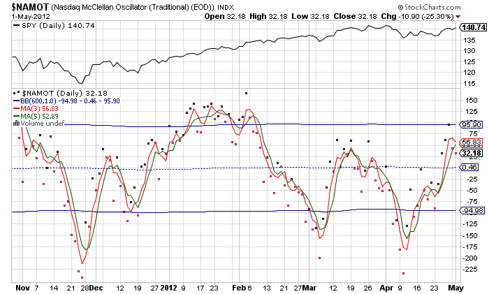 Notes: similarly, the NASDAQ oscillator is also quite high. While not quite as high, the three day moving average appears to be turning and we could have a negative crossover if weakness continues.
Percentage of Stocks Above Their 50 DMA: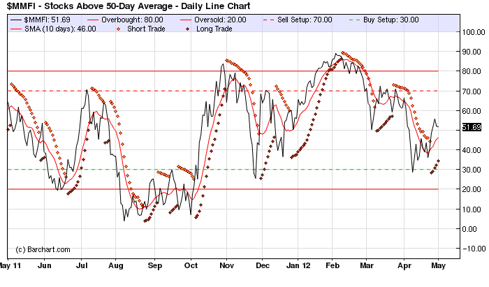 Notes: Bullish/neutral territory.
Summary:
While none of the indicators I watch are screamingly bearish, several of the important ones are quite high (McClellan). Combine this with my added skepticism of the current long-term buy signal; a break below yesterday's swing low will get me out of the market. I'm giving the market a chance to recover and continue higher because the intra-day TICK suggests that we should have some bullish price action tomorrow, and some of the indicators still have some room to run before getting overbought. So it's pretty simple, if we go higher tomorrow I shall continue to hold long, if we break below yesterday's sell/pivot low I will liquidate and wait for a new setup.
Disclosure: I am long SPY.