Recap:
As I've been saying in my last few updates when I apply my long term trend model to the S&P 500, we get a "Bull Market" signal, if we apply the model to a different index such as the NYSE Composite or the VT Total World Index we get a "Bear Market" signal. The current price, momentum, breadth action is more indicative of a bear market; meaning that market has gotten oversold, but hasn't bounced, and has continued going lower. Still, the indicators I watch have gotten extreme to the point I'm looking for a tradable bottom.
Update:
The markets closed at the absolute low Thursday, essentially crushing the hopes and dreams of all the bulls, ironically this is exactly what I look for when trying to find a bottom. Almost every single indicator that I watch is oversold, and even if we are in a bear market there should be significant rallies along the way. Right now the way the indicators are setting up, this could be one of those rallies.
Short Term Indicators:
Here's a review of some of the short term indicators I follow.
Percentage of stocks above their 20 DMA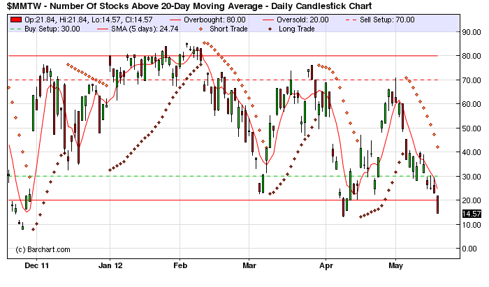 NYSE 5 Day Advance Decline Line Oscillator: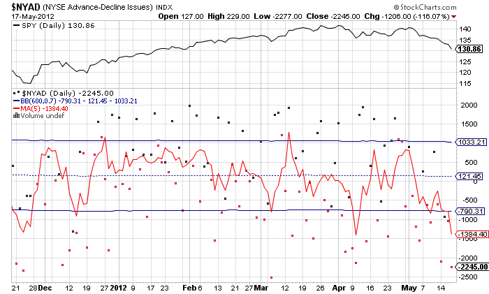 NYSE 5 Day Up/Down Volume Oscillator: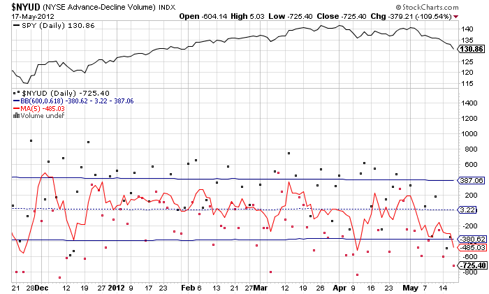 NYSE 5 Day TICK: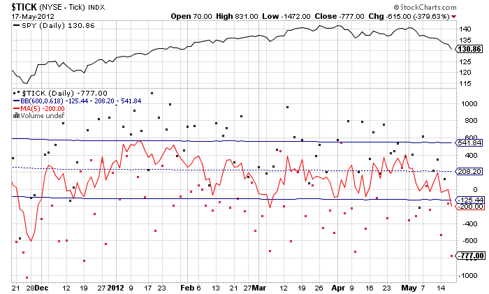 NYSE 5 Day TRIN: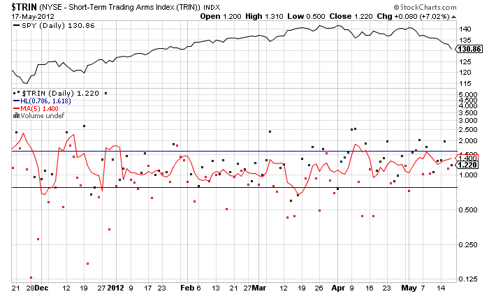 Swing Indicators:
Here's a look at some of the longer term swinging indicators that I watch:
NYSE McClellan Oscillator: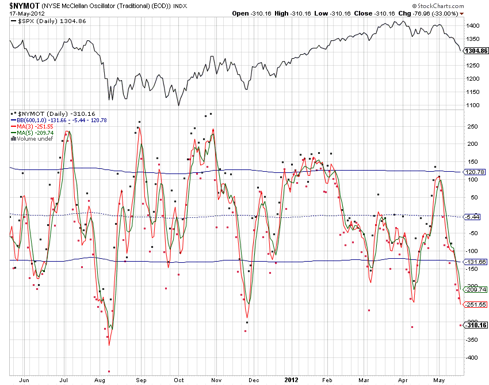 Percentage of Stocks Above Their 50 DMA: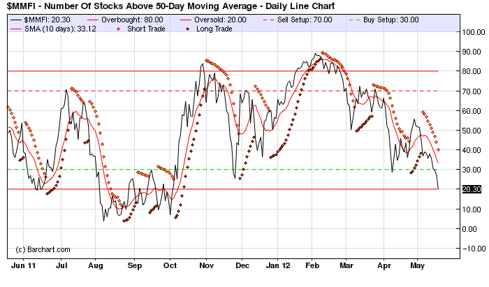 NASDAQ McClellan Oscillator: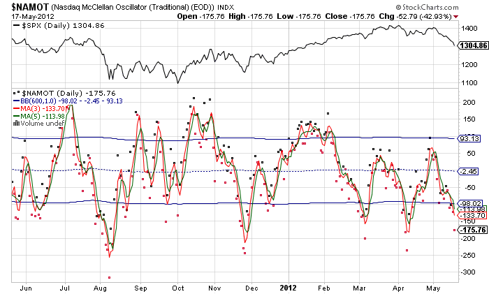 Put/Call Ratio: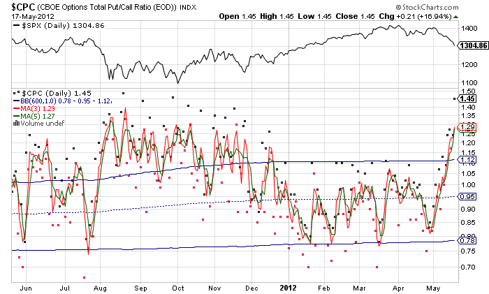 Notes: the highest fear reading of the year so far.
Summary:
I don't think much commentary is needed when talking about the indicators; they're all oversold to a pretty high degree. This doesn't mean I'm automatically a buyer, a market can always get more oversold, or prices could continue lower while creating a bullish divergence among the indicators. What I like to do is wait for a pivot, which does two things 1) it provides evidence of a price reversal 2) it provides you with a clear visible stop just underneath the pivot. If I see such a pivot I'll note it here in the comments section. Looking at an hourly chart of the SPX, there were multiple failures to break out above 1360 indicating that this is a point of resistance. Therefore once a reversal takes hold the initial target should be around 1360 in the SPX.
Disclosure: I have no positions in any stocks mentioned, but may initiate a long position in SPY over the next 72 hours.