Bottom Line:
Currently, there is a non confirmation in my long-term trend model of the SPY vs. The NYSE composite. So currently it's tough for me to have a lot of confidence in either signal whether it be bull (NYSEARCA:SPY) or bear (NYSE). Still, if we are going lower, right now would be a good time for the market to top out.
For more on the long-term trend, see my most recent article: seekingalpha.com/article/655331-even-after-the-recent-pullback-the-market-looks-expensive
Short Term Indicators:
Right now Mcclellan oscillator is very near overbought, and today at the close produced a moving average crossover to the downside in both the NYSE and NASDAQ oscillators.
NYSE McClellan Oscillator: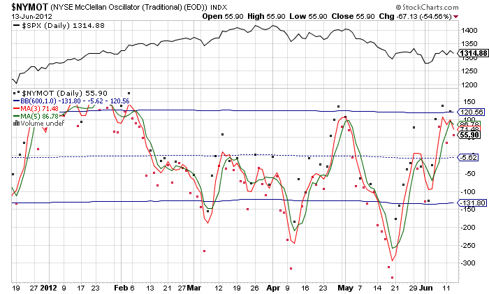 NASDAQ McClellan Oscillator: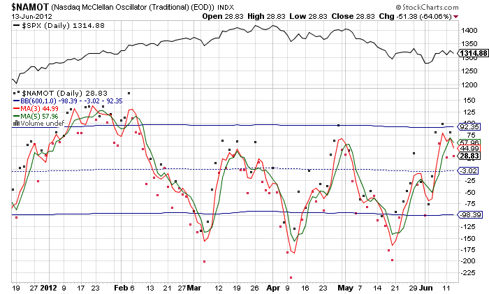 Notes: in both graphs we can see that the three day moving average has crossed below the five day moving average while being near the top end of the range. This is a signal I commonly look for when looking for a top.
NYSE Advance/Decline Line: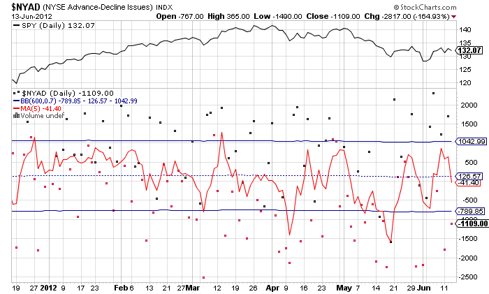 Notes: Today's close was strongly negative in the advance decline line, pulling the five day average downward after reaching near overbought status.
Price Action:
We also have a possible head and shoulders topping pattern forming in price action.
$SPX: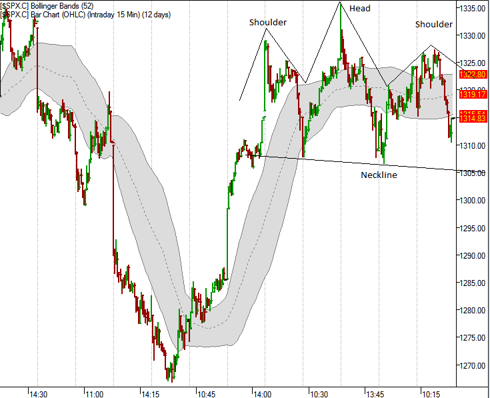 Notes: The textbook way to play this pattern would be to wait until prices break below the neckline, then place your stop at the height of the right shoulder. A more aggressive stop, would be to stop yourself out of the position if price rose above a trend line drawn from the head to the right shoulder.
Summary:
While not all of the indicators are lined up on the bear side, and there's currently a non confirmation in my long-term trend model, enough indicators are reading overbought or near overbought for me to take a small position on the bear side. Furthermore, one can't help but get the feeling that it any moment Europe could explode.
Still, make sure to honor your stops on this one, while there's definitely potential for a big payout on this one if things really fall apart, but the setup isn't as perfect as I would like it. Furthermore, when a bearish pattern fails, those who traded the pattern prematurely will be trapped in trying to cover which could push prices quickly higher. Make sure to honor your stops.
Overall, if the long-term sell signal on the NYSE composite is a valid, I believe taking small positions here on the bear side is warranted.
Talk again tomorrow,
Bill L.
Disclosure: I am short SPY.