Bottom Line:
In my last few updates I've been noting how a majority of the technical indicators that I follow had been producing an overbought reading. Yesterday and today prices traced out a triangle, we broke that triangle today to the downside and quickly met the first target. Based on where the indicators are I believe there's further downside to go.
Recent Articles:
Global Market Teeter: seekingalpha.com/article/662601-the-world-markets-teeter-ahead-of-greek-vote
Long Term Indicators Show the Market to be Expensive: seekingalpha.com/article/655331-even-after-the-recent-pullback-the-market-looks-expensive
Update:
SPY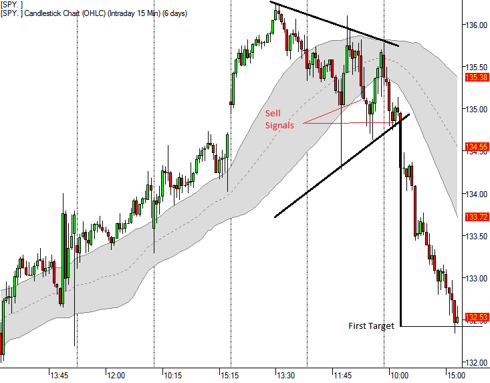 Notes: The SPY broke below the lower bounds of the trading bands, then rallied but failed to recapture the upper band, as well as the most recent pivot high, a technical sign of buying a exhaustion.
Furthermore, the S&P traced out a contracting triangle yesterday and today, and broke out of the pattern this morning, prompting me to sell with a target of 132.50. I expected this target to be reached in 2 to 3 days, though the market had other ideas and this first target was reached almost exactly and promptly by the close.
Next Target: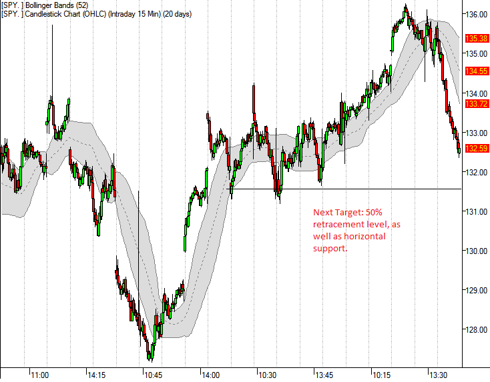 Notes: Our next target is approximately 131.75, this is the 50% retracement level of the upward move, as well as some horizontal chart support. If we break this level, but I would expect the entire upward move to be completely retraced. I believe this is the case because looking at my list of indicators, they are still registering an overbought reading and there's still plenty of room for these indicators to move lower before I would consider looking for a bounce.
For example:
Percentage of Stocks Above their 20 DMA:
: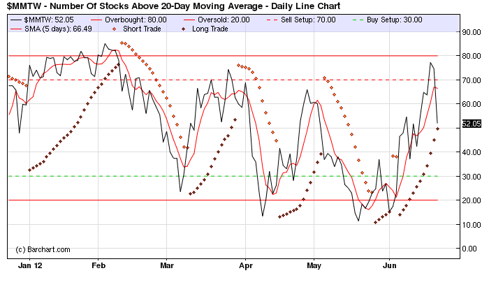 Notes: At best the move is only half over.
McClellan Oscillator: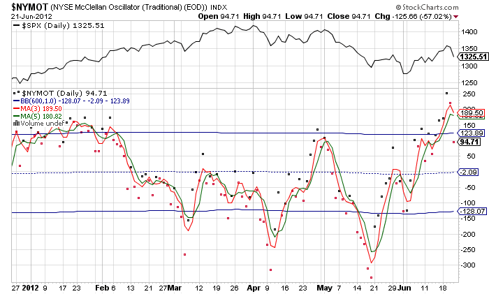 Notes: Both the three and five day moving average are still well above one standard deviation from the mean. There's still plenty of room left on the downside.
Advancing vs Declining Volume: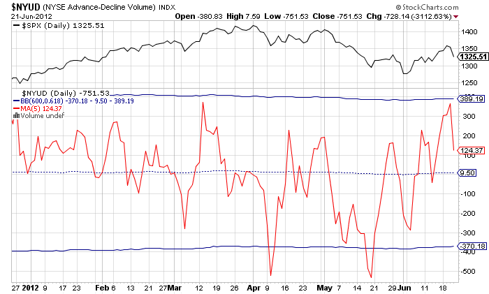 Notes: Not even half way...
Summary:
The move today may have felt dramatic, but according to the indicators that I watch, there still appears to be plenty of room left on the downside for stocks to continue lower. The next target is the horizontal support which happens to coincide with the 50% retracement level. A break of that level, and I would be willing to bet that the entire upward move gets reversed.
We'll talk again tomorrow,
-Bill L.
Disclosure: I am long BGZ.