Bottom Line:
There is some short term technical support, but breaking through/down it is likely based on the positioning of the indicators I watch. If this area is broken, my assumption would be for the market to retrace the entire June 4 - June 19 rally.
Recent Articles:
Global Market Teeter: seekingalpha.com/article/662601-the-world-markets-teeter-ahead-of-greek-vote
Long Term Indicators Show the Market to be Expensive: seekingalpha.com/article/655331-even-after-the-recent-pullback-the-market-looks-expensive
Update:
Yesterday's decline quickly took prices back to a previous zone of congestion, this area of congestion fits nicely between the 38.2% and the 61.8% retracement level.
SPX - Hourly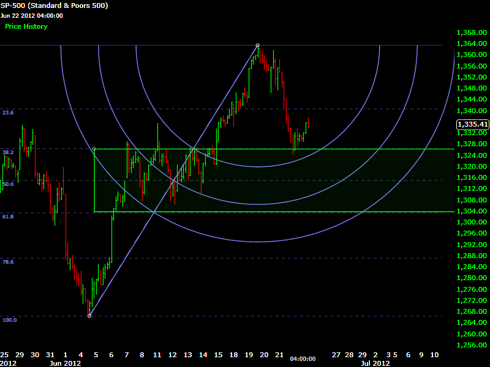 Notes: Prices bounced today when they touched the 38.2% retracement level, and bulls defended the previous breakout level.
Based on the position of the indicators that I watch, I believe the path of least resistance is for prices to continue lower, at minimum to the 61.8% retracement level which coincides with the lower bounds of this previous zone of congestion.
NYSE McClellan Oscillator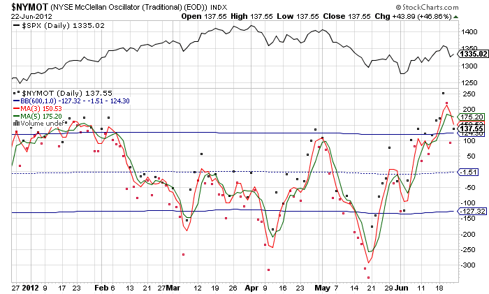 Notes: we have a bearish crossover of the three and five day moving average, and still a very overbought reading.
Percentage Of Stocks Above Their 20 Day Moving Average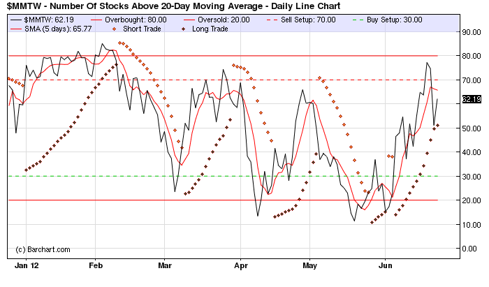 Notes: the percentage of stocks above their 20 day moving average closed today at 62%, not oversold by any means.
Advancers Vs. Decliners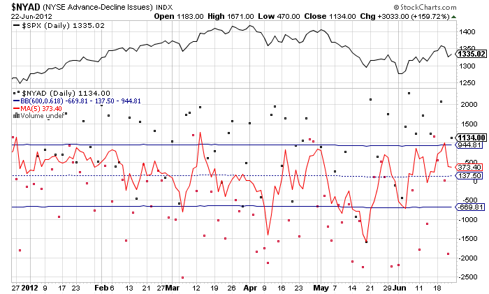 Notes: Slightly above neutral.
Advancing Volume Vs. Declining Volume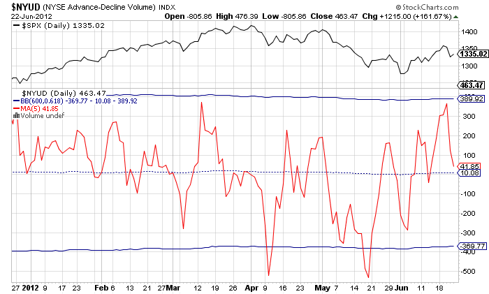 Notes: Similarly, the 5 day moving average is slightly above the neutral line.
NYSE TICK: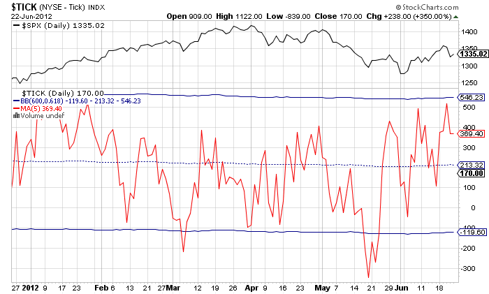 Notes: I would consider this still overbought.
NYSE TRIN: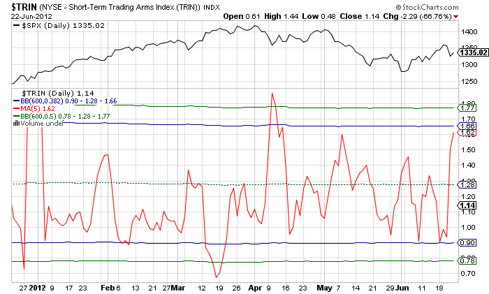 Notes: The TRIN is the only indicator that could be considered oversold, which argues for a bottom here, that said, collectively the TRIN is outvoted so to speak by the majority of the short term indicators.
Summary:
If 10 is extremely overbought and 1 is extremely oversold, the collective message of the indicators is at a 7 perhaps. Based on this, I would expect the market to eventually get to the bottom range of the previous congestion area. How quickly and where the indicators end up when this occurs will be a good indication if the entire June 4th rally is in danger. At the moment, I believe it is.
Have a good weekend!
-Bill L.
Disclosure: I am long BGZ.