Question:
"Bill -- any particular reason by BGZ as opposed to say, TZA? Also, what would you watch for in the market to close the position? Thanks"
Answer:
Yes there are few reasons for going with BGZ, but first let's a step back.
First I prefer to trade the SPY because it closely matches the moves of the S&P 500, which is the index that most of my technical work is based around. Second of all, the SPY is highly liquid, so it is very unlikely to lose money in the bid ask spread, which is especially important if I need to get out during after-hours.
Second, my stop loss is determined by a point that makes sense on the chart, and this determines position size. For example I generally risk approximately 0.7% to 1% of capital on any one trade. If the setup is strong enough I may be willing to risk up to 1.5% of capital. Total position size should always be less than half of total capital (this already makes me very nervous), so one errant trade doesn't totally wipe you out.
In this particular case to make the risk-reward work according to this methodology, I decided to risk less total capital, while still maintaining the same risk reward ratio. Lastly, the BGZ is just much more liquid than the TZA. I don't enjoy losing money just because of an unfavorable bid-ask spread.
When going short my stop is typically just above the previous pivot high. As prices start to trend in my favor I will lower my stop to the next lower pivot high, and then to the next lower pivot high etc. as prices continued a trend in my favor.
In this particular case we do not yet have a new pivot high, so the 61.8% retracement level will be important for me. If we reach that level I will sell half then sell then the other half if we reach my original entry point. If that's the case, it's true that I won't be making any money, however you need to give the market every opportunity to trend in your favor. "Amateur traders go broke because of taking large losses, professional traders go broke because of taking small profits." At a 55% to 60% win rate you need to be making approximately 3 to 4 times more than your losses to be a profitable trader, this is why it's so important to give the market an opportunity to trend.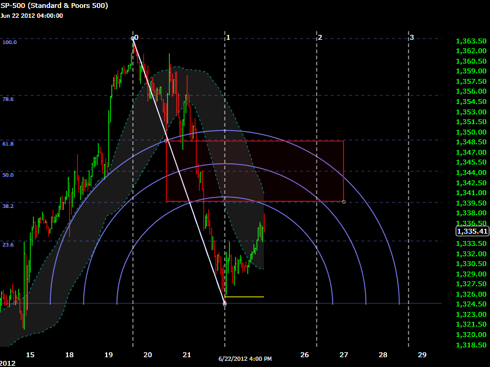 Notes: There should be some technical resistance in the red box area, if prices close above this area, I will get out of this trade and reassess.
-Bill L.
Disclosure: I am long BGZ.