Bottom Line:
Regardless of which side I'm betting on, I always try and look at things from both perspectives. If I were a Bull (currently I'm not) I would be hoping for a some sort of support here. If the market can't gain some traction here, I believe the entire June 4th - June 19th rally will be retraced.
Recent Articles/Long Term Outlook:
Global Market Teeter: seekingalpha.com/article/662601-the-world-markets-teeter-ahead-of-greek-vote
Long Term Indicators Show the Market to be Expensive: seekingalpha.com/article/655331-even-after-the-recent-pullback-the-market-looks-expensive
Update:
From the June 21 update, "next target is approximately 131.75, this is the 50% retracement level of the upward move, as well as some horizontal chart support. If we break this level, but I would expect the entire upward move to be completely retraced."
Yesterday's action had prices testing this area. Just a few points below is the important 61.8% retracement level, which is just above the 200 day moving average. The point being, if I were a bull I would be thinking that the SPY should find traction here. Otherwise, as stated, the entire rally is likely to fall apart.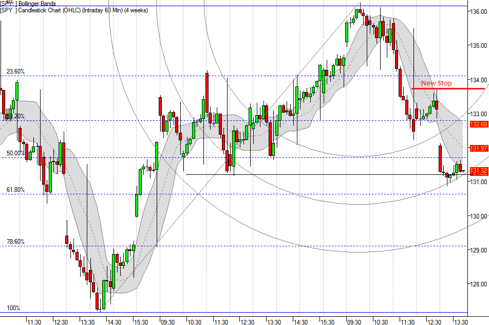 Notes: prices are currently testing several technical levels of support.
I'm still expecting the market to eventually make it through these various levels of support because the indicators that I watch still have room to run to the downside.
Let's take a look, in order of most bearish, to most bullish:
McCellan Oscillator: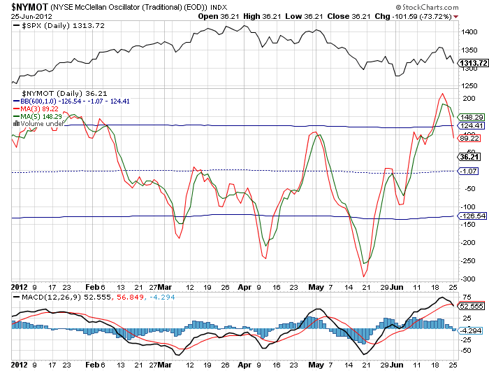 Notes: the NYSE Mcclellan oscillator (and NASDAQ for that matter) is by far the most bearish indicator I'm watching right now. It is only just coming off overbought levels, and has a bearish crossover of the three and five day moving average.
Percentage Of Stocks Above Their 20 Day Moving Average: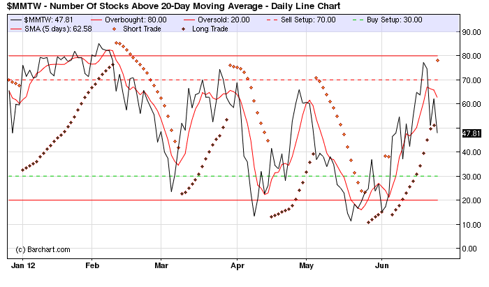 Notes: the most aggressive interpretation of this chart is that the decline is half over, however the five day moving average has only just turned lower. This would argue for several more days of weakness.
Advancers Vs. Decliners: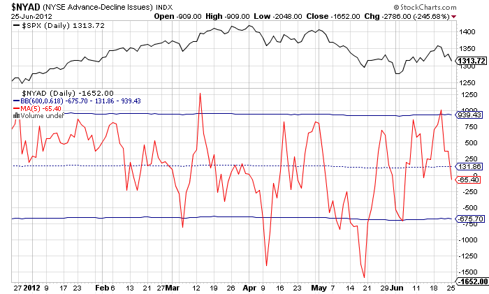 Notes: the five day moving average is just below the neutral line, I would interpret this as meaning that the decline is approximately half over, though as you can see from previous declines, they often end with spikes lower.
Advancing Volume Vs. Declining Volume: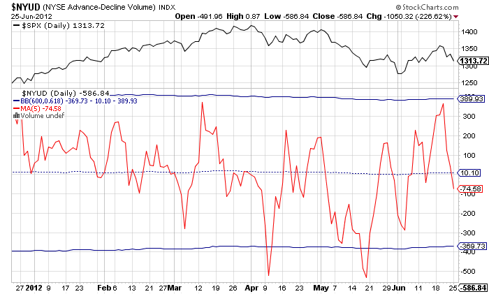 Notes: similarly the up/down volume figure is just below the long-term mean. Again, I would interpret this as meaning the decline is perhaps 50% complete.
NYSE TICK: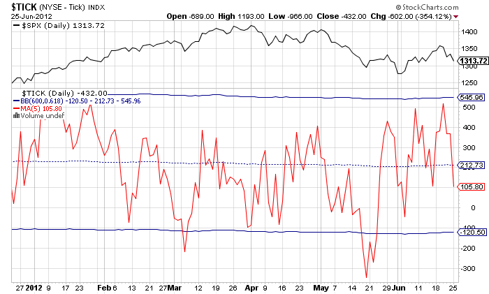 Notes: the same.
NASDAQ Trin: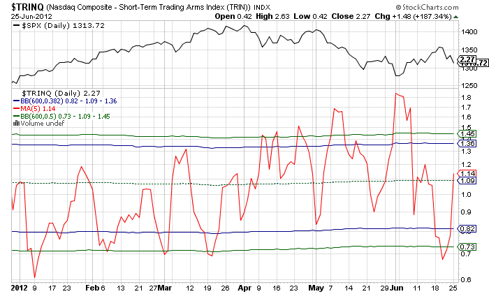 Notes: just above the halfway mark, though this indicator tends to end with a spike.
NYSE Trin: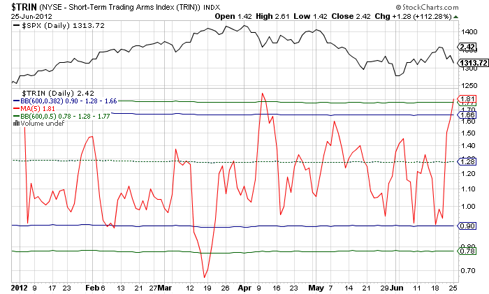 Notes: the NYSE trin is by far the most bullish indicator, with a five day average exceeding levels that generally precede a bounce.
Summary:
Regardless if you're a bull or bear it is always helpful to look at the data with the contrary point of view from your own. For example, while right now I'm a bear and I'm expecting a continued decline, if I were a bull right now I would be looking at the horizontal support, important retracement levels, and the oversold trin. Furthermore, I would be extremely disappointed if markets continued to fall through this area were I assumed there would've been some sort of support. A decline through this area would most likely cause capitulation from short term bullish traders, causing the entire June 4 rally to collapse.
One day at a time, and let's see what the markets do today.
-Bill L.
Disclosure: I am long BGZ.