Bottom Line:
It looked like the market had successfully tested resistance and was about to fall... then all hell broke lose. The EU decided that troubled banks can borrow directly from the relief fund rather than going through their central banks, thus they can get a "bailout" without adding to their respective countries sovereign debt. The rationale being troubled banks can re-capitalize while not putting more pressure on already soaring yields in countries such as Spain.
Reality Check:
Today was a tough day as the market soared and gaped right through my stop. That said, and perhaps this view is a little bit biased, but today's "revelation" once I had looked through it, really didn't seem to do much in terms of solving the main problem. In fact as I see it this rally seemed very reactionary and aided by the large short positions that had built up in Euro futures.
First of all, the stability mechanism fund does not even exist yet (the fund that these banks plan to borrow from). Out of the 17 countries in the Euro only four have actually deposited their share, and the rest are still arguing major sticking points such as "is ratifying this constitutional."
Secondly, the two countries that need this the most are Italy and Spain. See anything ironic in this chart?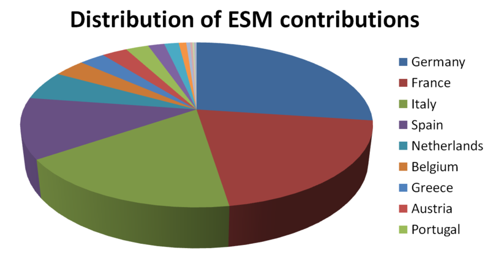 Italy and Spain are supposed to support approximately 30% of the bailout fund. Do I need to spell out the ridiculousness of two broke countries trying to bail themselves out with money they don't have? Do they have 200 billion lying around that no one knows about?
Third, this may still cause bank runs. If banks access this fund, this will instantly be seen as a sign of weakness, and if their borrowing needs that are high enough, any benefit they receive from the bailout fund will be negated in the credit market as their borrowing costs from the bond markets increase.
Fourth, great so the banks that have the most failing debts can now borrow more... Need I say more?
Short Term Update:
S&P 500, Daily: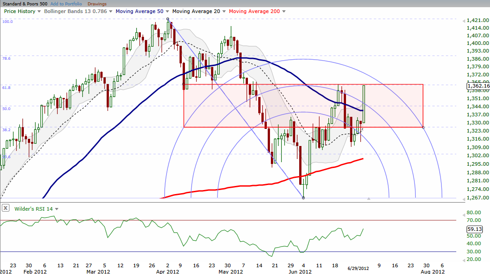 Notes: The S&P rallied almost all the way back to the June 19th high of 1363.46, which also happens to be almost exactly these 61.8% retracement level. Looking left on the chart we can see that there is also some horizontal resistance from a previous triple bottom breakdown.
Amazingly, most of the indicators I watch have gone right back to overbought in just a matter of days.
The Percentage Of Stocks Above Their 20 Day Moving Average: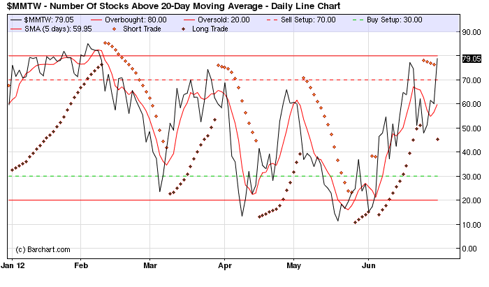 Notes: Today's swing was strong enough to reverse the parabolic SAR. Still, this chart is weighed more suggestive that is a good time to sell stocks rather than buy.
Mcclellan Oscillator: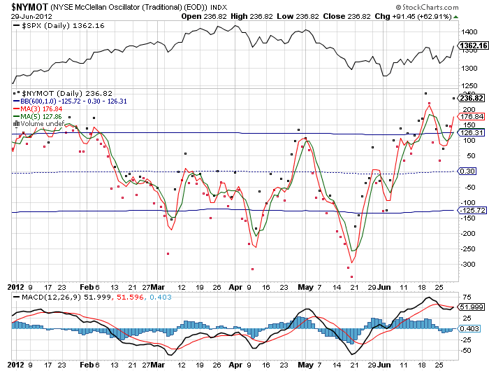 Notes: Back to overbought, again, if I were only looking at this chart I would be much more inclined to sell then to buy. We may be setting up for a bearish divergence.
NYSE Advancers Vs. Decliners: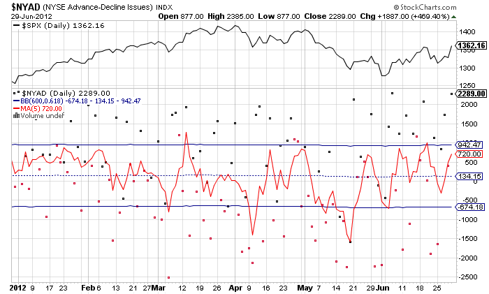 Notes: this indicator will most likely be overbought by Monday (due to the drop-off affect, five days ago we had a very negative reading in the advance decline line).
Summary:
I'll try and post a full rundown of all the indicators I watch later this weekend. While it was a blowout day for the bulls, and a mauling for the bears, I'm still not inclined to go long stocks. I've closed out half my short position, and up close out the other half if we exceed 1365 in the S&P. I'll look to reenter on the short side if I see another setup. Have a good weekend everyone.
-Bill L.
PS:
Keep your brain working right! This is how I start every morning, just thought I would share: www.youtube.com/watch
Trading can be a very intellectually, emotionally, and even physically draining/demanding endeavor (especially on days like today). Personally I find that nutrition and exercise help tremendously.
Disclosure: I am long BGZ.