For the past week or so I have been looking for a top and outlined a list of events that I expected to see as the top was reached, many of which have already occurred; momentum divergence, declining internals, a close above the 200 DMA, etc. The top Elliot wave interpretation also looks near complete, and I am just waiting to see the decline that started today, continue to unfold in five wave form.

Today some more good (bearish) signs; things continue to line up to an actionable trade. Monday I published a chart showing a possible reoccurring 13 day cycle that has been in play for some months now. I said that the first sign in the charts of the decline would be a bearish candle pattern, followed by a stochastic signal. Today, both were generated.

Chart 1: SPX, Daily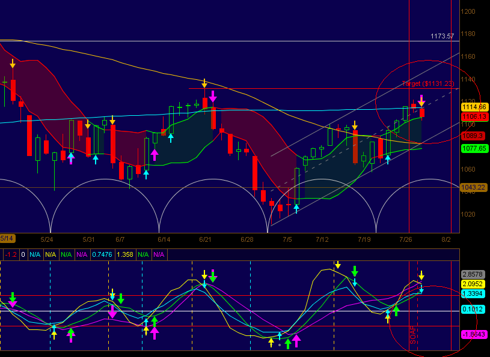 We can see a bearish candle pattern, a momentum divergence, as well as a stochastic sell signal. A great first sign, but just a first sign. Stochastics are one of the more sensitive studies, so they produce many false signals, however they let you know early that a trend change may be at hand.

What is required now is continued follow through; a close that breaks the upward trend channel as well as generates a momentum sell signal. I will of course point that out when and if it occurs.



Disclosure: Long SPY Puts.