It appears that the SPX is now out of the "topping" cycle I outlined last week. It remains to be seen if this cycle is no longer valid, or whether the tendency for the first few days of a new month to be bullish simply overwhelmed the cycle. That being said the McClellan Oscillator continues to be extremely over bought, with other turning tendencies beginning to emerge.

Chart 1 - McClellan Oscillator + SPX + MACD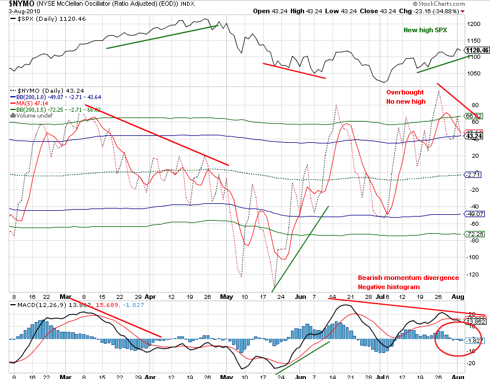 Notice the pattern at turns, which occurs at both highs and lows. An overbought reading, followed by a divergence in the oscillator as well as momentum, as well as a turn in the 5 day moving average. Now notice the new high in the SPX, underneath, no new high in the $NYMO (a divergence), a turn in the 5 day moving average, and a divergence and bearish reading in the MACD. Since this is the most overbought (according to this measure) since right before the "slow motion crash" in early 2009, which caused a loss of 2500 Dow points, even bulls at this point would do well to stop off the tracks here. I'm sure most readers know, I believe this is the start of a new leg down in the ongoing bear market at multiple degrees of trend.

I'll be working on my monthly review of market conditions the rest of the week so I will probably not be posting as much as usual. However if we get something like a confirmed breakdown, or something else interesting I will publish a short note. Have a good week, and good luck trading!




Disclosure: Long SPY puts.