Summary:
Despite several dislocations and non confirmations in the overall market the S&P has decided it wants to go higher. The steep retracement is likely to stop me out tomorrow, though there are enough red flags that prevent me from adopting an outright bullish stance.
Update:
The S&P closed ever so slightly above the level I outlined as my stop, though the broadest measure of U.S. equities remains ever so slightly just below that area.
Dow Jones Wilshire 5000 Composite: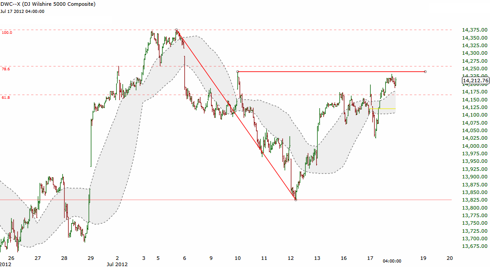 One of the "red flags" I have observed has continued throughout this most recent rise is a Dow theory non confirmation.
Industrials: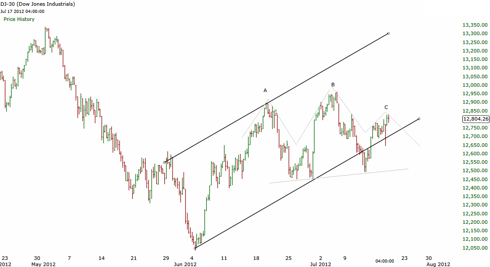 Notes: Peaks A, B and C also tend to have a head and shoulders pattern look to them.
Transports: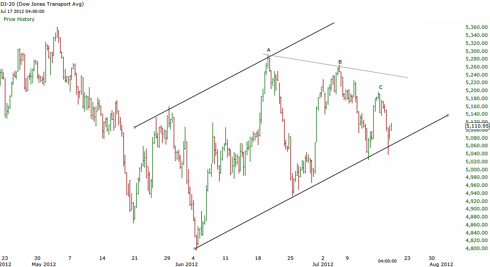 Notes: While the Dow Jones industrials set their closing high in May, the transports set their high back and February, and have been unable to progress any further. In more recent price action, the same A,B,C peaks have come at lower and lower levels, producing both a long-term and short term non confirmation. There's also a possible triangle forming.
Utilities: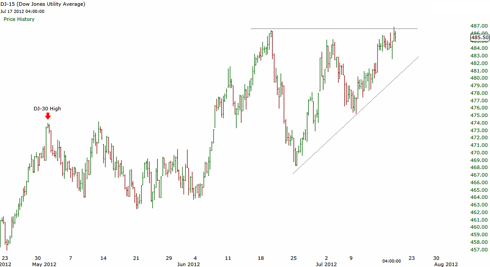 Notes: the utilities index has exceeded the May closing high set by the Dow industrials. Possible double top, or ascending triangle.
If I were in institution that had to be long stocks, yet I believed the economy was faltering, I would have a bullish stance on utilities since they typically pay a reliable dividend, a more neutral stance on industrials, and the most bearish stance on the transport index since they tend to be the most economically sensitive. That seems to be what is playing out in these charts.
Taking a quick look at yields, both the 10 and 30 year slightly exceeded their June 4 lows but bounced today. I still believe the best interpretation of these charts is a high degree of fear among bond investors, with a relatively high amount of complacency (VIX, Money Market,etc.) in equity investors (bond investors tend to be correct).
10 Year Yield: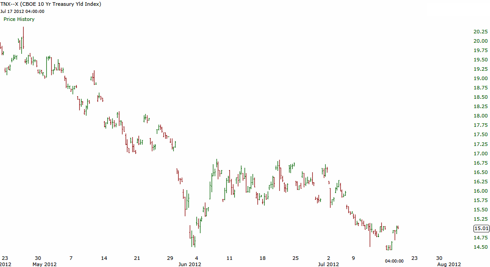 30 Year Yield: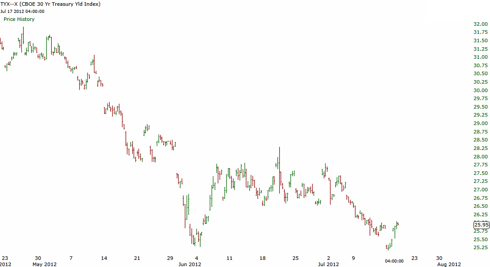 Complacency: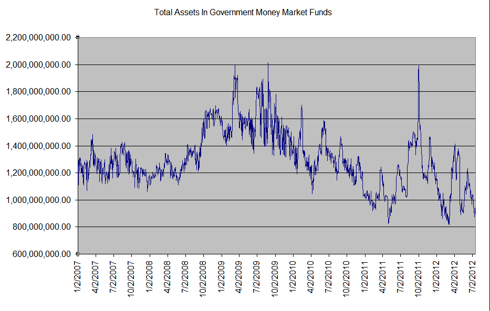 Notes: Assets in money market funds has declined past the level that occurred at the May top in equities. Despite the modest decline thus far in equities this summer, investors seem more certain than ever of the Bernake put.
Summary:
It looks likely that I'll get stopped out tomorrow, that said there continues to be quite a few divergences, non confirmations, and red flags that prevent me from adopting a bullish view. So for now I'm relegated to watching and waiting for the next high probability setup to appear. My guess for now is that the alternate scenario which I laid out in my previous update is likely to occur; the test of the highs or near highs, with short term overbought conditions, and intermediate term indicator divergences. I'll note them here should they become apparent.
We'll talk again soon,
-Bill L.
Disclosure: I am long SPXS.