Just to follow up on some topics I brought up in the comments section of Tuesday's update.

First, and updated chart I published Tuesday evening of the S&P 500.
Chart 1 - SPX - 15min bars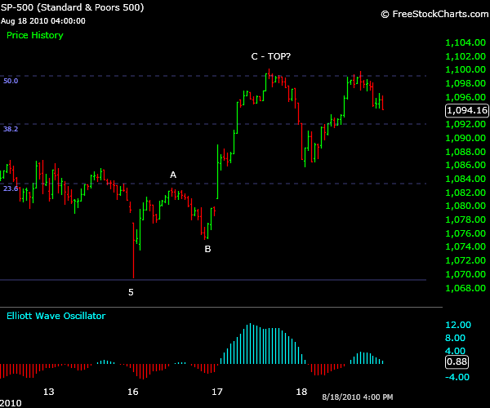 Technically, since we have no new high, this labeling can still be correct though odds have diminished because the retracement has been so steep. However, I still see this as a correction because of all the divergent signals. You can see a negative divergence between highs in the Elliot wave momentum oscillator. Furthermore, the Dow does not have a 5 wave advance since what could be counted waves 1 and waves 4 in the S&P, overlap in the Dow 30. The lower high is also much more evident in the Dow. This means that thus far the rally from the lows is not impulsive, thus corrective, so a full retracement and new lows should be expected.

Chart 2 - Dow 30 - 15min bars


I've drawn a line showing the overlapping waves. A good rule of thumb is overlapping waves tend to mean a corrective trend. So even if you lose the count, overlapping choppy action tends to mean correction, which means the trend preceding the correction will continue.

As a said Tuesday night, corrective patterns tend to get complex, and the correction might not be over. However, the minimum retracement has been met, and one should not ask for more from the stock market gods than is reasonable. I still see another leg down starting shortly.


Disclosure: Long SPY puts.