Bottom Line:
The indicators I follow are beginning to become oversold, leading to a very similar situation as the previous two bounces. That said, 1) there's still some room to run on the downside 2) if this is the beginning of a longer term downtrend "mild oversold" readings should provide no support.
Update:
In previous updates entitled with "bulls need to make a stand," I noted that prices were approaching support with certain indicators reading oversold. Those instances turned out to be continuations of the rally. We are once again in a similar situation. However, if the long-term trend is transitioning from up to down, I would expect the indicators to plunge much further into oversold territory before they would provide support. For example, in a bull market a RSI reading of 30 is considered oversold, however in a bear market the RSI can drop below 20 and even into the teens before any meaningful bounce begins.
S&P 500: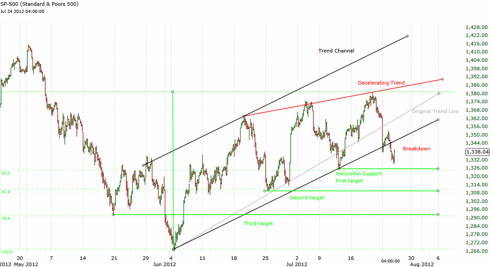 Today the SPX broke down through the rising trend channel originating from the June 4 lows. If this is the break I've been looking for, we should reach the first target promptly. Also notice how horizontal support matches up nicely with Fibonacci levels, so progressive breaks of these levels will be big wins for the bears.
My stop is 1361.50 in the SPX, which a 61.8% retracement of the current decline, and matches up quite nicely with the small intraday base built before the decline accelerated. If the SPX reaches that level, I would guess the market would continue to rally to the decelerating trendline.
In previous updates I wrote that both tens and thirties had broken down out of sideways moves that had lasted weeks, based on the size and duration of this pattern, it was very likely that we would see new record low yields in both.
10 Year Treasury Yields: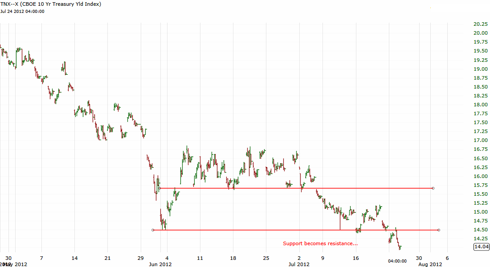 10 year yields have since hit new all time lows, previous support now becomes resistance. A move in yields back above the previous double bottom breakdown level would be a red flag for the bearish equities thesis. If equities had followed yields (as is quite normal) the market would have completely retraced the entire June 4th rally... As I've said before, bonds tend to tell the truth.
Dr. Copper, commonly referred to on the street as the best real time economic barometer, has had a far less impressive rally off its lows, and has since broken down from its rising trend channel.
JJC - Copper: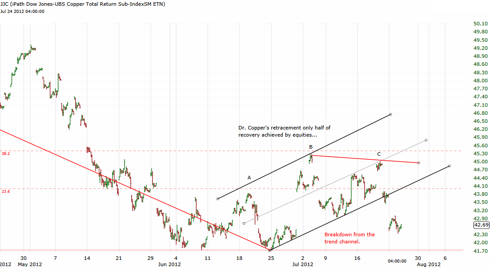 Peak C failed to rally above peak B, producing a non-confirmation with the major equity indexes. A complete retracement, and a break of the June 25 lows would be a good sign for the bearish prices, while stabilization or a rally back into the trend channel a detriment.
Indicators:
In my opinion the most bullish interpretation of the aggregate message of the indicators I follow is that the decline is 70% complete. If however the market is indeed reversing into a longer term downtrend, the current readings are far too mildly oversold to suggest any sort of significant bottom. While I held this view during the previous bounce, and it did not work out, I continue to believe this is the correct interpretation. Further supporting evidence can be found in the VIX and Put/Call ratio, which even with today's spike (in the VIX), is nowhere near levels suggesting there's enough fear for meaningful bottom.
NYSE McClellan Oscillator:
NASDAQ McClellan Oscillator:
Percentage Of Stocks Above Their 20 Day Moving Average:
NYSE Advancers vs. Decliners:
NASDAQ Advancers vs. Decliners:
AMEX Advancers vs. Decliners:
NYSE Up Down Volume:
NASDAQ Up Down Volume:
AMEX Up Down Volume:
NYSE TICK:
NASDAQ TICK:
NYSE TRIN:
NASDAQ TRIN: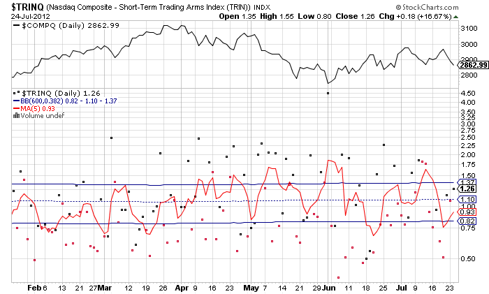 Random Thoughts:
"Fast Money" was playing in the background while I was writing this, I couldn't help but notice that tweets they read all clamoring for Fed action because of Apple's miss... Really?
Summary:
There have been so many long running divergences and non confirmations in bonds, currencies, other equity indexes, sectors, and commodities that the S&P could quickly play catch up to the downside.
That said, some indicators are near oversold, and the Fed is hinting that more easing, with that in mind remember to honor stops. You know what they say about the best laid plans...
One day to time,
Bill L.
Disclosure: I am long SPXS.