Speculators about to get there heads handed to them:
A few years ago I realized why it pays to pay attention to speculative surges in the options market. Most people think options speculators are much more advanced due to all the leverage and nuances of time and volatility. This is untrue. I had flown into New York City to talk to some analysts at Citi. To get right to the point, I remember the cab driver was taking me to their offices, but he was constantly playing with his smart phone. When he asked what I did, he immediately started going on about his options trades (which is what he was doing while cab driving), what companies he was seeing unusual activity, etc. I already followed the put call ratio, that cemented in my head that surges in the total put call ratio should be faded, and there meaning should always be taken contrarily. That being said...
Last I week I published various charts showing that we should be accelerating to the downside this week and into September, the weakest month for stock market performance according to the Trader's almanac. The respite in 2009 has given  investors a great place to exit the market. Instead, many have doubled down, from fund managers, investors, even the Government etc. On a much smaller degree we can see a micro version of this behavior today. Right as the decline should begin to pick up speed into September, we see speculators buying an immense amount of calls compared to puts.
Chart 1 - Put/Call Ratio - with 1 and 1.5 standard deviation levels, and 5 day moving average.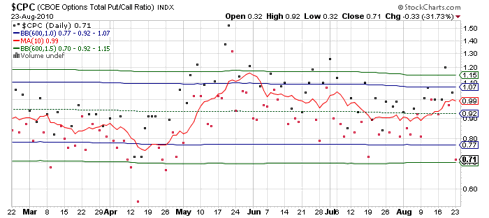 You can see that by today's close, the ratio has dropped  to almost 1.5 standard deviations from the mean, to .71. So despite a negative day for stocks, and right ahead of September, options speculators think the market is going to shoot up. If there is one thing I have learned, it is the popular trade is ALWAYS WRONG. This is a good sign for bears, I hope the cabby in New York isn't long...
Disclosure:
Long SPY puts, Long BGZ