Bottom Line:
If the market tops out here, this most recent rally leg would be the weakest yet in terms of internals, momentum and breadth. The simplest interpretation however is that this is just a momentary pause at the halfway point of a rally leg.
Short Term Indicators:
Summary:
Bullish: 18.75%
Neutral: 62.25%
Bearish: 18.75%
Indicator Snapshot:
NYSE McClellan Oscillator: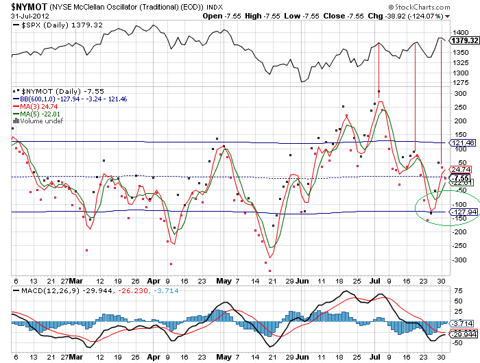 Notes: The Mcclellan oscillator is currently bouncing from oversold levels, and looks as if the rally is only half over. The alternate and less likely scenario is that there is a double divergence forming. This set up is similar to last summer's swoon, where the Mcclellan oscillator got severely oversold, but just kept going lower. However Ockham's Razor states that we should make as few assumptions as possible, thus the primary interpretation of this indicator is short term bullish.
Percentage of stocks above their 20 DMA: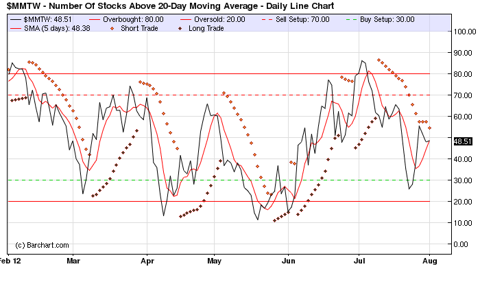 Notes: This chart looks very similar, it is possible to interpret this as a double bearish divergence, meaning that the last three peaks in the stock market have had higher highs, the indicator has had two successively lower highs. That said, the simplest interpretation that makes the fewest assumptions, is that this indicator became lightly oversold and is now rebounding.
NYSE A/D Line: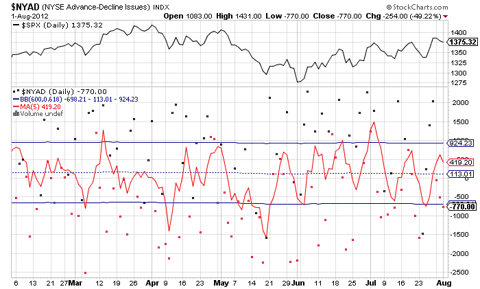 Notes: Lightly overbought to neutral.
NYSE Up/Down Volume: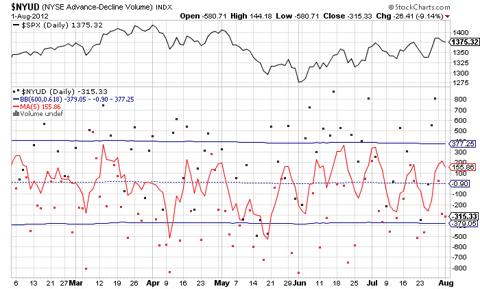 Notes: lightly overbought to neutral.
NYSE TICK: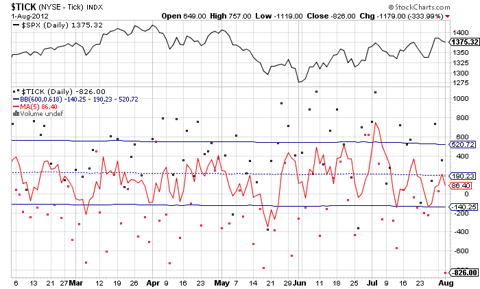 Notes: Neutral.
NYSE TRIN: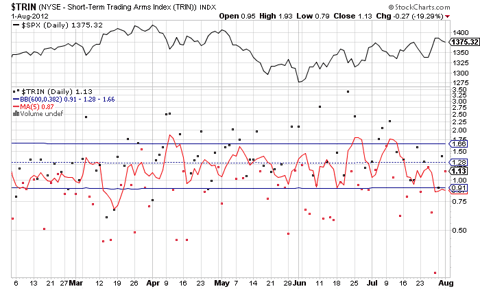 Notes: the TRIN is one of the few indicators that is producing a bearish/overbought reading.
Aggregate Interpretation:
An equal amount of indicators are producing bearish and bullish readings, with the majority of the indicators I watch firmly in the neutral position. Ockham's Razor states that the simplest explanation is typically correct, thus the best interpretation based on the collage of short term indicators is that the market is pausing at the halfway point of a rally of leg. The less likely interpretation is that this rally leg is a weaker than the previous two, and the entire move from the June 4 lows has reached an exhaustion phase.
Update:
While the default interpretation of the indicators is bullish, I mention the possibility of a weakened exhaustion rally because several of the non confirmations I've been continually mentioning are still prominent.
Dow Theory: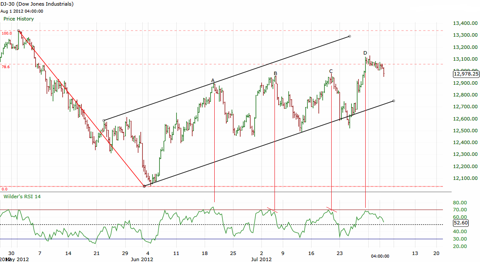 Notes: note the four consecutive higher peaks...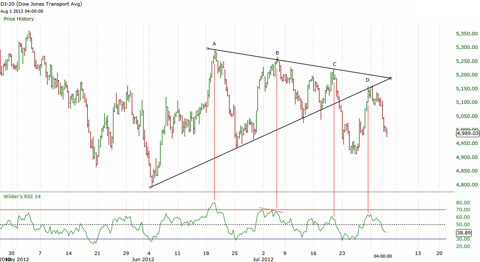 Notes: the same for peaks and the more economically and cyclically sensitive transportation index are all lower. This could possibly be to retest of a broken triangle, if so the target is approximately 4,550, or 10% lower.
Doctor Copper (PhD in Economics):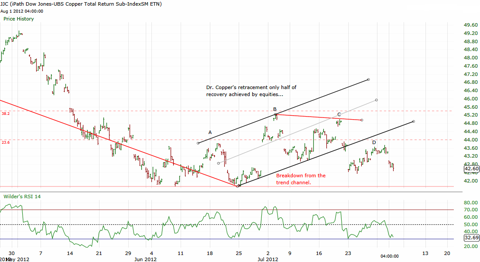 Notes: peaks C and D failed to make any higher progress... Copper is threatening to take out the June 4 lows.
Summary:
It's a crazy world. The market cares more about what Draghi is saying (which hasn't changed) than over 300 subpar earnings reports. How are they subpar when over 50% of companies are beating earnings expectations you ask? Because the long-term average is actually much closer to 70%. Investor relations departments basically hint that their numbers, analysts undercut that by few pennies, and when the numbers come out everyone looks good. Except that isn't happening this year. Furthermore, revenues have been disappointing; revenue growth is expected to be negative this quarter as well as next quarter, and negative revenue growth year over year has only occurred in recessions. This could be the precipice. The most current read of GDP of only 1% is absolutely abysmal when compared to any other third year period of a recovery. Seeing as how GDP can be revised by over a percent +or-, next year we could be in recession while the BEA revised that down to zero. Nothing like the timely contributions of the BEA.
The market pulled back today once it realized the Fed wasn't just yet ready to inject some more monetary crack. With most of the indicators I watch registering a "neutral" I feel there's no high probability trade on deck just quite yet. A break of 1370 in the S&P and I would have to consider the possibility that this most recent rally leg was simply extremely weak and exhaustive; unable to push the short term indicators any higher and producing triple bearish divergences in the Mcclellan.
Sentiment update tomorrow,
-Bill L.