Updating a chart I posted yesterday
Chart 1 - $SPX vs $NYMO - Sentiment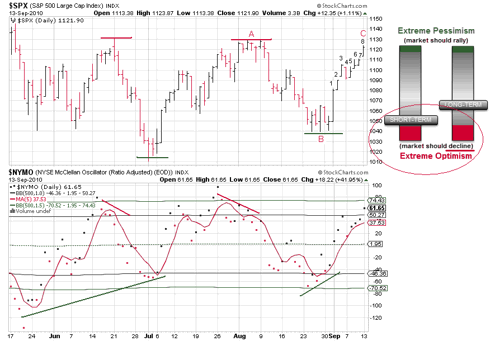 $NYMO closed today 1 std deviation from the mean, tomorrow I expect the 5 day moving average to cross over 1 standard deviation line (or come very close to it) as well. Sometimes divergences happen, other times not, however once the $NYMO 5DMA reaches this area, corrections are usually imminent. The TD-Sequential Sell Setup count is 8, a close tomorrow over 1,098.87 will complete a perfected TD-Sell Setup. Also note on the right hand side of the chart, according to sentimentrader.com's aggregate indicators, that all the "extreme bearishness" has pretty much been washed out by the last 8 days. It's been pretty amazing to see people go from one extreme to another in less than two weeks time. It is less amazing to see that once again, pundits on CNBC only mention contrarian indicators when they are bullish. Lucky, in today's "Fast Money - Mad Money - BUY BUY BUY" world, you can say things and not have to explain or back up your claims. For example, everyone at CNBC is an idiot. See? -Now I will continue on without providing any supporting evidence.

In terms of long term sentiment:
Chart 2: Mutual Fund Cash Level


If people are so bearish then why have mutual funds, the agents of nearly every retail investor in America, invested every last dime in the stock market and now have the lowest cash levels EVER? You can see the fear in 2009 caused a flood of liquidation cash raising. This is not a fearful market by any means. Adding weight to the argument, most long term indications of sentiment such as the Schiller-PE ratio, and the S&P Dividend Yield, etc show quite clearly that long term sentiment is still at historically bullish extremes.

Chart 3 - SPY - Daily Bars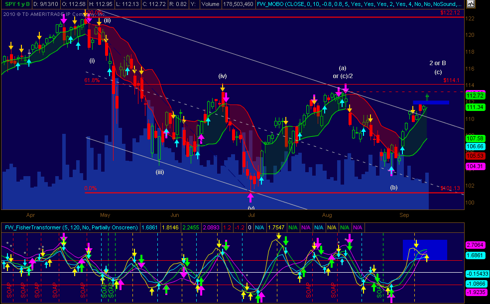 The market seems to be continuing to the targets I've laid out, while also producing a small gap. Highlighted in the lower blue box, momentum is currently "overbought" and a weak stochastic sell signal was generated a few days ago. Ideally, the market has either made it's high, or will make a slightly higher in the next day or so, completing the Elliot wave pattern and a TD-Sell Setup. A reversal that closes the gap will be the first good indication that things have turned. It appears that an opportunity to sell the market is materializing.

Ending thought: the put call ratio 5 DMA is still quite high. Typically at turns, you see speculators betting incorrectly. So it does bother me to see quite a few put options being bought at a high. I'll being watching this week's AAII and II sentiment surveys releases to better see where the herd stands.



Disclosure: Long SPY puts.