Market Conditions
:
Given how far most indexes (except the Dow) have traveled outsides the downward trend channel (as currently drawn), it makes more and more sense to label the rise from July 1st, Minor 2, rather than minute 2 (though that count is still possible). Regardless, indicators are near or at extremes, and in aggregate are suggesting that at minimum, a correction, if not the beginning of the next leg down, will occur now or in a day or so.
Chart 1 - SPY Daily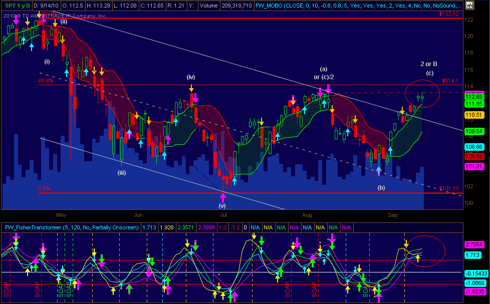 You can see in the chart above, the SPY, a proxy for the S&P, is testing the pivot resistance and the Fibonacci 61.8% retracement level I have been mentioning for the past few days. Intraday, the S&P, Nasdaq, and Dow Industrials broke yesterday's highs, but all doing so with bearish candle patterns. The spinning tops or "doji" represent indecision and a balance being struck by buyers and sellers. Candle patterns are often wrong, but the value in the patterns are they are usually the first warning of a turning point.
Confluence
:
Adding value to the simple resistance/candle pattern:
1) the fact that momentum is at an over bought level and
2) prices are bumping into a confluence of chart resistance
3) a near complete Elliott wave pattern
4) breadth indicators are also showing overbought conditions as well as possible bearish divergences.
5) TD-Sequential Sell Setup count is perfected 9.
For Example:
Chart 2 - $NYMO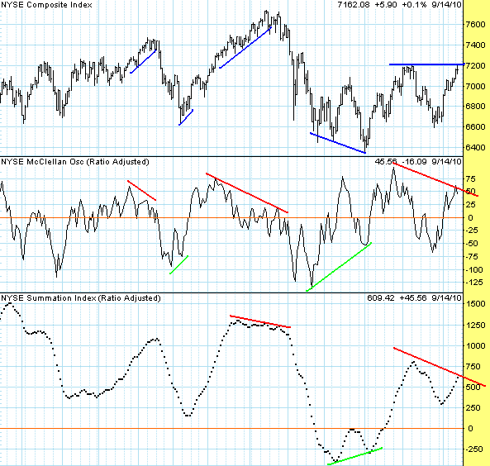 Although prices have reached the same level, both the oscillator (which is overbought) and the summation index are showing a bearish divergences. This implies that although most of the main indexes are at similar prices to the last peak, this current rise has been far less internally strong.
Chart 3: TD-Sequential Perfected Sell Setup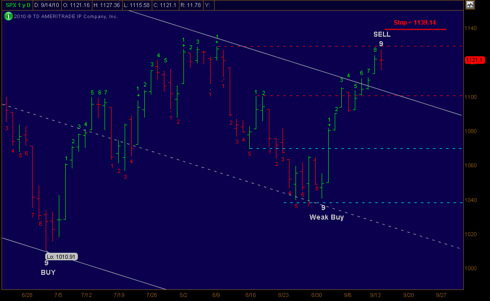 I've commented here and there the last few day on the ongoing TD-Sequential count. Today's close concluded a perfected TD-Sell Setup.
Summary
:
With today's close, the confluence of data saying the market has peaked or will peak in on only a day or so is very strong.
Closing Random Thoughts
:
The put/call ratio's 5-DMA continues to be relatively high, however the last two days have registered closes that favored the call side. Still, it's one of the few things that bothers me. I would expect the 5-DMA to be lower.
Disclosure:
Long SPY puts. Long BGZ.