Bottom line:
The indicators that I follow have elevated from a "neutral" reading to a "neutral-bearish" reading, indicating caution, while not being outright bearish. The divergences in the transport index and copper continue, while the picture and treasury yields is a bit more muddled.
Indicators:
Bullish: 1/20
Neutral:9/20
Bearish: 10/20
Indicator Summary: The market is bouncing from the oversold reading I flagged on July 24. As it stands today, the best interpretation is that the market is lightly overbought, though there appears to be a bit more room to run. If I had to put a number on it, I would say the current rally leg is about 75% complete.
Examples:
Percentage of stocks above their 20 DMA: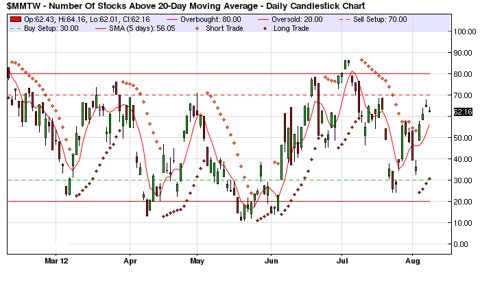 Notes: Edging towards overbought territory, but not quite there yet.
NYSE Mcclellan Oscillator:
Notes: Similar story... The best interpretation is neutral, with room to run higher.
NYSE Advance Decline Oscillator: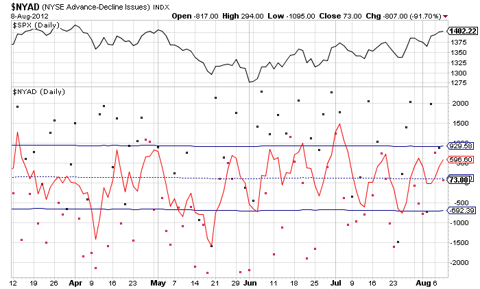 Notes: Elevated, but nothing to get excited about yet.
NYSE Up-Down Volume Oscillator: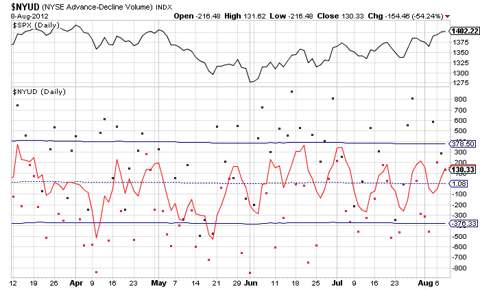 Notes: Neutral.
NYSE TICK: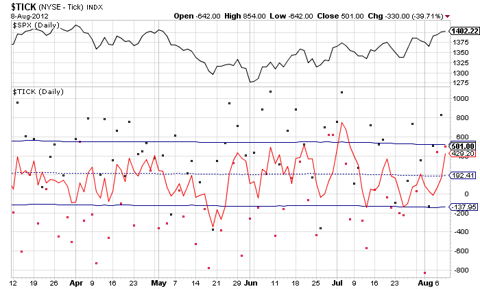 Notes: Near overbought.
NYSE TRIN: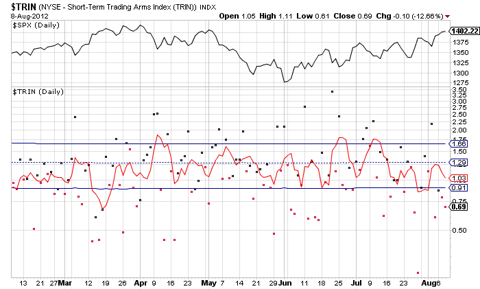 Notes: While this doesn't look overbought yet, it should get overbought tomorrow as the extreme August 2nd reading drops off.
The "NewHigh-NewLows" indicators are still showing divergences, which typically precede turns.
NYSE NewHighs-NewLows: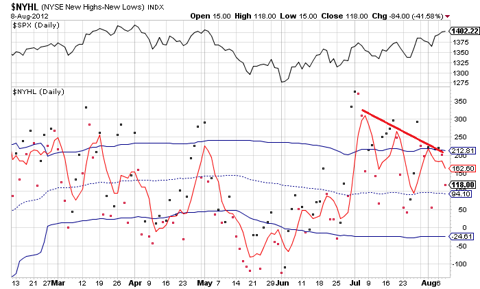 Notes: Coming off overbought with a bearish divergence.
Amex NewHighs-NewLows: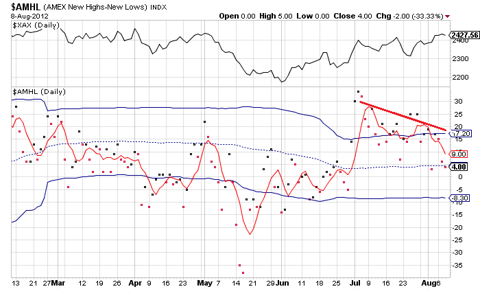 Notes: Just below overbought, but I grade this as "bearish" due to the bearish divergence.
Update:
The Dow Theory non-confirmation remains:
Dow Industrials: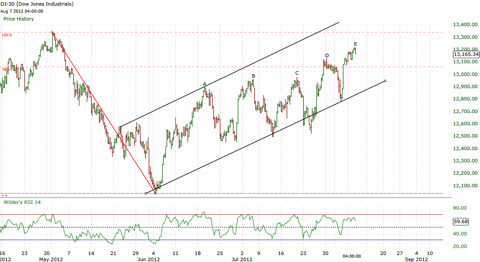 vs.
Dow Transports: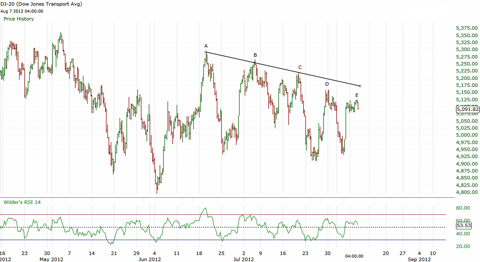 vs.
Dr. Copper: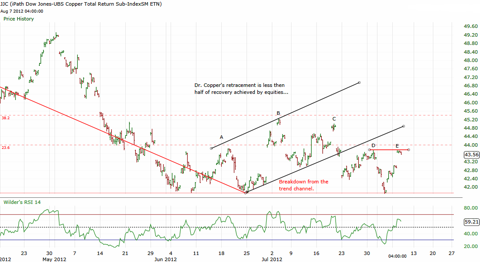 vs.
10 Year Yields: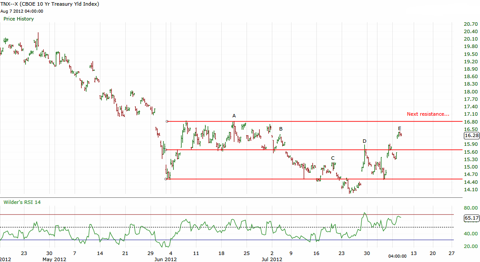 Notes: Back near the recent highs of the previous range, though this certainly does not look like the rally in equities.
Summary:
Many of the non-confirmations remain, while the leading index (utilities) is losing steam. The indicators I follow aren't quite at a place where I would recommend an all out short position, but we appear to be getting there. If they all line up, I'll note it here.
Talk again soon,
-Bill L.
PS - Sorry about the short update, I've begun preparing for the CMT lvl 3 exam, I'll continue to put out notes as my schedule allows. While I may not be able to write daily, whenever a high degree of indicators line up and I'm looking to initiate a trade, I'll certainly update the blog.