Bottom Line:
The setup looks bearish... with caveats. The market is testing Fibonacci and trendline resistance, while most of the short term technical indicators I follow are overbought and rolling over. The caveats? The most sensitive indicators have already had begun moving lower and prices has not followed. If indicators move down and price doesn't, you're on the wrong side of the trade.
Price Action:
SPX:
click to enlarge)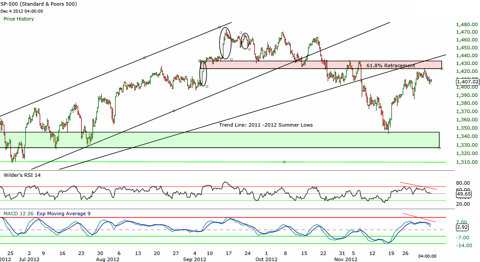 Notes: Short term momentum indicators appear to be topping out while prices are right below the 61.8% retracment level. Prices are also testing the underside of previously broken trendline.
$DJT:
click to enlarge)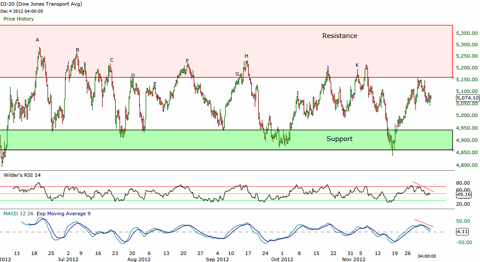 Notes: The transport index has been oscillating between resistance and support for almost a full year now. The range has been incredibly reliable, and the industrial index and SPX have had short term peaks at almost every instance of a test of this zone. Should the transport index break out of this range, it's been consolidating for so long that the move out of this zone should be quite large. Something to keep an eye on. It could be the next big medium/long term play.
Indicator Summary:
Bullish: 0%
Neutral: 20%
Bearish: 80%
Aggregate Interpretation: The rally since mid November has pushed most of the indicators I follow into overbought territory. That said, some of the indicators have already begun to pullback without prices following. If prices don't begin to follow immediately, the probability of a bad bearish setup rises dramatically.
Indicator Snap Shot:
Percentage of Stocks Above DMA:
click to enlarge)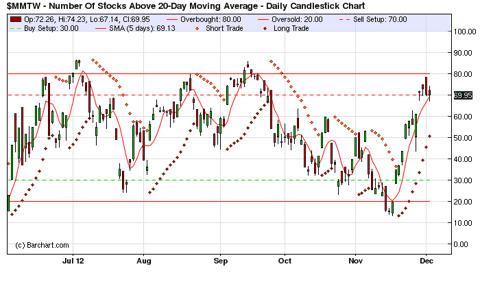 Notes: The percentage of stocks above their 20 DMA continues in an uptrend as per the parabolic SAR. That said, both the close and 5 day moving average are solidly in the overbought range, a negative for stocks in the short term.
NYSE McClellan Oscillator:
click to enlarge)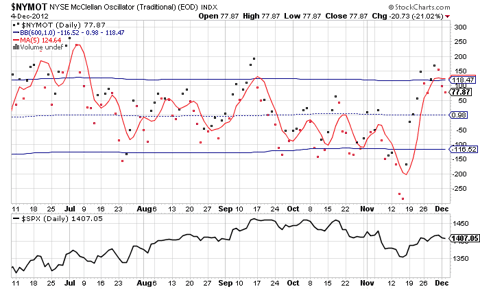 Notes: The 5 DMA is above 1 standard deviation from the mean and appears to be turning lower, one of the mechanical sell signals I look for.
NYSE Advance - Line:
click to enlarge)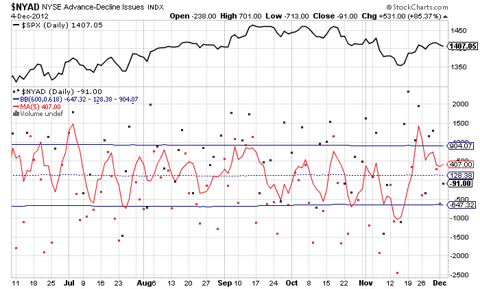 Notes: The AD recently hit a very overbought level though it has moderated in the last few days without prices continuing lower with it. Prices need to catch up or the odds of this being a bad setup increases.
NYSE Up - Down Volume:
click to enlarge)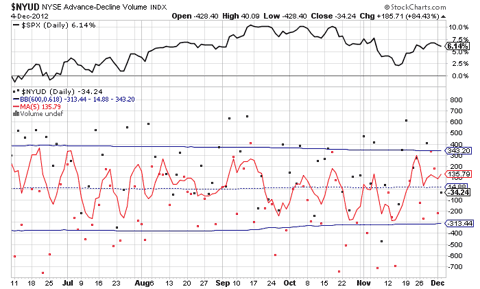 Notes: Very similar to the AD line. Also note that in both indicators there is the possibility of a small divergence between the peak in prices and the peak in the indicators.
NYSE TICK:
click to enlarge)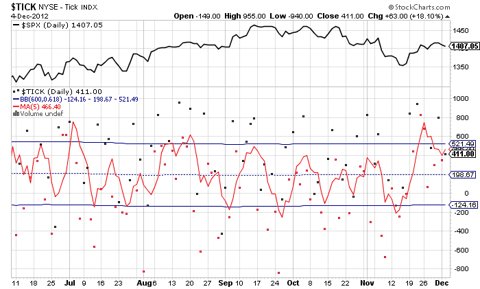 Notes: The TICK is a very good example of the general state of the indicators a whole; they've hit overbought levels, had a small divergence, and have since begun to head lower. Now it's price that must conform for the bearish setup to remain intact.
NYSE TRIN:
click to enlarge)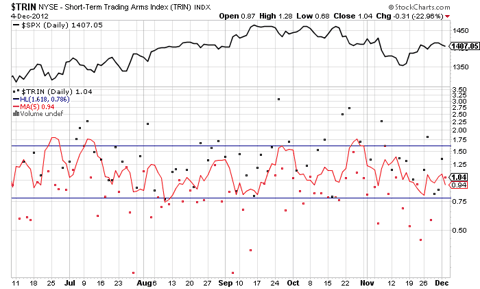 Notes: Both the NYSE and NASDAQ TRIN figures look similar; overbought and have started mean revert.
Put / Call Ratio:
click to enlarge)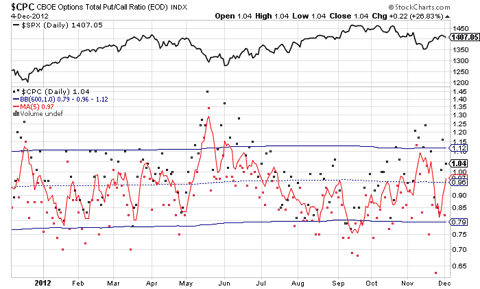 Notes: The put call ratio illustrates the current market sentiment well. Market participants apparently gone from freaking out to complacent in near record time. Unbelievable. Similarly, in the most recent Hulbert Financial Digest, newsletter writers were recommending a net short position just a few weeks ago, a strong contrarian signal. Now, they've completely reversed themselves and are recommending to readers that they be long (now that it looks like the rally could be ending). Thanks for the tip, pros.
Summary:
The setup looks bearish, but indicators such as the AD line have already pulled back a bit, and prices have only been sideways, moderately lower at best. If this continues it starts to look more and more like a recharge rather than a continued move lower. I recommend being neutral or just a small short position if you're aggressive to test the waters.
Good Hunting,
Bill L.
Disclosure: I am short SPY.