Video games are one of my passions. One of the first companies I ever covered on Seeking Alpha was Nintendo (OTCPK:NTDOY; OTCPK:NTDOF); and later in fact, I gave a glowing recommendation on the newly-christened gaming triumvirate Activision-Blizzard-King (ATVI; KING). I've been an avid gamer since I was a child, so I may be biased...

But, there's been a recent controversy that I felt needed addressing. It's always been lurking in the background but has finally exploded into the public discourse by the Battlefront 2 (EA) scandal; it is the policy of 'loot boxes' - in-game items that randomize certain rewards like skins, weapons, and special abilities that are often given out for free but can be purchased by players.
Bloggers, YouTubers, and reviewers, especially those who have always despised micro-transactions, have been quick to capitalize on the controversy by attacking the policy of loot boxes, going so far as to suggest they are akin to gambling. And as governments are wont to do, they have seized on the moment as well; Belgium's Justice Dep't. is currently investigating whether they constitute gambling and should be banned in the European Union, as well as Dutch and Australian authorities.
Schrödinger's Loot Boxes
The problem is, by the strict U.S. legal definition, loot boxes both are and are not technically gambling. U.S. Code, Title 31, Subchapter IV, Chapter 53 on 'unlawful Internet gambling' states that, in reference to gambling, the legal definition of a bet or wager:
... means the staking or risking by any person of something of value upon the outcome of a contest of others, a sporting event, or a game subject to chance, upon an agreement or understanding that the person or another person will receive something of value in the event of a certain outcome;
... includes the purchase of a chance or opportunity to win a lottery or other prize (which opportunity to win is predominantly subject to chance)...
Yes, loot boxes do entail pure random chance (or at least, the closest thing to randomity that computer algorithms can compute) and players do risk something of value (their money). However, the legal definition specifically does not include "... participation in any game or contest in which participants do not stake or risk anything of value other than -
personal efforts of the participants in playing the game or contest or obtaining access to the Internet; or

points or credits that the sponsor of the game or contest provides to participants free of charge and that can be used or redeemed only for participation in games or contests offered by the sponsor...

Here is where it gets tricky, because loot boxes are, in virtually every game, offered to players free-of-charge regularly or as a result of player participation, either as a result of the accumulation of game-time or participation in specific events such as holiday updates. Loot boxes simultaneously fit the definitions of both 'gambling' and its antithesis.
You can take my opinion with a grain of salt, because I am no legal analyst or graduate of Harvard Law, but here is EA's official statement on the matter:
Creating a fair and fun game experience is of critical importance to EA. The crate mechanics of Star Wars Battlefront II are not gambling. A player's ability to succeed in the game is not dependent on purchasing crates. Players can also earn crates through playing the game and not spending any money at all. Once obtained, players are always guaranteed to receive content that can be used in game.
Of course, EA would refute any legal challenge to its rights to sell loot boxes, however, does all of this really matter anyway?
The Yoke of Micro-transactions
Regardless of whether loot boxes entail gambling or not, in the current regulatory climate of the Trump administration and Republican-held Congress, I doubt there is any motivation to pursue litigation against something so trivial.
The real question lies not in their legality but in their utility.
In the case of most video games, especially AAA titles, loot boxes and other similar micro-transaction mechanisms are starting to significantly contribute to overall revenue compared to digital distribution, especially in certain 'gacha'-based mobile titles such as Square Enix's (OTCPK:SQNXF; OTCPK:SQNNY) Final Fantasy: Brave Exvius or multi-year spanning online shooters like Ubisoft's (OTCPK:UBSFF; OTCPK:UBSFY) Rainbow Six Siege where micro-transactions ensure the game's survival.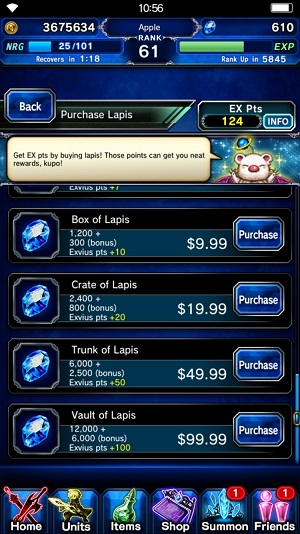 For most other games, micro-transactions act as an almost investment-less buffer, meaning they require very little input for a much larger output, i.e. they are the best possible ROI/revenue margin opportunity for many companies. Digital distribution still trumps micro-transactions in at least a literal sense because.... well, you need an actual game before you can start selling people add-ons for the game, however, it is the far more costly part of development.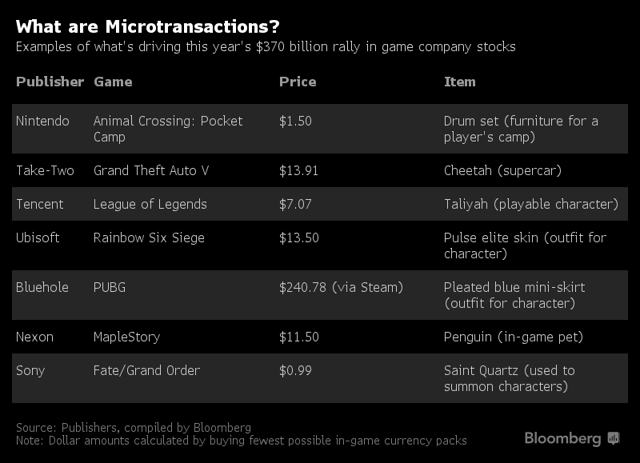 As the Battlefront 2 scandal threatened to bring down EA's stock and ruin the company's reputation, at least what's left of it... EA itself and some analysts responded to the scandal by pointing the value that gamers get as a result of the new micro-transaction standard.

KeyBanc Capital Markets analyst Evan Wingren wrote in a well-publicized note to clients concerned about the issue:

We view the negative reaction to Star Wars: Battlefront 2 (and industry trading sympathy) as an opportunity to add to Electronic Arts, Take-Two (TTWO), and Activision Blizzard positions. The handling of the SWBF2 launch by EA has been poor; despite this, we view the suspension of MTX [micro-transactions] in the near term as a transitory risk.

Gamers aren't overcharged, they're undercharged (and we're gamers). … This saga has been a perfect storm for overreaction as it involves EA, Star Wars, reddit, and certain purist gaming journalists/outlets who dislike MTX.
Wingren is absolutely right; the only reason there are micro-transactions in the first place (and hence an inevitable controversy) is because gaming companies have become stuck in the habit of essentially benchmarking base prices of games and using micro-transactions as a way to come up with the shortfall. In the last decade, have you ever seen a game that was not priced at $60, regardless of whether it was developed by an independent studio or a multi million-dollar AAA publisher?
Wingren went further, estimating that "... if a [SWBF2] gamer spent $60 for the game, an additional $20 per month for loot micro-transaction boxes and played around 2.5 hours a day for one year, it comes out to roughly 40 cents per hour of entertainment. This compares to an estimated 60 cents to 65 cents per hour for pay television, 80 cents per hour for a movie rental and more than $3 per hour for a movie watched in a theater." Considering most players would have never purchased micro-transactions anyway, the per-hour value of entertainment would have been even higher for gamers.
Why not simply increase the base price of games based on their actual cost as opposed to using micro-transactions to make the difference?

Because, obviously, companies have an economic incentive to keep the policy of micro-transactions because of what I mentioned earlier about the high margins of micro-transactions.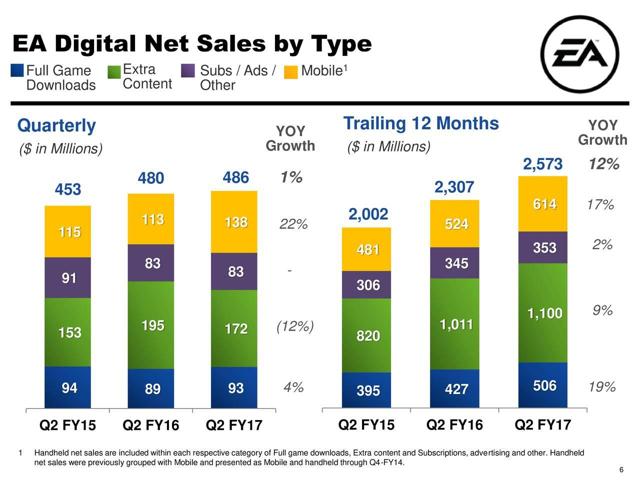 But, do they really?
As evidenced by this recent scandal - a flashpoint in the ongoing war against micro-transactions - gamers are increasingly frustrated and angry by micro-transactions, especially those of the pay-to-play variety that essentially allow players with the bigger pockets to rig the system in their favor. EA has always been... despised to say the least. It's been named one of the worst consumer companies in the U.S. for a reason. And one of those reasons is that micro-transactions, in corporate speak, carry a huge reputational risk that sometimes far outweighs the potential benefits of a micro-transaction based profit system and even extends to sales volume risk.

Take, for example, the Halo series owned by Microsoft (MSFT):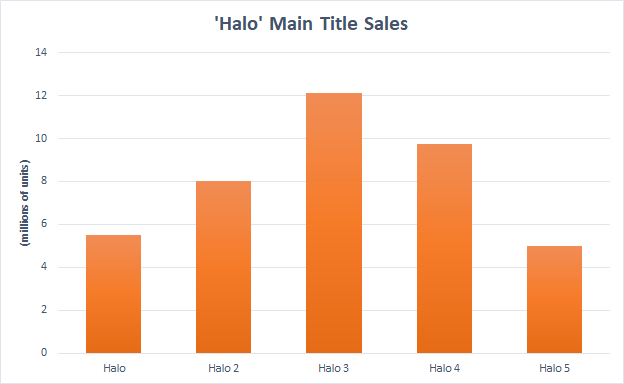 Once hailed for its well-written lore, unique character races, and FPS mechanics, what was once one of the fastest-growing, most-beloved franchises in U.S. gaming history has become a shell of its former self. At the risk of sounding like a Marxist, Halo has been marred by consumerism and commodification. The creation of unsuccessful overly-cinematic film/TV series, exclusive platforms and apps like "Halo Channel", and other atrocities did nothing to contribute to Microsoft's bottom line. And the final nail in the coffin was when Halo 5 introduced a truly despicable micro-transaction that locked out basic multiplayer content like vehicles and weapons behind a "card" system that were essentially loot boxes that allowed wealthier players to get a leg-up on their opponents.
You need simply look at the sales figures to see that gamers do vote with their feet (or their wallets).
Moving Forward
So, why bother?
If loot boxes are a poor financial policy and poor customer policy, then why not go back to the 'good ol' days' of gaming where progression systems not random chance determined your skins, weapons, and abilities?

Psychological reward systems, otherwise known as operant conditioning (e.g. loot boxes), cheap sex appeal, and stunning visuals are not necessarily indicative of a poor game, but they are not required to make a good game. Nowhere is this more evident than in one-man-developed indie games like tobyfox's Undertale or Thomas Happ's Axiom Verge.
Undertale, for example, amassed over 3 million players, received glowing reviews, and has netted its developer - at somewhere around an average price of $10 over its lifespan - probably over $30 million. On a budget of only $55k crowdfunded by Kickstarter, amateur developer "tobyfox" made the game, music, and art (with help from the community) that outpaced AAA titles' Steam sales at the time of its release in 2015, including Square Enix's Life is Strange and CDProjektRed's Witcher 3. From the financial perspective, this represents a gain of over 562% for its developer.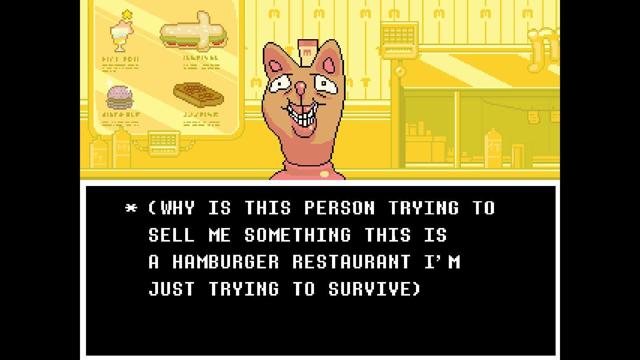 Undertale has no pseudo-RPG reward system, no amazing CGI graphics, or big-budget voice actors, and most importantly, it has no micro-transactions. It is beautifully simple. An anomaly now, but what was once considered the norm in video game history. This isn't to say all games need to be like this; that is silly. It is merely to prove a point.
Why are companies investing in overly-cinematic, incredibly expensive, and ultimately unpopular titles that have to rely on micro-transactions to make up the difference?
I can't help but wonder how much more successful some games could be had the publishers simply worried about making a good game.