The following is in no way an indictment of any of the articles mentioned below, or of their authors, who I consider to be peers for which I hold the utmost respect. I firmly believe that no one could have accurately predicted the current collapse in oil prices. The best we can hope to do as investors is to study the past, hope that it repeats itself and pray we have a great memory.
Last night, I found myself reading a fresh new Seeking Alpha article, Oil Producing Industry: When Will It Be Safe To Invest Again?. The article summarizes the utter mess that is currently the oil market, and informs the reader that recent data suggests that oil prices likely will stay suppressed for the near term, if not for a few years. The article concludes that the industry is too volatile at the moment, and the investor looking to pick up oil sector equities on the cheap should wait out the current storm for a better entry point, which is likely still in the future.
I found myself getting very emotional when reading the article.
After letting the content marinate in my mind overnight, I think I figured out why I feel so strongly against this strategy. The author is not necessarily wrong, and I am not necessarily right. We simply possess two very different investing strategies, and my philosophies counter his. Both philosophies can lead to success, but specific philosophies need to be adopted by the right type of person. You can be a Hall of Fame NFL quarterback, but if you strap on a pair of ice skates and get thrown into a hockey rink you may find yourself unable to perform. The right game for the right player.
Maybe The Bottom Is In. Maybe It Isn't. Who Cares?
I'd like to begin with a few famous quotes attributed to Mr. Warren Buffett.
"Be fearful when others are greedy and greedy only when others are fearful."
"It's far better to buy a wonderful company at a fair price than a fair company at a wonderful price."
"The best thing that happens to us is when a great company gets into temporary trouble…We want to buy them when they're on the operating table."
"Whether we're talking about socks or stocks, I like buying quality merchandise when it is marked down."
The current oil price collapse has me very excited. Before the collapse, the general market appeared overbought. As a blue chip DGI, there weren't very many top notch companies I could find that weren't (in my opinion) significantly overvalued. The oil price collapse has created a value investor's dream - a snowball that has turned into a full-blown avalanche.
As Mr. Buffett suggests, let's avoid the "fair companies" that are currently priced "wonderfully," and let's focus on the highest quality, most wonderful companies the sector has to offer.
All three of these companies are part of the world's supermajors, the six largest publicly owned oil and gas companies in the world. These companies did not get to that level by mistake. They did it through countless decades of hard work and management excellence, building profits through thick-and-thin, bull market and bear market. These are, as Mr. Buffet would put it, wonderful companies.
I'm not going bottom fishing with these companies. If Mr. Buffett is happy taking wonderful companies at a fair price, why should I sit on my hands and wait when they're being offered to me on a silver platter?
The Human Being's Natural Behavior Encourages Investment Failure
Dalbar's Quantitative Analysis of Investor Behavior (QAIB) report found that over the past 30 years, equity fund investors earned an average annual return of 3.69% compared with the S&P 500's 11.11%. How on Earth is this possible? Well, humans, their emotions and their actions are lagging indicators of the stock market. When the market is going great, human beings tend to buy in. At that point, things tend to be overvalued. Similarly, when the market is in a panic and stocks are falling to attractive valuations, people lack the emotional courage to buy in, or even worse, they sell. Professional investors are often guilty of this behavior. Professionals tend to exhibit overconfidence, trade too often triggering excessive expenses, and exhibit "herding mentality," where money pours into the current hottest equities that are often at already excessive valuations. This is probably why in 2014, 86.44% of large-cap fund managers underperformed the S&P 500.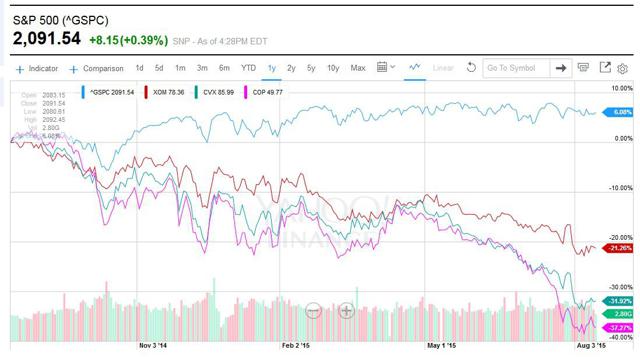 S&P 500 over the past 1 year VS ExxonMobil , Chevron Corporation , ConocoPhillips
All three of the oil majors have fallen substantially versus the S&P 500 over the past year. The falls are predictable in a sense. ExxonMobil is the most integrated and diverse of the oil supermajors and has had its stock price impacted the least. ConocoPhillips is the most heavily weighted on the upstream and has fallen the furthest. Chevron has fallen somewhere in between. There is nothing that panics me about this chart. If I were shopping in a department store right now, I'm seeing a fantastic product being offered at a deep discount. Nowhere do I see signs of LIQUIDATION CLEARANCE! This is just a really great sale.
Let's take a brief look at the end of Summer 2014, when oil prices just started to cool off but before the major slide began. What was investor sentiment like?
ExxonMobil
Exxon Mobil Currently 17.6% Undervalued Based On Dividend Discount Model [Published September 9, 2014]
The following image was attached in the article: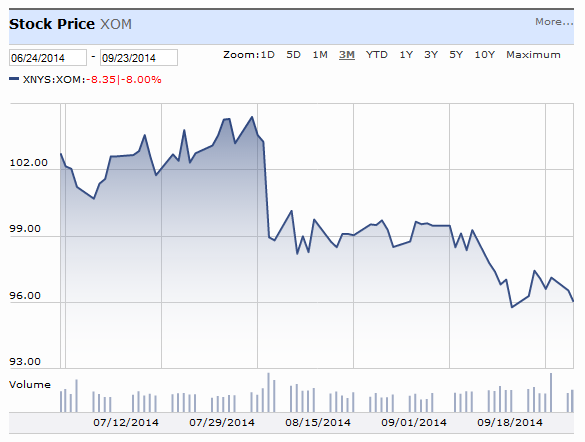 If you love ExxonMobil at $96/share, you're gonna' love it at Friday's close of $78.36. Right? RIGHT?
Chevron And Exxon Mobil: Swirling Near The Drain? [Published August 14, 2015]
ExxonMobil, less than a year prior regarded as significantly undervalued and unduly punished by the market is now swirling near the drain of the...sink? The bathtub? I presume the toilet. Either way, it sounds grim. The article predicts the two dividend aristocrats will likely lose their status within the next year.
Chevron
Things are looking even bleaker for Chevron Corporation . Chevron Corporation ,which is smaller and less integrated and hedged than ExxonMobil , has also been dumping enormous amounts of capex into several large international projects, most notably Gorgon and Wheatstone.
If we go back in time less than a year, we see so much optimism.
Chevron: Room For A 40% Dividend Increase By 2017 [Published September 11, 2014]
After 2Q2015, Chevron found its earnings fall 90%. The sentiment for lofty dividend increases has certainly changed.
Digging Further Into Chevron, Preemptive Dividend Cut Likely [Published August 13, 2015]
The previously-referenced article Chevron And Exxon Mobil: Swirling Near The Drain? similarly predicts a dividend cut within 2 quarters.
ConocoPhillips
ConocoPhillips has the most exposure to the oil price collapse of the three. When the oil market was strong a year ago, sentiment, again, was starkly different.
ConocoPhillips: Deep Value At A Discount Price Even Without Warren Buffet [Published September 9, 2014]
The current tone is certainly different.
Avoid ConocoPhillips As Cash Flow Issues Persist [Published August 11, 2014]
Since ConocoPhillips is the least integrated of the three oil supermajors discussed in this article, it is by far the most susceptible to the depressed crude oil market, and its stock price has reflected as such.
The Only Dangerous Amount Is None
Let's look back at those four kernels of wisdom from Warren Buffett quoted earlier in this article.
Others are clearly very fearful. We should start being very greedy.
It doesn't get much more wonderful than the oil supermajors. I believe regardless of whether or not these stocks have further to fall, they are currently priced at or below fair market value.
These great companies are certainly in a lot of trouble. They're lying on the metaphorical operating table as we speak.
These stocks are marked way down. If these stocks were socks in a department store, they'd be having the sale of the decade.
These three stocks are sounding the BUY alarm. Regardless of whether or not these companies have further to fall, we can get a very good deal for the long term right now. If the market continues to fall, no problem. Simply purchase more on the way down at even lower prices and average yourself an even better position. I do not think it is smart to write one single, large check due to the current volatility. Having multiple buy-in points remove a lot of the risk, and while that strategy guarantees you will not have the absolute best position possible, that is highly unlikely, anyway. Continually waiting for a better entry point often has the investor missing the entire opportunity. This is a recovery I certainly do not want to miss out on, and I will not.
As for the risks involved, there has been much talk about each of these companies cutting their dividends. Let's look at the facts.
Both ExxonMobil and Chevron Corporation are Dividend Aristocrats. ExxonMobil has raised their dividend every year for the past 32 years, and Chevron Corporation has raised their dividend every year for the past 29 years. Both companies value this status immensely. If anyone would like to look at what happens when a Dividend Aristocrat cuts their dividend, I invite you to look at General Electric (NYSE:GE). The result is often a mass exodus, and once that cut occurs, there is a high risk those investors are never coming back.
While General Electric may not have had much of a choice but to cut its dividend during the financial crisis, Chevron Corporation and ExxonMobil are in my opinion vastly better managed, and they have over $12B and nearly $4.5B in cash and cash equivalents, respectively. While Chevron's cash flow is struggling, there is a lot of cash on the books, and Exxon doesn't look to have significant cash flow issues currently thanks to their mammoth size and integration. Furthermore, Chevron's capex should drop considerably shortly as their large projects come online and cash flows will improve, mitigating a lot of the risk.
ConocoPhillips is in the toughest position financially being the least integrated, but with their $3.8B of cash on the books, they have still managed to raise their quarterly dividend from $0.73/share to $0.74/share. This action shows how committed ConocoPhillips is to its dividend. I expect similar sentiment from ExxonMobil and Chevron Corporation.
Conclusion
In the article Oil Producing Industry: When Will It Be Safe To Invest Again?, Mr. Bern makes the case that the oil market is too volatile to enter a new position as there is still room for these stocks to fall. I disagree with that statement because to me, the greatest risk is to wait too long and miss out on the assets that are already trading at great values.
I think my disagreement stems from the fact that I am hyperfocused on the oil supermajors, while he is focusing on lesser known equities. With the exception of ConocoPhillips , he is focusing on smaller E&P's, namely Apache Corporation (NYSE:APA), Marathon Oil (NYSE:MRO) and Canadian Natural Resources (NYSE:CNQ). He is searching for a fair company at a wonderful price, while I am searching for a wonderful company at a fair price. For the game Mr. Bern is playing, his strategy may be the best way to go. The added risk has the potential for higher reward if a bottom is called accurately enough. I am playing a more conservative game, the game Mr. Buffett recommends, so I have the luxury of not being concerned with the absolute bottom. I'll average myself a close-enough position in time that will serve me well in the decades to follow.
For the investor that is looking for a bargain, look no further than the oil supermajors. They are on sale. Don't let the potential of a greater sale in the future keep you from taking action. You may miss the entire clearance event. I will continue to buy the fear.
Disclosure: I am/we are long XOM, CVX, COP.
I wrote this article myself, and it expresses my own opinions. I am not receiving compensation for it (other than from Seeking Alpha). I have no business relationship with any company whose stock is mentioned in this article.