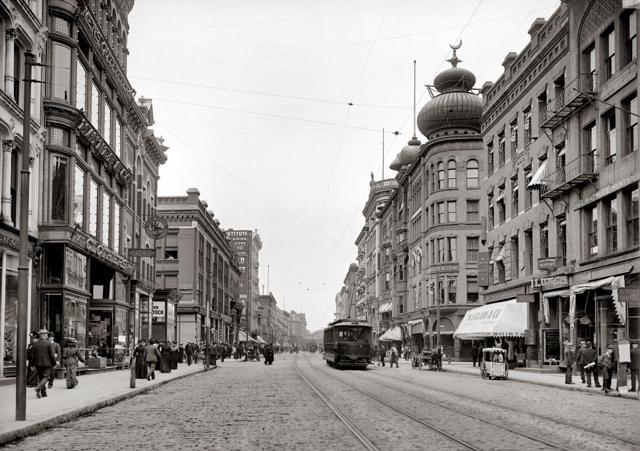 Stanley Black & Decker, Inc. (NYSE:SWK)
Dividends Paid Since: 1877
Current Yield: 2.03%
Free Cash Flow[ttm]: $824.1M
Dividends Paid: $79.7M (3Q2015)
Payout Ratio: 44.5%
Founded in 1843, Stanley Black & Decker is best known for their wide array of hand and power tools. Today, Stanley Black & Decker also provides storage solutions, fasteners, heavy hydraulic equipment as well as a wide array of commercial security solutions. Some well-known brands under their umbrella are DeWalt, Bostitch, Proto, Gripco, HeliCoil and Spiralock.
Stanley Black & Decker has paid a dividend for 139 consecutive years - 483 consecutive quarters - and have increased dividends in each of the past 48 years. Stanley Black & Decker reiterates its commitment to shareholders in their 3Q2015 earnings report:
In terms of capital allocation, the Company remains committed to returning approximately 50% of free cash flow to shareholders through a strong and growing dividend as well as opportunistically repurchasing shares. The remaining free cash flow (approximately 50%) will be deployed towards acquisitions. Since the beginning of the fourth quarter of 2014, the Company has reduced its share count by the equivalent of approximately $1.2 billion worth of shares
by utilizing both cash and equity derivatives[...]
[...]The Company expects free cash flow for 2015 to approach $1 billion reflecting the impact of strong organic growth on
working capital levels.
Johnson Controls Inc. (NYSE:JCI)
Dividends Paid Since: 1887
Current Yield: 2.72%
Free Cash Flow[ttm]: $465M
Dividends Paid[ttm]: $681M
Payout Ratio: 49%
Founded in 1885, Johnson Controls Inc. currently employs 130,000 people in more than 150 countries. Best known for building heating, ventilation and cooling solutions, automotive lead-acid batteries, advanced batteries for hybrid and electric vehicles and seating components and systems for automobiles, Johnson Controls has been paying a dividend for over 128 years.
While the world was falling apart in 2010, Johnson Controls did have an exceedingly rare but temporary dividend freeze, but increases recovered immediately in 2011. In fact, they just announced a raise to $0.29/quarter from $0.26/quarter, a whopping 11.5% increase, that will go ex-dividend on December 9, with record on December 11 and payout on January 5, 2016, if an investor would like a piece of the pie.
Johnson Controls is known to have free cash flows often in flux. FCF was down to $465M in FY2015, largely due to their recent acquisition of Air Distribution Technologies. However, FY2014 and FY2013 were both blowout years. With a conservative payout ratio, many more dividend increases are likely in the future.
Colgate-Palmolive Co. (NYSE:CL)
Dividends Paid Since: 1895
Current Yield: 2.32%
Free Cash Flow[ttm]: $2,291M
Dividends Paid: $1,033M (9-months ending 9/30/15)
Payout Ratio: 56.3%
Originally founded by William Colgate, a soap and candle maker, in 1806, the list of brands contained in Colgate Palmolive's portfolio is legendary. Ajax. Hill's Science Diet. Irish Spring. Soaftsoap. Speed Stick. Tom's of Maine. And, of course, Colgate and Palmolive, among others. This kind of staying power has allowed Colgate Palmolive to distribute a dividend for over 120 years, of them 52 years of consecutive dividend increases. This makes Colgate-Palmolive one of the longest running Dividend Aristocrats of today.
While revenues are down YoY due to currency fluctuations, sales are actually increasing, and with a safe payout ratio in the 50%'s, there is little reason to believe the dividend party bus will come to a stop anytime soon. Colgate-Palmolive's last dividend increase was declared on February 19, 2015. Is another announcement right around the corner? Brush up those pearly whites, there may be something to smile about in the near future.
General Mills, Inc. (NYSE:GIS)
Dividends Paid Since: 1898
Current Yield: 3.07%
Free Cash Flow[ttm]: $1,933M
Dividends Paid: $266.5M (3Q2015)
Payout Ratio: 83.0%
Tracing roots back as far as 1856, General Mills has a brand portfolio so well-known that even children can rattle off countless names. Betty Crocker, Cheerios, Yoplait, Totino's, Pillsbury, Green Giant, Old El Paso, Häagen-Dazs, Trix, Cocoa Puffs, Lucky Charms, Bisquick, Larabar...is there a single person reading this that hasn't tried literally all of these brands at some point, if not every day? You can't buy that kind of publicity, but apparently you can sell it.
Aside from owning some of the most powerful brand names on Earth, General Mills has another thing to boast about: General Mills has paid dividends, uninterrupted and without reduction, for 117 years. General Mills is seeing its payout ratio climb as of late, so large dividend increases are likely off the table in the near-term. Operating cash flows have been strong, but capital spending has increased in recent years, causing free cash flows to flatten.
During times like these, the stock may appear to be a SELL. When you own some of the strongest brands on Earth in a world obsessed with grain consumption, it's hard for me to ever consider General Mills to be a sell under such circumstances. In my opinion, the worst case is a period of stagnation which could be used to build up shares. The best case is General Mills frees up more cash and the stock continues its climb. Either way, the investor can profit in the long-term.
The Coca-Cola Company (NYSE:KO)
Dividends Paid Since: 1893
Current Yield: 3.11%
Free Cash Flow[ttm]: $8,568M
Dividends Paid: $4,313M
Payout Ratio: 84%
Coca Cola needs no introduction. We have heard the stories. One single share of Cocoa Cola purchased in 1919, with dividends reinvested, would be worth over $9.8M today. 3.1% of all beverages consumed around the world are Coca-Cola products. It is one of the most powerful brands on Earth.
As of late, Coca Cola's stock price chart shows a languishing behemoth...or does it? I've written about this before; stock price charts typically downplay the company's performance. Still, operating cash flows and free cash flows have continued to climb, capital expenditures have been reduced, and currency headwinds create an apples-to-oranges comparison YoY. Payout ratios have climbed, so aggressive dividend increases are likely off the table in the near term. But when you have 122 years of dividend payments, where 53 years are consecutive increases, under your belt, shareholders have good reason to trust management.
Final Thoughts
While the companies listed above cannot currently be purchased at rock-bottom value prices, they are shining examples of some of the world's greatest companies. And companies this great typically trade at a premium for that very good reason.
I would like to put something in perspective. We as investors want to see our company's earnings grow every quarter of every year, but unfortunately, the world doesn't work like that. Every year cannot be a breakout year. There are too many valuables - currency fluctuations, equipment failures out of our control, employee strikes and scandals, the price of fuel, corn, sugar, copper and other precious commodities - not everything can be controlled and actively managed with perfection. To have storied histories like these companies can only be accomplished with conservative management and responsible spending, because good managers know there will be bad years. For these companies, the bad years were when investors became rich by buying in.
These types of companies make excellent candidates for Dividend Reinvestment Plans [DRIP's] and Direct Stock Purchase Plans [DSPP's] due to their slow but steady growth and reliable dividend payouts and, in my opinion, are best held for the very long term.
Happy investing.
Disclosure: I am/we are long SWK, JCI, CL, GIS, KO.
Additional disclosure: All information found herein, including any ideas, opinions, views, predictions, commentaries, forecasts, suggestions or stock picks, expressed or implied, are for informational, entertainment or educational purposes only and should not be construed as personal investment advice. I am not a licensed investment adviser.