We all know and love that online retailer, Amazon. We also all love a good deal or two. On July 15th, Amazon held their first ever 'Prime Day'. This was a day of extraordinary deals on anything you could imagine - but there's a catch, you had to have a prime membership to partake in said deals. Amazon offered a 30-day free trial of their prime membership. After those 30-days you are free to choose to continue the membership or cancel. At first this seems like a really great way to get a few more members under their belt; however, consumers spent more time tweeting their thoughts about the seemingly odd and ridiculous deals than actually purchasing anything. Despite the ridicule, Amazon gathered more media attention than ever.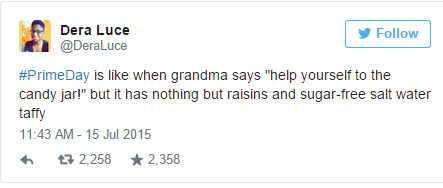 So what would be the outcome if Prime Day were filled with those big-ticket items we were hoping to see? Take a moment and think about what the tweets would have looked like then.
There would have been links to those deals, and by the time 90% of browsers clicked on them, they would have been gone just like that. Instead, Amazon braved the ridicule and negative tweets, which were the same tweets that sent people over to the website, if nothing else than for the amusement of seeing what unusual products and deals they could find.
A quick look at Yahoo Finance charts and one can see that the stock laid around $436.50 on July 8th, 2015 and hit around $462.16 on July 15th, 2015.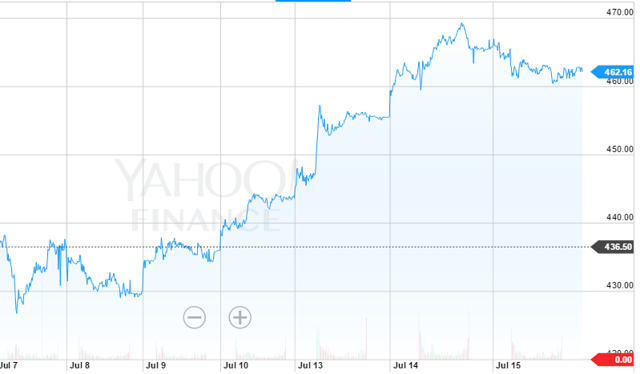 Amazon's fast-growing Prime membership base has increased. This could lead to increased annual spending per customer and higher levels of gross merchandise value. So was it a bust or not? Let's be honest here, did #PrimeFail stop people from shopping at Amazon? No -- Amazon continues as one of the top online retailers in the world. All-in-all I would say this year's prime day may have been a bust for consumers looking for stellar deals on big-ticket items, but certainly not the case for shareholders.
Disclosure: I/we have no positions in any stocks mentioned, and no plans to initiate any positions within the next 72 hours.