CVS Health (NYSE:CVS)
Company Overview: CVS Health is the largest pharmaceutical health care provider in the United States. CVS operates a chain of drugstores (7700 stores) that offer over-the-counter medications, prescription drugs, cosmetics, and general merchandise. CVS is the market leader in retail pharmacy, specialty pharmacy and retail clinics, mail order pharmacy, and a leading provider of Medicare Part D services. CVS's largest retail competitors are Rite Aid (4650 stores), Walgreens (8335) and Wal-Mart (4200). In addition, CVS is the only retail pharmacy that also operates a Pharmaceutical Benefit Management (NYSEMKT:PBM) business. Caremark, CVS's PBM is complementary to its drug stores, and assists them in earning a higher consolidated growth rate for the company compared to its pure play peers.
Chief Executive Officer: Larry J. Merlo, has been the President and Chief Executive Officer of CVS Health Corporation since March 2011. He Was Chief Operating Officer of CVS Health Corporation from May 2010 to March 2011. Before that he was the President of CVS/pharmacy and Executive Vice President of CVS Health Corporation from January 2007 to May 2010; Executive Vice President - Stores of CVS Corporation from April 2000 to January 2007; and Executive Vice President - Stores of CVS/pharmacy, Inc. from March 1998 to January 2007.
He has a total equity exposure of 65+ million, which incentivizes him to make sure CVS reaches its full potential. His philosophy for CVS is to provide an integrated approach to providing health services. and sees the retail pharmacy location as as a means of reaching the customer to provide a vast array of health services, whether through the MinuteClinic, PBM sector, specialty drugs, etc.
Market Share Information:
| | | | | |
| --- | --- | --- | --- | --- |
| Retail Pharmacies (Inc. Discount Variety stores) | Pharmaceutical Benefit Managers | Specialty Pharmaceutical Scripts | Minute Clinics | Managed Medicaid Scripts |
| 25% | 26-28% | 25% | 10% | 30%1 |
1 Managed Medicaid Market: 30% and growing as the market is expected to grow by 40% through 2016.
Business Segments: CVS operates its business through two main segments: pharmacy services (PBM) and retail pharmacy (Drug Stores). CVS technically has a third segment, the corporate segment, but it doesn't make up a material % of revenue.
Revenue Segmentation:
| | | | |
| --- | --- | --- | --- |
| Retail Pharmacy | PBM (All) | PBM Mail Choice | PBM Pharmacy Network |
| 42.64% | 57.36% | 20.5% | 36.71% |
Investment Thesis: CVS is worthy of a long-term investment due to a variety of changes in macro-themes.
What makes CVS unique is its complementary (IE Synergistic) relationship between its pharmaceutical benefit manager and its retail pharmacy. This integrated model gives CVS a far better risk profile than its peers. Additionally, CVS is best positioned (in retail pharma) to protect itself from generic inflation and to capitalize on the increasing prices and utilization of specialty and generic drugs. Additionally, as the affordable care act rolls out more people are becoming insured, serving the growth of the top players across the drug channels.
Because of the push to substitute generic drugs because of their lower prices (utilized more because of goal to reduce aggregate health care costs) CVS, ESRX and WAG are enjoying higher margins on generics (in the range of 50%). CVS is the largest generic buyer in the United States and has recently partnered with Cardinal Health, which further increases CVS's huge scale advantage to its competitors. CVS also deserves acknowledgment for its industry leading PBM client retention rate of 97 (ESRX has 90%, although has a higher market share), and client satisfaction in the industry. This positioning allows for further recurring revenue and better industry positioning as the TAM increases.
Finally, on the retail pharmacy side, CVS has historically been able to deliver revenue and EPS growth rates higher than the S&P and its peers who have remained relatively flat and is projected to continue its growth at a rate higher than its competitors. This growth is a combination of de novo drug store growth and Caremark PBM growth.
In terms of valuation, CVS is trading at a relatively fair valuation. Although, with a closer look at its distinct competitive advantage (staying power) as an industry leader paired with their impressive growth prospects (+TAM) and fiercely customer oriented value added initiatives, CVS clearly deserves a premium for its growth prospects.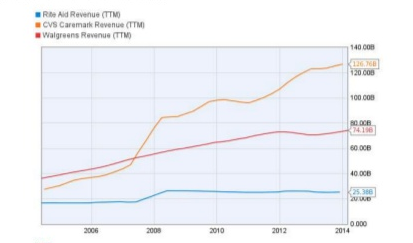 As is visible above, CVS has been able to outgrow competitors like Walgreens and Rite Aid by a wide margin over the last 10 years, and the company has superior profit margins in the area of 6.3% at the operating level versus operating margins near 5.5% for Walgreen and 3.6% for Rite Aid.
Retail Pharmacy Business: CVS buys branded drugs from the top 3 largest distributors where it has enough negotiating leverage to garner better prices than independent pharmacies. CVS buys most generic drugs directly from manufacturers because it has enough scale in its end markets to self-distribute and because their industry position allows them to negotiate directly with generic manufacturers. In contrast, independent pharmacies don't have that same freedom and thus are relegated to buying their generic drugs from distributors. Distributors claim that their average contribution margin per generic prescription is well over $3-a margin that only large chains are able to achieve.
WAG and CVS have the best return on capital in the industry for a few main reasons: 1) Size and scale allow them to buy drugs at the best price possible from distributors and generic manufacturers; 2) Size and scale allow each to leverage its distribution network as effectively as possible; 3) Size and scale allow it to buy general merchandise at relatively favorable prices and have an effective private label strategy; 4) Sales per square foot are significantly higher than the competition (Costco, Target, Wal Mart), which allow them to leverage its fixed costs better.
Retail Pharmacy Differentiation Factors:
CVS Health:
CVS recently changed its name to CVS Health and stopped selling cigarettes to better reflect the marketing change the retailer is embracing to make itself stand out in an otherwise location based markets. Some see this as a negative, I see it as a positive because of the free marketing and the minimal impact on front store sales.
Location Based Store Differentiation:
CVS is borrowing Mcdonald's strategy. Based off of location, the company is also rolling out with new store formats based on the operating region. This strategy will be introduced in 300 stores by year's end, with more expected to rollout in the future. The hope is that these changes will help CVS to better target consumer interests and provide even greater convenience by speeding up checkout, and offering better products to consumers.
Superior Store Locations:
CVS has a large network of 7400 strategically located retail drugstores across the US. 75% of the US population lives within a three mile radius of a CVS store, which is lower than any of the other drugstore chains in US (Walgreens has 75% of the population within a five mile radius). This makes CVS stores more accessible to a larger number of consumers than other providers. At the end of 2013, CVS Health had stores in 95 of the top 100 U.S. drugstore markets. Stores in 86 of those markets had either the number one or number two market share position. Retail pharmacies are notorious for locating themselves very closeby, frequently across the street from one another, making differentiation extremely important.
Loyalty Card Program:
The CVS Extra Care Loyalty program, over the course of 14 years, has generated unmatched customer insights. It is the largest loyalty program in retail, with 92 million active cardholders who have taken advantage of Extra Care within the past 12 months. As of last December, 67% of all transactions and 82% of front-end sales were made through the ExtraCare Loyalty Card.
Minute Clinics and the Promotion of Face to Face Interaction:
Increasing Demand for Primary Care Services: A study of 25,000 near-poor individuals with and without Medicaid access found that those with insurance ended up in the emergency room 40 percent more than their uninsured counterparts. Moreover, most of these visits were classified as "primary care treatable"-i.e., not warranting emergency treatment. This explains the excessive overcrowding cited by primary care and emergency room professionals.
CVS is the largest operator of retail health care clinics in the United States. These clinics diagnose and treat minor health conditions, conduct health screenings, monitor chronic conditions, and deliver vaccinations at a cheaper cost than typical doctor visits. The company plans to have 1,500 of these clinics in operation by 2017. This business is becoming increasingly relevant as the demand for primary care services dramatically increases and the government is increasingly looking for cheaper alternatives. CVS holds 10% market share in this industry. CVS focusing heavily on minute-clinics and providing primary care where they are beginning to work with actual physicians as well for services they can't provide they will refer to physicians.
Studies find that the quality of care at retail clinics is on par with that at traditional medical offices. In a 2009 study published in the Annals of Internal Medicine researchers compared the care at retail clinics for several conditions. These scientists found that retail clinics provided less costly treatment than urgent-care centers and physician offices, while offering comparable quality of care.
Customer visits up 30% last quarter. Although the business is only a small portion of revenue, I expect it to become more prominent.
Pharmacists and Baby Boomers: A survey reveals that 67% of Baby Boomers choose a pharmacy based on relationships with pharmacists which CVS has recognized is an important factor to consider in maintaining and growing their client base. CVS recognizes the importance of face-to-face interaction in driving store traffic and in acquiring new customers and has used its minute clinics to facilitate this.
CVS Maintenance Choice Program:
Through the MCP, a consumer can obtain maintenance medications and choose the channel-brick-and-mortar pharmacy or mail pharmacy-but must use either a CVS retail pharmacy or a Caremark mail-order pharmacy. In the last earnings report we learned Maintenance Choice is growing rapidly as a benefit design option, demonstrating that payers are willing to accept more restricted pharmacy networks in exchange for savings and control.
Positioning in Mail Order Sector:
Mail-order pharmacies are generally used by customers with chronic conditions for maintenance medication. About 20% of PBM's profits are mail order, which includes the processing, fulfillment and delivery through the mail of brand name and generic pharmaceuticals to patients who submit prescriptions or refill requests to an industry client. Rather than go to the pharmacy every month, patients can use home delivery services for drugs by submitting orders via mail, telephone, fax or online. PBM's operate a mail order specialty benefit service in addition to brick-and-mortar specialty services. CVS operates specialty mail order pharmacies and retail specialty pharmacy stores.
Mail-order pharmacies are more commonly used among those that are 65 and older (15%). Baby boomers are twice as likely to use mail-order than the general population (7%). A study concludes this difference is probably attributable to Medicare.
CVS Caremark's Maintenance Choice (as mentioned above) offers to its PBM customers the option to pick up 90-day scripts at its stores for the same price (due to lower co-pays) as getting it through the mail.
WAG also offers its customers 90-day scripts as well, but not at mail pricing since it does not own a PBM and thus must allow this middleman to generate a fee for processing the claim. Mail pricing for a 90-day fill is typically $5-$10 less than the equivalent 3-month supply at retail-not enough of an incentive for most to change their buying habits, but still, the service is there. Only about 7% of total clients use the service, but more than half of these clients are baby boomers, which are increasingly becoming insured and will be more likely to use the mail option, and are more likely to use CVS as they are either the first or second player in this market.
Pharmaceutical Benefit Managers: An Explanation
Pharmaceutical benefit managers process prescriptions for the groups that pay for drugs, usually insurance companies or corporations and use their size to negotiate with drug manufacturers and pharmacies. The PBM industry has gone through significant consolidation and is becoming much more of an administrator than a negotiator. The barriers for entry are dramatically increasing as the nature of the healthcare industry changes. The way that PBMs make money is by charging service fees to their large customer contracts (companies with drug plans) for processing prescriptions, operating mail order pharmacies and negotiating with pharmacies and drug makers. The PBM is able to create the incentive to cut costs, which gets passed on to the customer, and also becomes earnings for the PBM. PBMs are becoming increasingly relevant for the government to partner with because the government is increasingly trying to create efficiencies with increased drug costs (Think Gilead's Harvoni and Sovaldi). One key function of PBMs is to develop a strong network of retail pharmacies to cater to the prescription drug plans. Also, Rising drug costs have spurred consolidation. Drug R&D costs are continuously increasing, making PBMs, with the help of economies of scale, well positioned to help reduce further costs, exposing them to future growth. This consolidation will also help PBMs to improve their pricing power.
PBMs typically generate revenue through large customer contracts with plan sponsors for processing prescriptions, operating mail-order pharmacies and negotiating rebates with pharmacies and drug manufacturers to lower prescription drug costs for plan sponsors. In a study commissioned by the PCMA, PBMs can reduce prescription drug plan costs by about 35.0% on average while expanding consumer access to affordable prescription medications. Over the five years to 2014, revenue for the Pharmacy Benefit Management industry revenue is expected to grow at an annualized rate of 5.3% to about $263.4 billion. Growing demand for industry services is largely the result of growth in prescription drug use by an aging population with increasing rates of chronic illness, as well as rising drug manufacturing costs.
Without scale, a prospective PBM cannot offer enough clients to drug companies, or pharmacies necessary to gain the leverage to reduce costs to insurance companies and other healthcare providers. Thus while competition within the industry is relatively strong, the threat of new entrants is low, because in order to attract and keep customers, you have to already possess a critical mass of clients.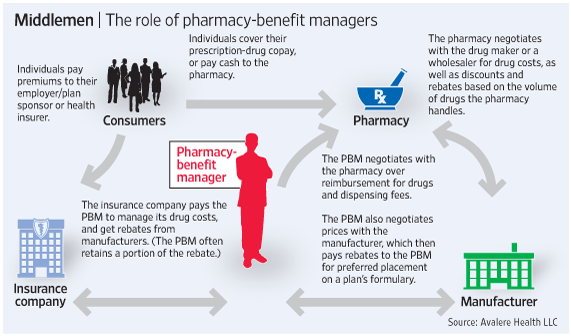 Economic Moat, Competitive Advantage and Porter's 5 Forces for Pharma Benefit Managers:
Bargaining Power of Suppliers - Low
More generics lessen Pharma company bargaining power as generics are standardized and interchangeable with nearly identical performance to branded drugs.
Pharma companies have more bargaining power with branded drugs for which there are few available substitutes.
Bargaining Power of Buyers - Low to Moderate
Buyers typically need the scale and negotiating power that PBM's have.
Buyers benefit from working with the PBM's through lower costs for drugs.
There are some switching costs that reduce the bargaining power of buyers.
Buyers often do not make up a large portion of a PBM's volumes.
The U.S. government is prohibited from directly negotiating drug prices and therefore, it is required to use PBM's.
Availability of Substitutes - Low
Insurance companies and employer plans can manage their own pharmacy services however, they lack scale; the cost of drugs will likely be higher, even after paying a margin to a PBM.
Threat of New Entrants - Low
Scale is needed to be effective in this business and it would be very difficult for a new entrant to gain the necessary scale to effectively compete.
Health insurance companies might try to enter this business but will likely lack the scale and negotiating power of the large PBM's.
Intensity of Rivalry among Existing Competitors - Moderate
The industry is a concentrated oligopoly.
Competitors often compete on price but also compete on the value added services that they offer.
Pricing has traditionally been rational.
The industry continues to grow at a reasonable rate.
Customer retention has historically been in the mid 90%'s.
These results suggest that Pharmaceutical benefit managers are part of an attractive industry with high barriers to entry.
Caremark Synergy with Retail Pharmacy:
CVS's philosophy on synergies created by its PBM and Retail pharmacies is as follows. The first is that together they will have increased drug purchasing scale of generics for both CVS retail and Caremark. The second is an ability to offer increased savings to its own Caremark clients and members by offering (lower) mail pricing on chronic Rx through its own CVS stores (Maintenance Choice Program)
When CVS wins clients via its PBM they are able to influence these clients to fill prescriptions with CVS (although CVS has a network of more than 65,000 pharmacies that it fills with as well). This has created synergy between the two businesses and allows CVS to drive further revenue. In 2012, this synergy contributed to 32% of CVS's retail prescription revenues.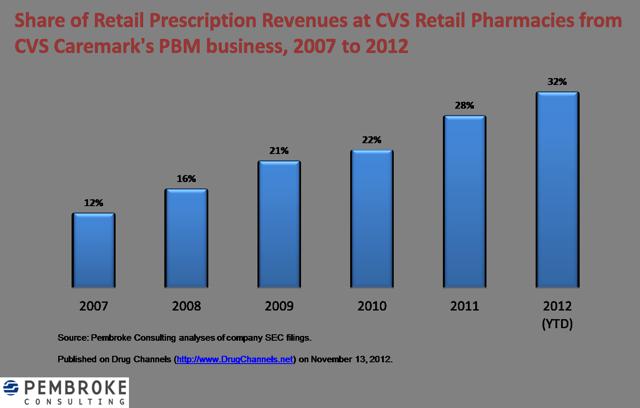 Industry Tailwind: Generic Drug Use Increasing: If you refer to above you will understand that increasing generic use will yield higher margins for CVS as generics offer approximately 50% higher gross margins compared to branded drugs. As drug prices increase, one of the most cost effective ways to keep health care spending as a % of GDP in check is the increased and proper usage of prescription drugs (substituting branded for generic when possible) to combat rising costs. Only around 12% of the total healthcare costs stem from prescription drugs, which from 2007-2009 grew at a slower rate than overall healthcare costs due to the increased penetration of generic drug volumes. The generic wave coming over the next 5 years will help keep prescription drug spending in check. Beginning in 2014, health care reform as it stands today will help provide access to expensive prescription drugs that up to 32 million people cannot currently afford. While this will increase prescription drug spending, this should help combat rising total healthcare costs.
Generic Drugs Explained: When CVS's drugstores are combined with Caremark's mail pharmacy, it is the largest purchaser of generic drugs in the U.S and it takes advantage of this scale by buying as a single entity. This is very important. The only drugstore chains in the U.S. that purchase generic drugs directly from the manufacturer (and thus have the distribution infrastructure to do that) are CVS, WAG, WMT and RAD. So ~55% of the industry self-distributes generics while ~45% of the industry buys their generic drugs through a distributor (namely ABC, MCK, CAH). The entire drugstore industry buys its branded drugs through a distributor because there isn't enough volume to justify sourcing them directly. Today 2/3 - 3/4 of all prescriptions dispensed in the U.S. are generic. However, it is important to keep in mind that while higher generic dispensing rates are good for margins they also adversely affect topline growth because of the lower pricing.
Here's why this is important: The example below illustrates profits garnered by the drug distributor, PBM and drugstore for Brand and Generic Drugs. The Brand drug example is there to illustrate where profits go for non-generic drugs and why generic drugs differ.
Branded Drug Sold by Manufacturer: (based on a ~$117.00 30-day supply sold at retail):
Drugstore: Makes $11.50 of gross profit
Distributor: Makes $2.50 gross profit
PBM: Makes $2.00 gross profit for adjudicating the claim
Manufacturer: $101.00 revenue (with 80%+ gross margins)
The economics work out this way because the manufacturer captures a majority of the gross profit dollars since it is a price setter (due to a patent protected product). Generic drugs are a bit different.
Economics of a Generic Drug: 180-day exclusivity window (based on a ~$51 30-day supply sold at retail):
Drugstore: (Self Distributor like CVS) Makes $16.00 of gross profit (captures the distributor's margin and and is able to garner additional margin from the manufacturer since it has the ability to move market share, which is important in the success of a generic manufacturer's drug)
Distributor: Makes $0 of gross profit (no longer part of the equation as manufacturer sells directly to pharmacy)
PBM: Makes $7 of gross profit (because it sets the formulary for the payers and there is more money to go around for all of the players in the supply chain)
Manufacturer: $21 of revenue (with 30% + gross margins)
CVS's retail pharmacy market share allows it to have a strong negotiating stance with PBMs. The bottom line is that the CVS drugstore chain could always threaten other PBM's to leave their network if reimbursement rates were too low. This would be very disruptive for many large commercial/government payers, which is why both CVS and WAG drugstore chains have enough negotiating leverage to receive fairer rates. The same can't be said for the other 60% of the market--especially the independents.
Since 97% of prescriptions are paid via insurance/PBM/Medicare/Medicaid plans, pharmacies typically receive the same price per prescription. The only exception is that large chains have the ability to get rebates on branded drugs (when there are at least 2 equal efficacy drugs) and discounts on generic multi-manufactured (equal efficacy) drugs since they have the ability to move market share. Independents cannot do this. Thus independent pharmacies in general have lower operating margins because their drug acquisition costs are higher along with pricing (net of rebates and discounts) that is lower than a large pharmacy chain. If the government forces drug prices to get cut across the supply chain, independent pharmacies will be hurt the most and likely accelerate their market share losses.
Of the 636 million Rx filled by CVS drugstores in 2010, 464 million were generic and 172 million were branded. The 2010 generic dispensing rate of 73.0% (which was 73.8% in Q4'10) has increased to around 85%. This has contributed to CVS's EBITDA margin growth.
Industry Tailwind: Clearly Growing Cost Advantage for Large Pharmacies: CVS has a sustainable and growing cost advantage due to its large scale/market share, self-distribution of generic drugs (costs itself at least ~$3 less per generic vs. the avg. branded script) and being the largest purchaser/seller of drugs in the U.S. There are still independent pharmacies and other weaker competitors such as Rite Aid, but they are continuously losing share to CVS & WAG due to inferior merchandising/size of stores, inferior locations, lack of capital to refresh stores and a lack of scale on drug purchases along with no self-distribution of generics.
Cardinal Health - CVS Joint Venture: To expand on this advantage. In December of 2013, CVS signed a 10-year agreement (50/50) joint venture with Cardinal Health to form the largest generic sourcing entity in the United States. With the combined volume, and sourcing and supply chain expertise of the two companies, the venture can help spur innovative purchasing strategies with generic manufacturers. The venture is aimed at sourcing and negotiating generic supply contracts for both Cardinal and CVS. This has allowed CVS to develop an even more superior ability to buy generics compared to its peers, keeping the cost burden low for CVS. CVS's margins are expected to increase marginally.
Industry Tailwind: Total Addressable Market and Drug Spending Increasing: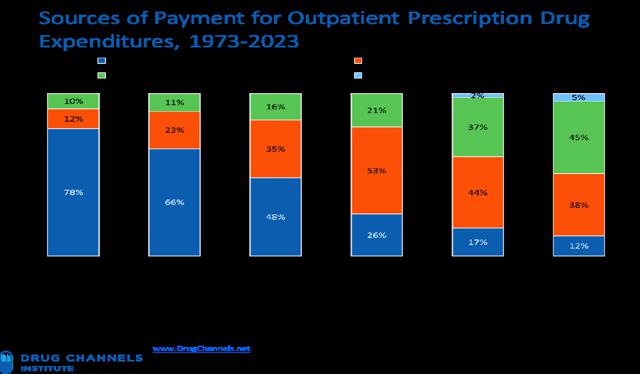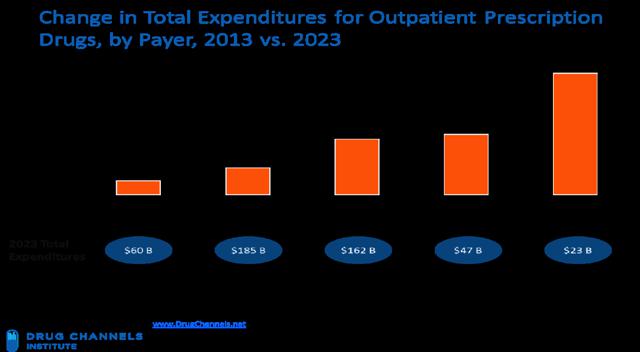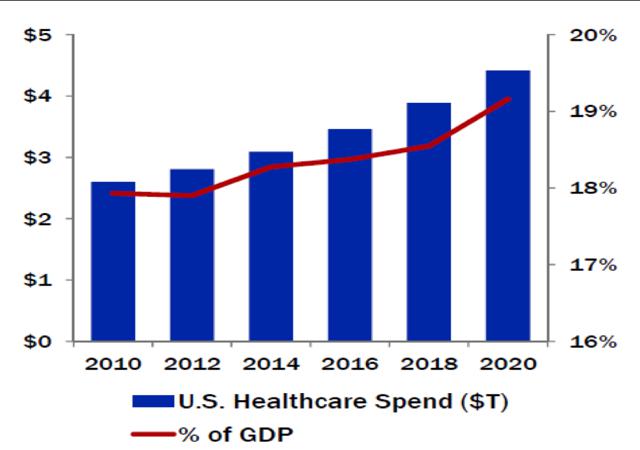 Industry Tailwind: Specialty Pharma and PBMs:
Specialty pharmaceuticals represent 1% of the US's aggregate prescriptions written, but account for 25% of the pharmaceutical dollars. This category has been growing at a high rate (15-20%), and should continue to do so, given the upcoming introduction of several biologics and the rapid uptake of new medications to treat Hepatitis C. In fact, it is estimated that they account for roughly 65% of spending on pharmaceuticals introduced in the next few years, and is forecasted that the total spend in this category could triple over the next 6 years. These drugs are often complex to manufacture and difficult to administer. They can cost over $100,000 annually, and include therapies for serious conditions such as cancer, multiple sclerosis, rheumatoid arthritis and hemophilia. This is relevant as it relates to the pharmacy benefit coverage for these drugs.
Under this scenario, usually seen with Hepatitis C, HIV (see table below), multiple sclerosis and rheumatoid arthritis medications, the initial interaction of the patient to get a prescription filled is often with the pharmacy benefit manager, the intermediary between the provider and their insurance company. As CVS is the only one of these drugstore chains that owns a PBM (Caremark), it can incrementally profit from this trend and it is in an advantageous position to capture more of the drug spending through its specialty pharmacy mail order and retail store businesses.
CVS's Specialty Pharmacy segment is expected to become a $15 billion business, as it has been growing at 17.3% annually over the past two years, as specialty utilization and prices increases. Last quarter (Q3) specialty sales increased by 53%.
Below is an interesting illustration of the impact that my favorite drug, Sovaldi, has had on CVS's revenue in just one quarter (Q1) It also illustrates how consolidated the specialty markets are.

CVS's Response to Specialty Growth: CVS has recently made an acquisition of Coram, a specialty infusion company, which will allow CVS to provide even better services to its customer through its integrated model.
The deal will bring CVS into the business of providing therapies such as antibiotics, nutrition and pain medicine through needles or catheters into patients' veins. Such drugs are a growing part of the pharmacy market, and CVS can help clients control health costs by offering them at Coram's more than 85 locations nationwide instead of at costlier hospitals.
Coram Acquisition Benefits:
Home infusion is a fast-growing channel for specialty drugs, so the deal deepens CVS/pharmacy's footprint as a major dispensing channel. CVS can also catch up to Walgreens.
Home infusion can be a cheaper site of care, which helps Caremark's specialty benefit management PBM business.
Benefit coverage for home infusion specialty drugs is fragmented across the pharmacy and medical benefits. Payers are therefore looking for integrated management, visibility, and control.
Strengths: CVS and Shareholder Orientation: CVS has shown a major commitment to not only its customers, but also to its shareholders. CVS has reduced its weighted average diluted share count by 5% since the same quarter last year. The share count reduction not only helps to boost the percentage ownership of shareholders but also has a positive impact on per share dividends and earnings figures. On December 17,2013, the Company's Board of Directors authorized a new share repurchase program for up to $6.0 billion of outstanding common stock.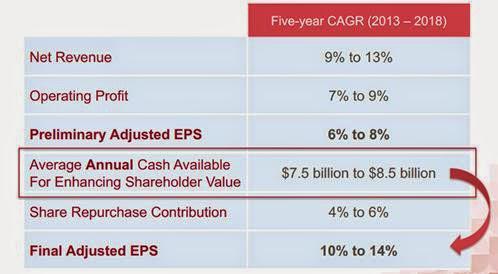 CVS's Primary Competitors:
Retail Pharmacy Competitors: Walgreens is the largest retail pharmacy operator, but has been a slower grower and has invested all of its energy into its retail pharmacies, which has allowed for its higher market share. The tradeoff with this is that growth rates for drug stores are relatively low, as it is a mature industry. Walgreens is dabbling with onsite health care and focusing on owning every street for its Retail pharmacies. Walgreen's presence in primary care sector has not been emphasized and they have no vocal plans to increase their position dramatically (currently have 3.5% market share compared to CVS's 10%).
Rite-Aid is third largest Retail competitor, but I don't see them as a huge threat.
Pharmaceutical Benefit Manager Competitors: Express Scripts is CVS's largest PBM competitor and is the golden boy of the industry. In terms of equity appreciation Express Scripts has been doing incredibly well, and is trading at a premium to CVS. CVS's other largest publicly traded competitor is Catamaran, which is also trading at a premium to CVS in terms of EV/EBITDA and PE.
Looking forward Express is expected to grow revenue at a much slower rate than CVS, and EPS in line with CVS (consolidated). Below are graphs illustrating CVS and Express Scripts EPS growth comparisons.
Express Scripts EPS Growth: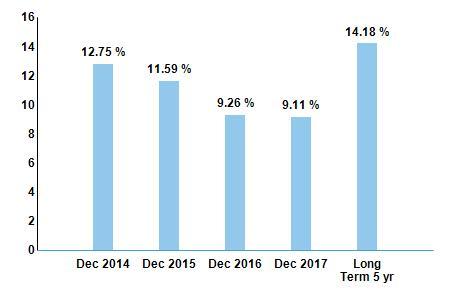 CVS EPS Growth: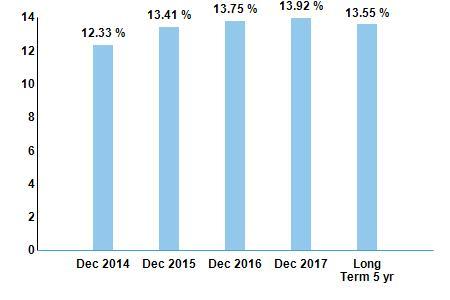 Revenue Growth Comparisons:
Below is a comparison of revenue growth projections of the chosen comparables pulled from Capital IQ. As you can see, Express Scripts, CVS's biggest competitor, is growing at a much slower rate than CVS. As shown below, CVS has been doing a better job at finding new revenue streams, and maintains only slightly lower EPS growth rates.

To give you an idea of CVS's recent revenue growth rates on a consolidated basis here are the third quarter 2014 results.
On a consolidated basis, in the most recent quarter (Q3) revenues increased 9.7% or approximately $3.1 billion to $35 billion. PBM net revenues increased 15.7% to $22.5 billion. The strong performance was driven by net new business, specialty pharmacy growth, branded drug inflation and product mix.
Overall revenues in the retail business increased 3.1% in the quarter to $16.7 billion.
EPS recently dropped 20% due to an early debt extinguishment of 521 million dollars. Had CVS not chosen to reissue its debt at a lower rate the EPS would have grown at around 13%.
Variety Store Competitors: Wal-Mart and Costco are the two largest. Wal Mart's business model is interesting in that large majority of the Walmarts pharmacy revenue comes from private insurers and cash paying customers. Its Medicaid business constitutes only 11.0% of its total pharmacy revenue. Medicare Part B drug reimbursements account for less than 1.0% of revenue, as Medicare does not currently pay for most drugs sold in pharmacies at Walmart. This is a fundamentally different part of the business than CVS is focused on, and therefore presents less of a threat to CVS's retail pharmacy business, which are also able to be better located due to smaller store sizes.
While WMT is a major threat to many traditional retailers, the drug distribution industry does not stand to accept the same threat. First, WMT (including Sam's Clubs & Neighborhood Markets) has less than 4,500 stores. Thus it does not have as large of a footprint as WAG or CVS, which each has over 7,000 stores. At the same time, WAG & CVS both have locations in various urban markets where WMT is unable to have the same presence and in markets where it does, WAG & CVS typically have more convenient, often premium "corner" locations, not to mention the stores are smaller and easier to get in and out of.
Also, as a result of having significantly fewer locations and less than half the prescription volume of WAG or CVS, it cannot command as favorable of pricing from generic manufacturers than WAG or CVS since it buys far less drugs in total.
Lastly, about 75% of drug spend mix is on branded drugs. WMT has no cost advantage on buying branded drugs from a distributor since a majority of the acquisition cost is set by the branded drug manufacturer, which typically has a monopoly/duopoly position. So while WMT made a big splash with its entry into the pharmacy industry in October, 2006 with $4 generics on 300+ drugs, this did not impact WAG's or CVS' business in a material way. If anything, it likely expanded the market by making generic drugs more affordable to those who do not have health insurance-many of whom are likely WMT customers.
Pharma Benefits/Retail Pharmacy LTM EV/EBITDA Comparison: Relative Valuation
| | | | | |
| --- | --- | --- | --- | --- |
| CVS Health | Catamaran | Walgreens | Rite Aid | Express Scripts |
| 10.7x | 13.2x | 13.0x | 9.5x | 11.0x |
Pharma Benefits/Retail Pharmacy 2015 EV/EBITDA Comparison: Relative Valuation
| | | | | |
| --- | --- | --- | --- | --- |
| CVS Health | Catamaran | Walgreens | Rite Aid | Express Scripts |
| 10.0x | 11.6x | 9.4x | 8.4x | 10.7x |
As you can see from above, CVS is trading at a discount on an LTM basis to its pharmacy peers and also to its PBM peers in both the LTM and 2015. CVS should trade at a higher multiple based on its high growth prospects, integrated model and high retention rate making their market share very sticky. I'll admit that Express Scripts is also an incredible company that deserves a premium multiple because it is a pure play and has the highest market share in an industry that has a distinct economic moat.
Bear, Base and Bull Cases: Keep in mind that a good portion of EPS growth in this industry comes from buybacks. So EPS growth may be skewed by changes in shares out and not earnings growth. However, I decided to use it anyways for comparison.
| | | | |
| --- | --- | --- | --- |
| CVS Health | Target Multiple | 2016 EPS | Price Target |
| Bear Case | 13 | $5.96 | $77.5 |
| Base Case | 16 | $5.96 | $95.36 |
| Bullish Case | 20 | $5.96 | $119.2 |
| | | | | | |
| --- | --- | --- | --- | --- | --- |
| CVS Health | Target Multiple | 2015 EBITDA | Implied Enterprise Value | Implied Equity Value* | Share Price |
| Bear Case | 7.5x | $12,002 | $90,015 | $78,515 | $68.51 |
| Base Case | 10.5x | $12,002 | $126,021 | $114,521 | $99.93 |
| Bullish Case | 13.0x | $12,002 | $156,026 | $144,526 | $126.11 |
(Assumes 1.146B share outstanding, (1146 M), and net debt of 11500)
Possible Threats/Risks for CVS:
Margin compression in PBM industry
Loss of significant clients to competition
Forced price deflation (specialty) by Obamacare
Generic Drug Prices Inflation
Return of FTC Investigation
Cigarette Impact on Front Store Sales
Bear Case: The bear case assigns a historically low multiple in both PE and EV/EBITDA terms. For this multiple to be reached, CVS would have to succumb to significant margin pressures, loss of significant clients or a returning FTC investigation. This could also occur in the event of a global financial meltdown. In that case I will be buying as much CVS as my wallet allows. I don't expect any of these risks to occur.
Base Case: A base case valuation assumes multiples that are in line/similar to the current CVS multiples. For this to happen the company would need to continue its outperformance in relation to its peers and also maintain its position in the industry, while continuing to grow market share.
Bullish Case: A bull case valuation assumes a 13.0x EBITDA multiple and a 20x 2015 EPS multiple. CCT and WAG both trade above or near a 13x multiple, with equal or lesser EPS growth and revenue growth prospects. If the markets realize CVS's long term competitive advantage in what is increasingly becoming a duopoly, I believe that CVS will eventually reach the bullish valuation which would be around $120 a share. As the industry is expected to continue consolidating and competition will converge further into the two largest players: CVS and ESRX. Also, for this valuation to come to fruition I would need to see continued delivery of specialty and generic growth as well as material revenue from minute clinics. Additionally, CVS would need to leverage its size to take advantage of the increasing drug spending. I expect this all to occur with reasonable certainty based on CVS historical skill at delivering incredible shareholder and customer value.
Conclusion: Because of CVS's incredible track record of driving growth and successfully innovating makes it an extremely compelling long-term opportunity. CVS is well positioned (primarily because of its size) to further take advantage of the changing industry landscape and to grow and diversify its revenue streams via its proven, industry leading organic and acquisition initiatives.
Due to CVS's choice to vertically integrate it has developed a wide economic moat allowing them to generate revenue regardless of how customers accesses their drugs or health services.
CVS is channel agnostic and can provide superior services to its customers. These advantages curtail potential downside risk. Also CVS has been doing an amazing job of differentiating itself by really striving to use its pharmacies as a means of accessing and providing value to the customer which help CVS to differentiate itself from its competitors and has proven to boost its public perception (CVS is most preferred pharmacy and in turn has a 97% retention rate of its PBM clients).
And finally, CVS boasts PBM margins that are in line with that of ESRX (ESRX has an 8% gross margin, CVS has a 7% (PBM only) and 18% including the retail pharmacy).
As of right now, CVS shares are trading in line with its Drug-Store peers despite its history of pursuing higher yielding (providing higher revenue growth and EPS growth), long-term industry oriented investments in the pharmacy segment paired with the undeniable synergies as a result of increased buying power and mail-order clients from the Caremark (PBM) segment. CVS is also trading at a discount to its PBM competitors (Based on EV/EBITDA), despite CVS having higher historical and estimated revenue growth and comparable future EPS growth expectations.
In summary, it is more than fair to say that CVS warrants a premium and I am confident in saying that this company provides the best risk-adjusted exposure to increasing health care spending.
Disclosure: The author is long CVS.
Additional disclosure: I also may initiate a position in ESRX within the next several weeks.