While it is important to get the direction of the cyclical and secular or long term trend right, I believe as a trader what matters most is to get the direction of the next 2- 5% move right. Getting most of the tactical moves right should help generate a significant alpha in the long run. Apart from the opportunity to capture more points in each trade, this also helps in lowering risk if employed with proper stop losses or option strategies. While the buy and hold fanatics might cringe at this idea, for most traders who have a finite life this would not be an unwise strategy.
With that said this might be a good time to look at the next two percent move for the S&P 500. A key mental trick in predicting the next two percent move is to dissociate from any long term view of the market one might have.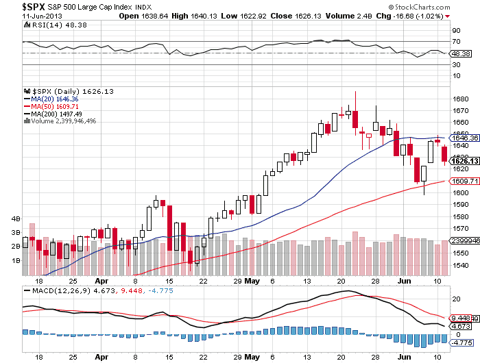 Today's action was definitely negative. We started the day with big gap downs, filled it and then rolled over in the afternoon. Advance declines were horrible. Mind you, this is after a couple of days of significant gains and a consolidation day yesterday. The up move from 1598 on Thursday while bullish is most probably still a correction of the downward trend from May 22nd. In all likelihood this pullback has the potential to become a near correction and before we get anywhere near the correction territory there should be a retest of the 1600 levels within a few days. The next support is at 1622 followed by the 50 DMA at 1609. I believe the next two percent would be on the downside and should happen before the FOMC Meeting on June 18th.
Happy trading!
Disclosure: I am short SPY.