I talked about the S&P 500 retesting the 50 day moving average yesterday and the ever rising 50 DMA was easily challenged today. We gapped up in the morning only to see the market rollover as the 50 day moving averages acted like a magnet and we now rest near the 50-day exponential moving average of 1611 on the S&P 500 ETF: (SPY)
The day's activity was typical of a day in the correction phase within a bull market. In a correction phase the markets always test us traders with head fakes only to fall further testing support levels, breaking a few and bottoming out before the continuation of the uptrend. If there has to be a fundamental reason for the current "correction" (a pullback still) then that would be the rising rates driven by the taper talk. While 2.2% on the 10-year is nothing of a worry, the sheer velocity and speed with which the rates rose have shaken many. Still, if it does infact affect housing or job creation in the short to medium term, I am absolutely certain fed will continue with QE to infinity, not that it actually has a significant impact on unemployment. Irrespective of the efficacy of QE in improving the economy we can be sure that asset prices and in particular stock markets will go higher.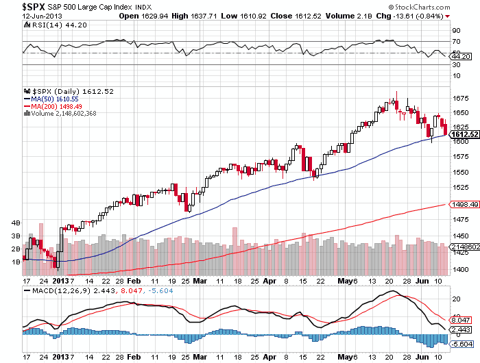 While all this is well and good, as we talked about yesterday, the one thing that really matters is where the market is headed in the near term so we could make our tactical move. Now that we are at the 50 day, it makes sense to have no positions, yes, no positions. In my case, I am direction neutral with a bear spread on SPY hedged by a short volatility position. I say the best position right now is no position for the odds of a break below 50 EMA or a bounce of that aren't different. While the trend is down, the RSI's have come down significantly that we might hold here or pull back a little before we attempt to break decisively through the 50 day and test the 1575 breakout area.
Happy Trading!