It's every true sports fans dream. Purchasing their own professional franchise - especially if the asking price is at a reasonable discount to the fair market value. But if in that same deal you could own a second team for free, well pinch me, slap me in the face, and pour an ice cold bucket of water down my pants because you sure got my attention. Madison Square Garden Company is a recent spinoff of MSG-N, leveraging its infamous Madison Square Garden arena as its crown jewel asset in two operating segments: MSG Sports and MSG Entertainment. MSG Sports is compromised mainly of the New York Knicks and New York Rangers and represents approximately 60% of the company's revenue. MSG Entertainment owns some of New York's finest theatre and live entertainment and makes up the other 40%. And despite what the current Netflix stock price implies, this premium form of live entertainment isn't going anywhere. I would argue broadcasting rights for these live events will likely be worth substantially more in the future; the prevalence of cable television is eroding, leaving the same number of companies looking to advertise compelled to compete for significantly fewer commercial slots. At the moment, ticket sales and these event-related revenues are the largest driver of MSG's top line, however this could easily change in the future as contracts are becoming increasingly more influential to these franchise valuations. The NBA's 9-year, $24 billion television contract with ESPN and TNT is set to begin for the 2016/17 Season and the NHL has a 12-year $5 billion, Canadian-deal with Rogers expiring in 2025/26, as well as a 10-year $2 billion US-deal with NBC expiring in 2020/21. MSG has a market cap of $3.7 billion, which ex-cash leaves you with a price tag around $2 billion. Forbes currently has the estimated value of the New York Knicks listed at $3 billion, implying shares could be trading at a 33% discount on this basis alone. However, with this same purchase you would also get the New York Rangers for free, which Forbes has pegged at another $1.2 billion. Buy one 33% off, get one free - sounds like a no brainer to me. In addition, you get some premium New York real estate, the Madison Square Garden, also on the house. While Forbes sport franchise valuations are usually both literally and figuratively in the ballpark, it's obvious sports teams are still trading at hefty multiples as I haven't seen many going for anything near even 15x EBITDA. But it's still fairly uncertain why billionaires are even investing such massive sums of money in businesses with such low returns on capital in the first place. Unless they're not investing. In other words, they view it more as an ultra-luxurious good. Just another large purchase - but one that involves some occasional minor maintenance. The owner's box replaces that memorable childhood clubhouse (except girls are allowed in this one). Nevertheless, a sports team is arguably the largest status symbol a city has to offer. But if a team's fan and team's owner both win the championship and both share the joy of the same trophy, why does the owner feel the need to spend billions to enjoy this experience?
Most women I take on dates tend to call me cheap (well technically, that is a bit of an embellishment on my part as they never seem to call me period). Instead I prefer to think of myself as merely disciplined, price sensitive, and just in time for the early bird special. However, I do have one sweet spot, whereby every value investing neuron in my brain seems to shut-off completely - and that's asking me to put a price on my favourite professional sports team, SSC Napoli. For certain people, some things in life really just don't have a price. Even with an offer of $100 trillion for my beloved Napoli, I'd tell you to take that offer and shove it up your Milan where Berlusconi would sell you A.C., along with his wife and every cabinet minister in the entire country of Italy. A business is worth what someone will pay - just make sure you're not the fool who pays the most. While most professional sports teams are real businesses and cultural staples that will never be erased, their multiples imply they are more like trophy assets, causing the fundamentals to be less, well - fundamental, when trying to determine a fair market value. The value of a zipper manufacturer or chewing gum company is more black and white and very unlikely to trade over 100 times earnings. But sports teams will always defy normal valuations as they represent more than just a business to its players, fans and owners. Sports are engrained in our culture, and for some of us, engrained in our DNA.
My thesis on MSG is actually quite simple: even taking a rather conservative approach, the sum of the parts just doesn't add up to the current Private Market Value. The Private Market Value of a business is what a single private investor would pay and includes the control/take-private premium necessary if one wants to purchase an entire public company's stock. Mario Gabelli is the father of analyzing a company's PMV and its no coincidence that he holds approximately an 8% stake in MSG. If you know what the highest bidder was willing to put up in the past, you can expect a similar offering to fetch a similar highest bidder in the future. One must be careful though, as this can quickly turn into the classic "whose is bigger" competition and this sort of analysis is what finance textbooks refer to as precedent transactions. However, precedent transactions are still relative at best, so relying on these as a major component of a valuation can lead to large inaccuracy as the valuation will always be tied to the specific time period being referenced. But with those businesses that are extremely difficult to value, it really is the only reference point that is concrete. Is a company really undervalued at 100 times earnings multiple but overvalued at 127? Sports teams typically produce thin profits on their bottom line but contain a large asset base - some tangible but a large portion intangible, or brand equity, which makes the value a lot more arcane and subjective. Year to year the story will change, with large wagons of prospective fans traveling in and out of a city near you. But what about the large amount of that customer base that is habitual and life long - diehards you could say. Is a Cleveland Cavaliers fan currently worth more than was a Miami Heat customerjust two seasons ago? What is a diehard fan worth? What even is a diehard fan? These questions are nearly impossible to answer so it's best we focus on what we do know.
We do know what NHL/NBA teams have sold for in the recent past and the relative multiples these transactions indicate. Over the past three years, the Arizona Coyotes sold for $300 million (4x Revenue), the New York Islanders for just shy of $500 million (6x Revenue) and the Florida Panthers for $160 million (2x Revenue). In addition, the NHL began their expansion process last year, requiring prospective teams to pay a $10 million fee just to apply. It seems likely that Las Vegas and Quebec City are willing to actively pursue expansion teams into their respective cities, but approval must first come from the current owners of the other 30 NHL teams. Many have speculated expansion fees to be in the ballpark of $500 million, vastly larger than the $80 million required from Minnesota and Columbus in 1999. In the recent years of the NBA, the Milwaukee Bucks and Sacramento Kings each sold for roughly $550 million, representing approximately a 5x Revenue multiple in both of these two deals. Although perhaps the most comparable deal for MSG would be in 2014, where Steve Ballmer paid $2 billion for the LA Clippers. And that was arguably a pressured fire sale after previous owner, Donald Sterling, was recorded making some controversial comments (although Sterling did manage to secure a 14x Revenue multiple). At the time of Ballmer's acquisition, many thought this high-multiple purchase proved the price was excessive. However, US tax law will actually allow Steve Ballmer to recoup about $1 billion of that purchase price by claiming it over the next 15 years against his personal taxable income. Goodwill is the intangible asset carried on the balance sheet after an acquisition as the difference between the tangible assets the company has and actual purchase price paid. This Goodwill creates a tax shelter for active owners of sports franchises and arguably can be a root cause in why sports teams trade at such high multiples. Anyways, let's dive a little deeper into how a large city, high-profile team like the LA Clippers compares to that of the New York Knicks.
The Knicks definitely have a deeper history and also happen to generate the most revenue of any NBA team. The team has made 8 NBA Finals appearances, taking the championship trophy on two of these occasions. In 2014, the New York Knicks hired a new president - basketball legend Phil Jackson, in the hopes of emulating his success into the Knicks new project as Jackson has a staggering 13 NBA championships to his name. The value an asset like Phil Jackson brings a franchise is hard to quantify, however excluding his value from the overall analysis is never an unreasonable assumption to make. The New York Knicks ranked among the top three NBA franchises for ticket sales in the 2014/15 Season, and this marks the fifth consecutive year season tickets to the Knicks have been sold out. With the Knicks having revenue practically twice the Clippers, applying the same sales multiple would result in New York's valuation twice that of LA's. Twice as much may be debated, but it makes sense that in contrast with the Clippers, the Knicks would be worth more, and in fact, as of January 2016 Forbes has ranked the Knicks as the most valuable NBA franchise with an estimated value of $3 billion. The easiest way for the team to prove its worth is simple - just win. However, for the current Knick's lineup, maybe it really isn't just that simple after all. Kristaps Prozingis is definitely a promising 4th overall draft pick, but there really isn't much else as Carmelo Anthony is eating about one-third of the team's salary cap with his $25 million per year salary as shown below (roughly equal to the amount Cleveland is currently paying Lebron James). Teams will naturally go through various hot/cold streaks and the record of the last ten games is almost negligible to the team's long-term value. But with that being said, nobody likes supporting a perpetual loser - unless of course, you happen to be a hockey fan from Toronto.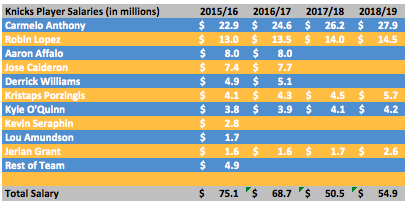 The New York Rangers are also a top tier NHL team. As one of the of the Original Six Franchises, the team boasts 4 Stanley Cups, 11 conference titles and Head Coach, Alain Vigneault, captured the team's first President's Trophy for the league's best regular season record in 2014/15. In addition, the Rangers have made the playoffs in 9 of the past 10 seasons (which I also wish I could say was true for the Toronto Maple Leafs - the only NHL franchise arguably more valuable than New York). The team's ticket sales ranked in the league's top three during the past season, and season's tickets have been sold out for the 8th season in a row. Again, it is quite easy to identify that the New York Rangers are more valuable than just your average NHL franchise and rightfully warrant some sort of premium. If Las Vegas and Quebec City do pay expansion fees in the realm of a $500 million figure, it is reasonable to assume that a franchise with the Ranger's legacy would fetch something in excess of $1 billion in an open auction.
Before we get started on pegging a more precise valuation, there are some off-balance sheet liabilities that are worth mentioning. The pension plan is currently underfunded by roughly $75 million. In addition, MSG has around $300 million in OBS operating leases as well as $540 million in OBS future contracts (85% of which are guaranteed regardless of injury or termination). The company's cash flow statement looks reasonably healthy for a sport's franchise, including what should be the last tapered portion of the $1 billion in capex spent on the 2013 transformation of the Madison Square Garden arena. The company produces just over $1 billion in revenue, $800 million of this coming from the live/event-related segment, $130 million in media rights (paid each year by MSG-N), $50 million in sponsorship revenues such as JP Morgan and Coca-Cola, and an additional $75 million in revenue coming from the playoffs. Bear in mind, I do not believe the company's cash flow would be considered the primary driver of value in a private market deal. Instead one should more look at the scarcity value of these assets to determine a fair market price for MSG.

With a company like this it is best to assign a distinct value to each of the parts and use the entire sum plus the net cash position to determine what the company is worth to a private buyer. The base case is meant to be the current fair market value, with the optimistic scenario being one without regards to timing pressures and therefore an opportunity to find the perfect strategic buyer. The conservative valuation is more meant to be a liquidation-like scenario. For instance, let's imagine Dolan has some rather dubious personal opinions. An affair goes wrong - Ferrari and Bentleys are returned, lawsuits unfold etc., and it turns out that some racist comments Dolan had said in private were actually recorded and leaked to TMZ yesterday. Under immense pressure by the NBA, NHL and every other outraged person in America, Dolan is given a lifetime ban and forced to auction off the team. I believe it is reasonable to assume that he could retrieve the book value of the investment in the Garden/Forum venues, as well as $1 billion for the Knicks (half the value of the recent Clippers sale and one-third of the Forbes' valuation), as well as $500 million for the Rangers (equal to what the expansion fee for Quebec City or Las Vegas will likely be). After you take out the net cash you are left with 15% upside. Not too shabby for a worst case, fire-sale scenario. The base case scenario offers an investor 75% upside and assumes both teams are sold at prices still less than 20% Forbes' 2016 estimated valuations. The optimistic scenario assumes a similar multiple to that of the Clipper's deal and assumes Forbes 2016 estimate of the Rangers is now in the ballpark. In addition, it assumes somebody is willing to purchase the Garden as well as the Forum at a significant premium to its book value or its cost to build/transform. Keep in the mind the Garden also has air rights in a prime New York location that most analysts have valued anywhere from $400 million to values in excess of $1 billion. In addition, I have not included any value from the entertainment business, the other teams, or the joint ventures which could also yield another $500 million, even when marking the JV investments at cost.
Catalysts
The most obvious way for MSG to unlock value is by simply developing a championship caliber team. Although we hate to admit it, most people avoid the rocky-road of sports loyalty and instead prefer cheering on the psychologically smooth ride the bandwagon offers. Likewise, this includes Wall Street Analysts (actually, most of whom are arguably the largest bandwagonners of all). A winning team is likely to capture the eyes of America including the Street.
The MSG board of directors has already approved a $525 millionshare repurchase program. Given the $1.5 billion war-chest on the balance sheet, management will likely begin to leverage this opportunity in the foreseeable future, and may also choose to invest the additional surplus cash in new venues or other value-adding ventures. The Garden's $1 billion transformation was financed without leaving any debt on MSG's balance sheet and this leads me to believe management will continue to be reasonably prudent in their allocation of capital - even if Carmelo's salary is turning out to be a little more problematic than initially anticipated for the organization.
There is also the possibility that the Dolan Dynasty (or some other strategic) makes an active bid to take MSG private. MSG has a clean balance sheet and given the current, low interest rate environment, coupled with the investment banker's seemingly incorrect notion of unlocking shareholder value through this recent spin-off, this may result in the Dolan family taking matters into their own hands. Prior to both spin-offs, the family had made two active efforts (both were rejected by shareholders) in an attempt to take Cablevision private. This former intention implies a future intention, with the unknown variable being the Dolans' potential price threshold. A take-private offer from the Dolan Family would likely result in MSG unlocking itsfair value through the premium necessary to delist the company, a value which would likely be similar to my estimated base case. However, this scenario would likely not achieve a return akin to my optimistic scenario, as it would not require the additional premium necessary for a change of control (the Dolan's already have the majority in both voting rights and appointing board seats)
Risks
When something is cheap, you have to ask yourself the question, why? More often than not, it's cheap for a good reason. However, in the case of MSG, I can't seem to find a good reason, although I did manage to find a reason. My impression is that the stock's true value does not seem to be recognized by the market due to the obscurity of the spin-off, coupled with the company's minimal public trading history and limited float. In September 2015, MSG was spun off from MSG-N as management felt it could unlock shareholder value by making the value of these assets more transparent. This means MSG has only been a standalone public entity for a mere six months and as a result has rather limited analyst coverage. And even before that, MSG's parent company, MSG-N, was spun-off from Cabletelevision. Two spin-offs, six months, and a few thousand free throws later, we have the present day MSG.
There is a potential risk with this company due to its limited float. There is only ~20 million share float and on the average day during the past month, only 200,000 of these shares actually change hands. Stocks with limited floats can experience rapid fluctuations, both up and down, and these demand implications can make it tougher for impatient investors to play their position, especially on the short side. While the float of the stock is only 20 million shares, the potential float of a private MSG is just one (I guess two if you count the team you're getting for free). Sports teams are inherently illiquid businesses in general and even if they are public they are not meant to be conducive to the active momentum trader or hedge fund specializing in daily arbitrage. With that being said, I believe the company's discount to Private Market Value more than compensates for the liquidity risk.
Another risk is that the unconventional share structure comes with different voting privileges, which may effect the marketability of the security with the lesser voting privilege. There are two classes of shares and the Class A share is the one currently listed on the NYSE. The Class B shares are really only held by the Dolans and entitle its owner to 10 votes relative to 1 Class A common share. This means the Dolan family controls approximately 70% of MSG's voting power, along with the right to assign 75% of the company's board seats. While I am never a fan of these inequitable share structures, in the case of MSG, one can argue that it may be less important. The value of a publicly traded museum filled with various Picasso's wouldn't really change all that much even with two different types of securities trading. You could derive a valuation possibly through some extremely high multiple of the museum's ticket sales, but voting on operational decisions to add value for the most part would be less important. A shareholder may argue to put the The Old Guitarist on the east wall or Seated Woman or the west - but this likely won't create much value as the standalone paintings are worth what their worth, with the operating platform easily replicable by any person that owns four walls and a ceiling. My point being the scarcity value of MSG's assets makes its operations more conducive to a single private owner, and any other shareholder should be less worried about voting to unlock short-term value and more worried about the strategic long-term decisions to preserve the team's brand equity to ultimately help lift more silverware and maintain the legacy of the franchise.
Lastly, there is also the chance that you are holding a hot potatothat could blow up before the market ever recognizes its fair private market value. The multiples for sports teams don't quite make sense. These really aren't the typical fast-growth/high margin businesses that would warrant such multiples, they aren't creating some new/innovative product, but they nevertheless are a very trendy business everybody likes to talk about. This implies a potential risk if billionaires and the large corporate owners were to become extremely rational and more frugal with their spending habits and their allocation of capital. They could no longer enjoy talking about their team's historic yet presently redefined sporting rivalry at the latest cocktail party and instead could revert to their plain vanilla bond portfolio; but I highly doubt it. These are scarce, sexy, buy and hold forever businesses - coveted by so many, and possessed by so few. They're not going anywhere, and their owners aren't either.
Conclusion
To me, the MSG spin-off seems to be an obscure diamond treasure, just another seemingly overlooked security that Mr. Market has mispriced. While the free cash flow yield does not support the valuation, this is a pure asset play. The tax shield to the owner, precedent transactions and scarcity value in the sum of these parts gives MSG substantial value to a strategic buyer. Despite the hefty earnings multiples, the current valuation actually provides a reasonable margin of safety, even using rather conservative assumptions. These are quality assets that are very rarely offered to the public market at such a large discount to their fair market value. MSG has two top tier sports franchises, arguably the world's most famous sports venue, along with a very solid balance sheet and strong cash position management can leverage to unlock shareholder value. While my analysis dives a little deeper, the way I think about this investment is still easy enough to write on the back of a paper napkin. After you subtract the big pile of $1.5 billion in cash, you are left paying roughly $2 billion. If you think buying the New York Knicks, the New Rangers and the Madison Square Garden arena for $2 billion is a wise business decision then MSG is likely a good company to be long. The risk of bankruptcy is insignificant, as is the business risk of the company. These sports teams will be around so long as owners can find a select group of freak athletes with an appetite for victory, all surrounding a ball (or puck). Meanwhile the rest of us can cheer, drink our beers and think back to our playing days some 15 to 50 pounds ago. While I embrace pressure, I can't take this buzzer beater for you - the ball is in your court.