I initiated a position in Electronics for Imaging (NASDAQ:EFII) recently. The company remains in a very strong position and is poised for higher prices. The fundamental picture is very strong and technically the stock is ready for new highs soon. This article will give a brief overview of the company and why I am bullish going forward.
The company's profile
The company's profile can be seen here.
The main business includes:
"Electronics For Imaging, Inc. provides digital inkjet printers, business process automation solutions, and color digital print controllers worldwide. Its Industrial Inkjet segment offers VUTEk super-wide format UV and textile dye sublimation industrial digital inkjet printers and ink to commercial photo labs, sign shops, graphic screen printers, specialty commercial printers, and digital and billboard graphics providers; EFI hybrid and flatbed UV wide format graphics printers to the mid-range industrial digital inkjet printer market; Jetrion label and packaging digital inkjet printing systems, integration solutions, and specialty inks to the converting, packaging, and direct mail industries; and Cretaprint ceramic tile decoration digital inkjet printers to the ceramic tile industry."
In a recent conference call seen here, the CFO described the main business of the company.
"We manage our company is three segments; the first segment is the industrial inkjet, about 50% of our revenue. We have a software business that automates the business processes around the digital printing activity that's about 15% of our revenue. Then we have controller business, the Fiery business for the production space and industrial space and that's about 35% of our revenue."
Latest earnings report
In the first quarter of 2013, EFII showed growth in all three segments. Total revenue grew by 7% but profit grew by 24$. Earnings per share was $0.33, which was up 10% from the previous year despite a $0.04 non-operational FX impact in a seasonally weak cash quarter.
Software also delivered a nice 15% growth year-over-year.
For the next quarter, revenue is expected to be $174 to $176 million. This would be an all-time record for EFII with EPS growth expected to be between 15 and 20% growth, yielding about $0.34 to $0.36 per share.
The company also continues to buyback shares which is very important for management to continue believing in their own company. 5 million worth of shares were bought in the first quarter of 2013, as part of the 100 million buyback program.
Fundamental analysis
The market cap of EFII currently reads $1.2b. The company has $381million in cash and $0 debt. This reduces the chances of a secondary offering of shares. The big cash position allows for larger buyback in the future and opportunities to merge and acquire other companies for continued growth. Revenues for 2013 are estimated to be around $700million. As one can see, the company is very cheap fundamentally. The float is quite low at around 46 million shares.
The future
With the healthy cash position and $0 in debt, this allows EFII to buy smaller companies to improve their bottom line.
On May 8th, 2013, EFII announced that they had acquired printLeader as seen here. PrintLeader is a provider of management information systems. This enables EFII to continue expanding their business automation systems.
On May 1st 2013, EFII announced that Anderson/LA, a graphics company installed EFII's superwide printers. Anderson/LA provides printers, digital print and fulfillment services to leading national restaurants, retailers and Hollywood movie studios. It is one of the first companies in North America to operate three VUTEk printers.
Analysts continue to believe in the company. In March, Brean Capital raised the price target from $25 to $32 based on broad product cycles and operating leverage opportunities.
Technical analysis
The daily chart remains very strong. Prices have been consolidating recently and I expect new highs soon. Volume has been decreasing after the big jump a few weeks ago. A bullflag is forming on the daily.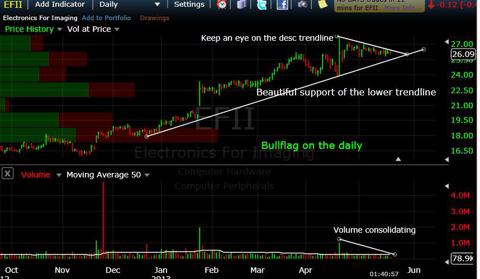 The weekly flag also looks quite impressive. Bullflagging again here and ready for higher prices any time. Keep an eye for volume to pick up to send this to new highs.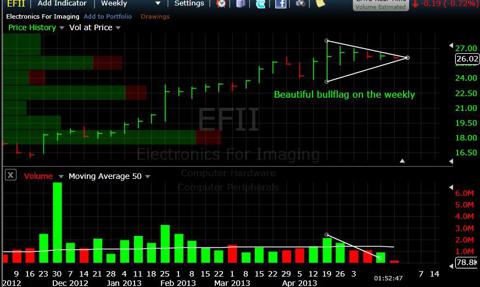 Conclusion
EFII remains a leader in the print industry field. EFII continues to focus on specific niche markets. The company continues to post double digit growth rate on the top line as seen in the last 3 years.
EFII has a very strong cash position and no debt. With the impressive buyback that continue to take place, the strong earnings and record growth, combined with a strong management team, I will be buying EFII on any dips and will be adding again to my position shortly.
Disclosure: I am long EFII. I wrote this article myself, and it expresses my own opinions. I am not receiving compensation for it (other than from Seeking Alpha). I have no business relationship with any company whose stock is mentioned in this article.