In his book Capitalism. Socialism and democracy first published in 1942 Joseph Schumpeter, the Austrian-born American economist, introduced term "creative disruption." According to Schumpeter, creative destruction is the "process of industrial mutation that incessantly revolutionizes the economic structure from within, incessantly destroying the old one, incessantly creating a new one". This concept was developed more than 70 years ago, but in the XXI century, the importance of this idea seems to only grow. Day after day, we observe how yesterday's underdogs and no-names become today's industry leaders and yesterday's leaders become today's underdogs. There is only one thing that changed since this idea was introduced to the world - the velocity of change, with which one companies disrupt and displace the other.
The Internet and the rise of IT contributed to unprecedented changes in almost every industry. The benefits of the web are very clear - speed, productivity, and low costs. Those who realized it first and could come up with valuable and reliable business ideas quickly became new industry leaders, even though they did not have any market share or name before. For the last 20 years, names like Amazon mushroomed around the globe, and took much business out of traditional leaders with "sustainable business models". How is it possible that Amazon became the largest internet-based retailer in the U.S.? How could the companies like Wal-Mart and Target miss such an opportunity with all their material and intellectual resources? How could Blackberry, who had 41% of the market share in 2010 and became an outsider in 2016?
While the internet changed almost any business model - seems like finance and banking services underwent just a little change since the beginning of the IT revolution. It is evident why the shift came here so late. The industry where many things are done only based on trust and connections, was destined to be one of the last. However, creative disruption changes everything, and it looks like now it is the turn of the financial sector. Global investment in Fintech increased from $930 million in 2008 to $12 billion in 2014, and it seems like it is just the beginning. Names like TransferWise. FundingCircle, Money.Net, Square are already well-known leaders in their niche. Main hubs of Fintech revolution are relatively predictable: Silicon Valley, New York, London and Hong Kong. In this article, I would like to outline three promising New York startups and show how they might hit traditional finance sector.
Fundera. The company was launched in February 2014; it specializes in a small-business financing and as of September 2015, Fundera secures over $60 million loans in credit.
How it usually works:
If you are a traditional business owner looking for a loan, usually you have to go to a bank and ask for a loan. It requires much paperwork and talking. Many banks are not very eager to finance small businesses preferring larger deals, which are always more profitable to them.
How Fundera disrupts the industry:
Via Fundera's website you can find suitable sources for financing your business with just a couple of clicks. There are many lenders on Fundera, but most well-known names are Funding Circle, OnDeck and Lending Club. The major advantage is, of course, interest rates - which are almost always lower than those offered by banks.
Banks that are disrupted:
According to SBA (Small Business Administration) as of the end of the second quarter in FY 2016, these are ten most active SBA 7(a) lenders in the U.S.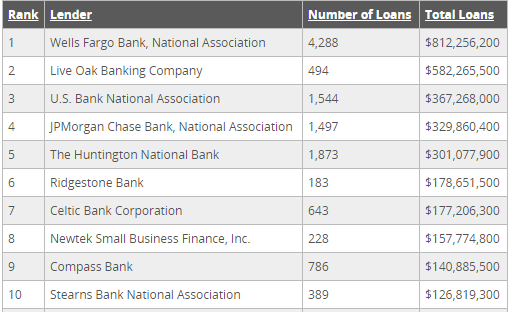 CommonBond is a marketplace lender that specializes in refinancing student loans and providing loans for MBA students. On its website the company promises you to save over $14, 000, so you can" jump-start your dreams."
How it usually works:
You go to traditional brick-and-mortar bank and try to get refinancing for your loans. Because of high labor and operating costs refinancing will not save you much money,
How CommondBond disrupts the industry:
CommonBond will buy out your student loans from existing servicers and refinance them, enabling you to have a potentially lower interest rate.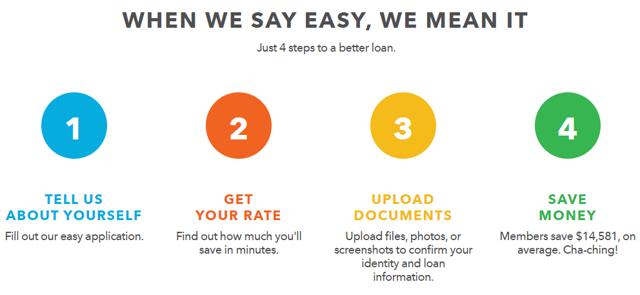 Banks that are disrupted:
Almost every bank, whose primary interests concern refinancing, for example, Earnest or Citizens Bank.
Even though the economy boomed since 2008, many people still struggle to make ends meet. Bread was designed with one purpose - to help people finance their living, and to do it fair.
How it usually works:
Traditionally this niche is full of shark-lenders, credit card issuers and short-term loans which are engineered to lend you money at the highest possible rate. So by doing its business Bread does something good for the society.
How Bread disrupts the industry:
By using Bread, you get access to its network of merchants where you can get products and services that you need and pay for them later. Bread is beneficial to all parties - its customers get attractive interest rates, and merchants get new customers.
Banks that are disrupted:
Almost every bank in the U.S. that issues credit cards. Traditional leaders in the U.S. are: American Express, Bank of America, JP Morgan and Citigroup.
Concussion: We are standing at the beginning of the Fintech revolution, where the rebels will try to cut off a huge market share from the traditional brick-and-mortar banks. During the next years, we will see a huge struggle in this industry. Many banks will have to give up some part of their market share to rebels. Of course, the banks will not surrender their positions easily. During the rebellion some companies will be bought out by banks, some will die in a struggle - since the banks have also started their quest for being lean. N o matter the results of the revolution, one thing is evident - in five years the financial w orld will not look as it looks like today.
Disclosure: I/we have no positions in any stocks mentioned, and no plans to initiate any positions within the next 72 hours.