NanoViricides (NYSEMKT:NNVC):  No products, Price was $5 now $0.39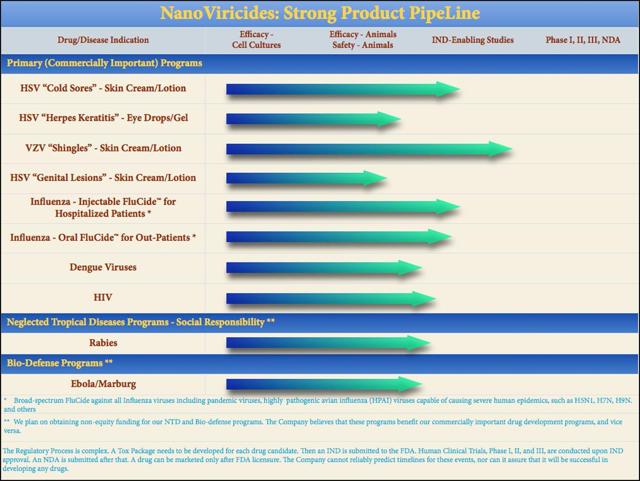 IND enabling includes cold sores cream, Zoster cream, Influenza vaccine, oral Influenza vaccine.
Their technology lies in Nanomicelles. This is real science which is a ball of monomers usually used to deliver drugs. They are small and stable.
They put
1. virus parts inside to act as vaccines, and
2. surfaces that viruses likes so the Nanomicelles stick onto the virus and inactivates it.
Independent studies for Nanomicelles as vaccines in preclinical models seems to work. As a virus killer? no idea. In the conference on 26/6/18' in dish it seems to work on Zoster.
Market sentiment on discussion boards: Has not been moving for 7 years.
Conclusion: I agree with the market sentiment. The website is lacking in effort and clinical information, the trend is still going down. Even though the science is good, if no one advances the studies it is still going to go down. Plus most are creams (not good) and Nanomicelles is being investigated currently as cancer vaccines (not happening here).
Giving it a pass, setting alert for >20% change in price movement
Disclosure: I/we have no positions in any stocks mentioned, and no plans to initiate any positions within the next 72 hours.