COMPANY DESCRIPTION:
CorMedix Inc. is a commercial-stage biopharmaceutical company that seeks to in-license, develop and commercialize therapeutic products for the prevention and treatment of cardiac, renal and infectious diseases. The Company received IND approval from the U.S. Food and Drug Administration (FDA) to proceed with a pivotal Phase 3 multi-center clinical trial for Neutrolin® in hemodialysis patients with central venous catheters.
Phase 2b clinical trial in ICU-critical care for label expansion.
LEAD PHARMACEUTICAL:
Neutrolin® (CRMD-003) has CE mark approval for use in the European Union, but is not approved in the United States.
Neutrolin® is a novel formulation of Taurolidine 3.5% Citrate 3.5% and Heparin 1000 units/mL that provides a preventative solution, which decreases the triple threat of infection, thrombosis and biofilm formation as a catheter lock solution; thereby keeping central venous & peripherally inserted catheters operating safely and efficiently by optimizing catheter blood flow while minimizing infections and biofilm formation for oncology, hemodialysis, and intensive care patients. Taurolidine is an amino acid derivative which is an antibacterial and shows broad antibacterial action against gram-positive and gram-negative bacteria, mycobacteria and clinically relevant fungi. Central venous catheters and peripherally inserted central catheters are an important and frequently used method for accessing the vasculature in hemodialysis (a form of dialysis where the patient's blood is circulated through a dialysis filter), administering chemotherapy and basic fluids (total parenteral nutrition) in cancer patients and for cancer chemotherapy, long term antibiotic therapy, total parenteral nutrition (complete or partial dietary support via intravenous nutrients) and critical care/intensive care patientbiofilm with microbial colonization develops within 24 hours after CVC placement.
Currently, there are no pharmacological agents approved in the United States for the treatment of catheter related bloodstream infections.
Key Milestones Reached:
Neutrolin® has CE mark approval for use in the European Union
European Union Label Expansion Approval
FDA Fast Track and QIDP Designations Granted
(QIDP designation includes an additional five years of market exclusivity in addition to the five years granted for a New Chemical Entity under Hatch-Waxman patent exclusivity)
FDA approved Phase 3 multi-center clinical trial in hemodialysis patients with central venous catheters
FDA submission for review a Phase 3 protocol to support the use of Neutrolin® to prevent catheter related bloodstream infections for oncology patients receiving total parenteral nutrition
Future Near & Intermediate Term Value Drivers:
Announcement of successful Strategic Alliance (Joint Venture with Product Development and Commercialization Agreement vs. Surprise Echo Asset Sale of the company) through Evercore Partners
FDA approval of Phase 3 multi-center clinical trial in oncology and total parenteral nutrition
Announcement of new CorMedix CEO
Initiation of Phase 3 Clinical trials in hemodialysis, oncology & total parenteral nutrition; Q4:15
"Short Squeeze" -- following apparent orchestrated "Bear Raid" on CorMedix stock (FINRA/SEC, along with private investigators currently examining the recent attack + CorMedix equity shareholders have engaged legal counsel to examine future legal avenues)
Additional NUMP (Neutrolin Usage Monitoring Program) Updates - European Union Post-Approval Surveillance Study Updates
CorMedix Second Quarter 2015 Conference Call - Friday, August 7 at 9:00 a.m. EDT
*** So, Why Invest in CorMerdix Stock Now? ***
US Market Opportunity: Sales Potential of GREATER than US$1 Billion
Limited Competitive Landscape: Neutrolin is a NOVEL compound and Represents the Optimal Antimicrobial Solution Designed to Prevent Biofilm While Also Containing an Adequate Dose of Heparin
Granted Fast Track & QIDP approval: 10 1/2 years of US Total Market Sales Exclusivity
Neutrolin Phase 3 Trial Initiation: Q4:15 with only maximal projected 18 month time frame & with built in "early look" evaluation by an idependent Data Monitoring Committee
**** De-Risked**** Phase 3 Neutrolin US Clinical Trial: data from the NUMP (Neutrolin Usage Monitoring Program) European Union Post-Approval Surveillance Study Updates...FDA threshold of 40% reduction rate for the Phase 3 study with No Reported Human Resistance, Significantly Reduces the Rates of Infection and Thrombosis in Hemodialysis Patients Enrolled in a Post-Approval Surveillance Study, was presented on May 30, 2015. In 120 patients, the results to-date include three infections and two thromboses in 21,151 hemodialysis catheter-days. The Neutrolin Usage Monitoring Program results can be calculated as 0.14 infections per 1,000 catheter days (versus benchmark of 3.5 per 1,000 catheter days), a 96% reduction in infection rate, and 0.09 thrombosis per 1,000 catheter days (versus benchmark 2-3 per 1,000 catheter days), a 96% reduction in the thrombosis rate.
**** Cash Balance is Solidified **** : Excerpts from Roth Capital's Scott R. Henry, CFA's Company Update on CorMedix released on July 21, 2015, "To the company's credit, the cash balance was upped significantly during the stock's run-up. We estimate that the cash balance could be near $40 million in real time, which supports the trial runway and accounts for a material portion of the current market cap". AND from CorMedix's July 17, 20015 press release, per Cora M. Tellez, Chair of the Board of Directors, "...with our greatly improved financial position, we can move forward with our planned US Phase 3 study".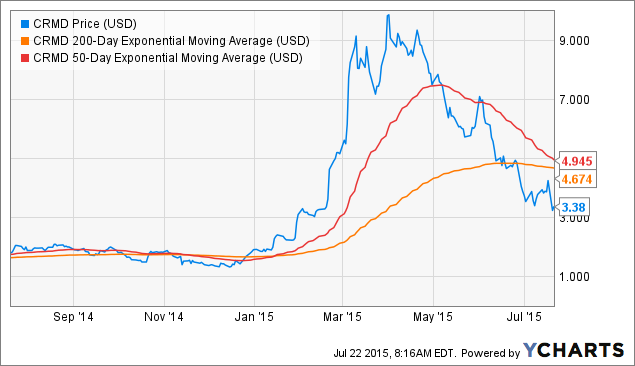 The above chart graphically demonstrates a recent 70% retracement in the equity price since it's intra-day high of $10.40 on April 1, 2015, which is felt to represent a bottom in the share price, and is felt to represent a value proposition and timely accumulation entry point.
(Excerpts, again from Roth Capital's Scott R. Henry, CFA's Company Update on CorMedix released on July 21, 2015, "Controversy should fade from shares. Without getting into specifics, we remain positive on the drug (Neutrolin) and believe that there is a place for it on the market. The catalyst for a positive shift in sentiment could be validation through a partnership. Moreover, we expect that much of the "takeover" premium has left the market cap, and that shares are approaching the baseline valuation".)
**BOTTOM LINE: Extremely Oversold EquityWith A Bright Horizon!
Additional Support Resources & Informational Materials to Assist in Performing Due Diligence for an Investment in CorMedix:
Disclosure: I am/we are long CRMD.
Additional disclosure: I am long this security, CRMD. This Instablog was written solely by me and the views and opinions written and expressed in this Instablog are are solely this author's (Except possibly written quotes, which I have documented and referenced in order to buttress my opinions). I have NOT received any type of compensation for authoring this Instablog, and I have NO business relationship with any company or stock mentioned in this Instablog.