Following my previous article on some possible investment ideas in the Energy sector, this article focuses on GLF.
Investment Thesis
Strong cash generating company.
Capex expected to be lower in 2015, giving flexibility for further share repurchases.
Undemanding valuations - expected decline in offshore rig demand seems priced in.
Overview and Business
Currently owns 74 vessels and manages 6 other vessels in Gulf of Mexico, North Sea and South East Asia. Exposed to offshore rig demand.
Contracted to sell 2 vessels in 4Q14, so will end FY 14 with 72 vessels. At tail end of a 12 vessel new-build program that was initiated in 2011 - 4 more vessels to be delivered in FY15 for $87.5 million of remaining capital commitments.
Chart below on vessel age is illustrative as to how management added so many vessels during the peak of the cycle in 2007 and 2008. Something to watch for in the future to see if the company has learnt its lesson.

Utilization has remained strong in 2014, though negative pressure on utilization can be expected in FY15 and FY16 as demand for offshore rigs is reduced.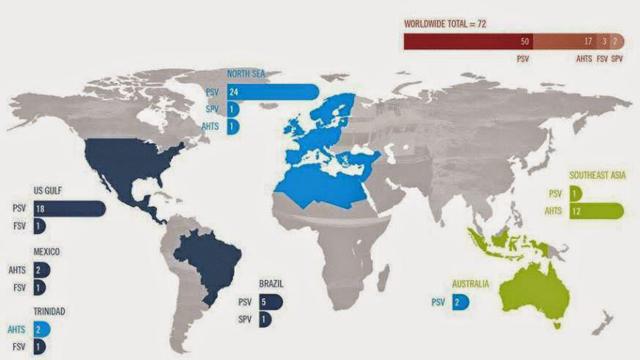 Source: Dec 14 Presentation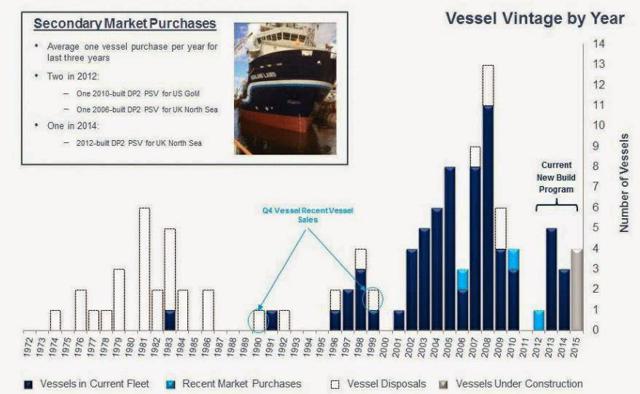 Source: Dec 14 Presentation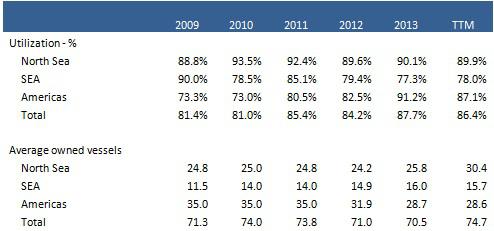 Financials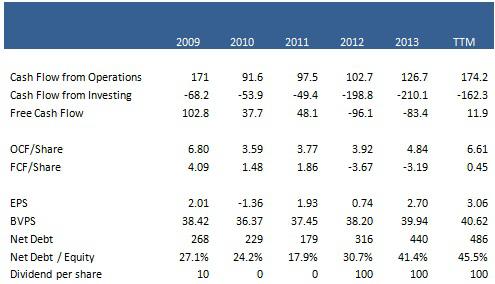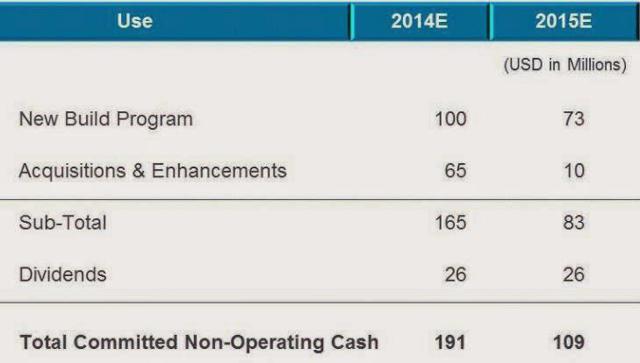 Source: Dec 14 Presentation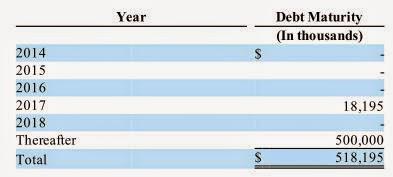 Source: Q314 10Q
Clearly not a growth stock. But strong cash flow generation ability - TTM operating cash flow per share of 6.61, meaning P/OCF ratio of just 3.94.
Company has plenty of financial flexibility - most of debt maturity in 2022. Company also has a $300 mil facility which has not been drawn down.
Expecting free cash flow situation to improve from 2012 and 2013 - new build program ending.

Higher FCF would mean greater flexibility for buy back more shares (approx. 1.88 mil shares repurchased in 2014 so far)

Current dividend should be safe and reflects a yield of about 3.8%.
Valuations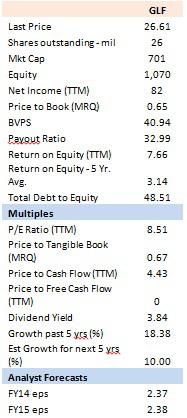 Valuations are not demanding
Slightly over 11X forward P/E
Current P/B of 0.67 reflects bottom of cycle valuations; low in 2009 was about 0.4X P/B
Target Prices - $37.30 (mid-cycle at 0.9X 2014e book value) and $50 (top of cycle at 1.2X 2014e book value)
Risks
To monitor cash flow situation
Valuation, though undemanding, could fall further. But this is likely to provide an opportunity to add more shares
Disclosure: The author is long GLF.
Additional disclosure: Disclosure: I am long GLF. This article should not be construed as investment advice. Investors are encouraged to do their own due diligence and research.