Enterprise SaaS Overview
Enterprise software is software used by companies and organisations, as opposed to individual consumers. Enterprises are increasingly consuming software as a subscription service rather than through perpetual licenses.
According to forecasts by Gartner, cloud software growth is expected to be 22% in 2019 as compared to expected overall IT growth spend in 2019 of 3.2%.
The growth in cloud software is driven in large party by digital transformations ongoing at enterprises, where initiatives include cloud adoption (with hybrid cloud increasingly popular), DevOps and a digital customer experience. Increasingly, best in class software incorporate artificial intelligence providing increased automation and analytics.
Stratechery in this article on the SaaS opportunity highlights the following key advantages of the SaaS business model:-
It removes the incentive for customers to avoid software upgrades under the perpetual license model
Customers are able to buy the amount of seats they need with no major upfront cost
Allows small and medium sized companies to use enterprise software without needing their own internal IT teams
Globally, we are still in the early stages of the enterprise SaaS story especially in regions outside of the USA and Europe.
This article is an update article post Q119 (February to April 2019) of the 'best of breed' enterprise SaaS market, as represented by the following 29 companies (Enterprise SaaS Group). Zoom has been added to the list post its highly successful IPO.
Zoom IPO
Zoom (ZM) had a highly successful IPO in April, climbing ~81% on its debut. With a combination of hyper growth (>60% estimated for current financial year) and positive operating margin, Zoom does not have any peers in the same league. The valuation is rather rich though at >40X Enterprise Value (NYSE:EV) / next twelve months (NTM) revenue multiple with no other company in the group coming close.
Google and Salesforce announce large Business Intelligence deals
Google announced a $2.6b deal for Looker which offers various business intelligence tools and a data platform. Apart from being a close partner of Google, Looker also integrates with the other major cloud players. Together with Google's earlier announcement of partnerships with with open source based data management companies (including MongoDB (MDB) and Elastic (ESTC) to integrate these partners' solutions into the Google Cloud Platform and offer them as managed services operated by partners, Google has made a clear statement of intent that it intends to challenge AWS and Azure for cloud dominance by pursuing a multi-cloud approach and collaborating with other software partners.
Just this week, Salesforce (CRM) announced an all stock $15.7b acquisition of Tableau, which is one of the leaders in the data visualization market. The transaction values Tableau at above 13X EV/ trailing twelve months (NYSE:TTM) sales. It remains to be seen as to how Tableau is integrated into Salesforce – with Salesforce customers potentially being offered more extensive analytics modules to better understand their customers.
Setback for Hybrid Cloud players
The hybrid cloud players Nutanix (NTNX), Cloudera (CLDR) and Pivotal (PVTL) had downside guidance for their recent earnings release. Reasons include increased competition from public cloud players, increasing technology complexity lengthening sales cycles and issues with the merger and upcoming product release (in Cloudera's case).
This article discusses the struggles with Hadoop. Essentially the hybrid cloud players will have to simplify their offerings to be more easily deployed by enterprises and yet sufficiently value add to be able to compete with the public cloud vendors. If they are able to execute, the risk reward appears rather favourable for these group of companies at current valuations, given that a number of leading industry players (Google and IBM for instance) are betting that hybrid cloud will be increasingly relevant.
Price Performance
Year to date, the IGV is up 22.69% vs 15.11% for the S&P 500. The Enterprise SaaS Group has outperformed year to date with a median return of 33.3%, with Zoom (ZS), Shopify (SHOP) and Okta (OKTA) having returns of 100% or greater. On the other hand, hybrid cloud players Nutanix, Pivotal and Cloudera are down more than 30% year to date.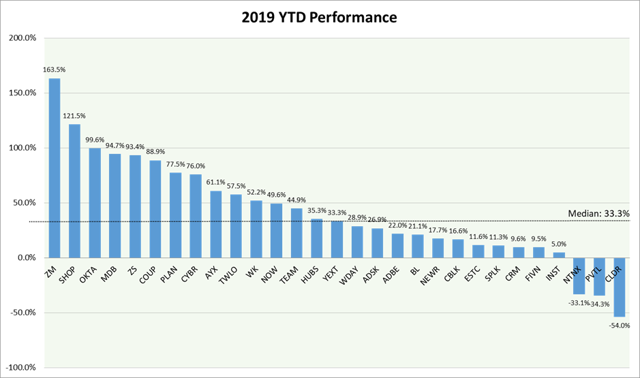 Overall Valuations
Overall valuations have climbed over the last 2 years, with the median Enterprise Value (EV) / trailing twelve months (TTM) revenue multiple climbing from 7X at the end of 2016 to 13.4X currently. The average multiple has climbed even faster to 17.1X. In particular, Zoom, Zscaler, Shopify and OKTA have seen significant multiples expansion, with Zoom an extreme outlier at over a multiple of 60.
Looking out a year, the median EV / next twelve months (NTM) revenue multiple is currently 10.7X.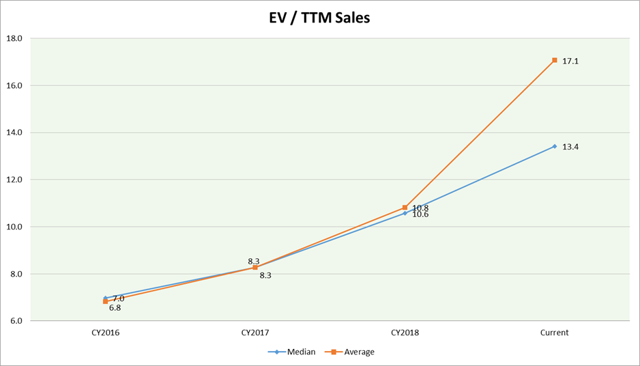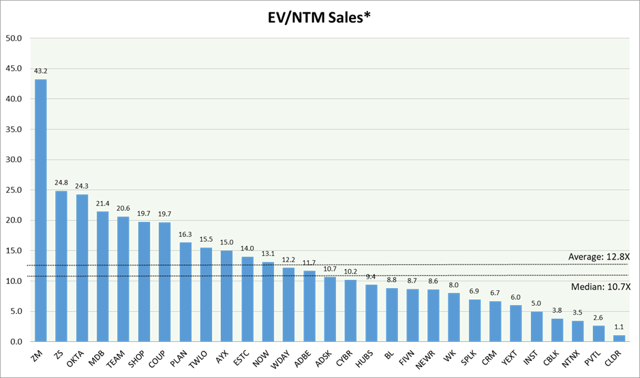 *Based on consensus estimates pro-rated between next 2 FY estimates.
Operating Metrics and Valuation
Similar to the rule of 40 which balances the often conflicting objectives of growth and profitability, one of the charts below show the sum of operating margin and estimated NTM growth rate. As GAAP operating margin is used here, it appears that a good gauge of top tier companies is a sum of ~20%.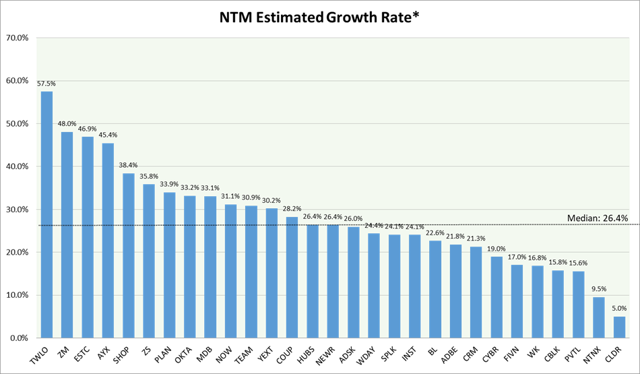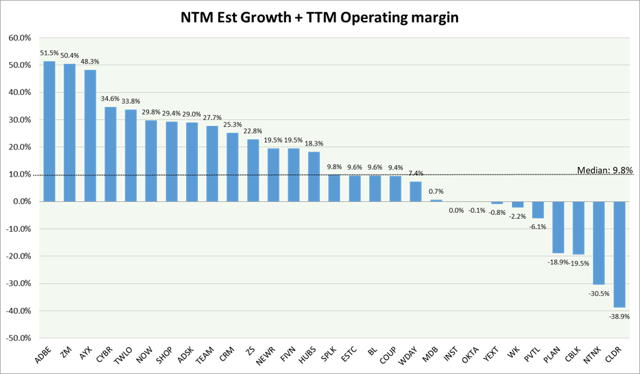 Given that most SaaS companies are not profitable during their rapid growth phase where the focus is on acquiring new customers (higher sales and marketing expense in FY0 together with higher customer life time value resulting in higher profitability in future years from the new customers acquired in FY0), investors typically look at EV/NTM sales multiples.
To give a better idea of relative valuation, the charts below compare the EV/NTM sales multiples of the companies with (1) the NTM estimated growth in sales, and (2) NTM estimated growth plus operating margins. The latter takes into account the profitability (or lack thereof) of a company in addition to the estimated forward growth rate.
Zoom is a clear outlier while companies such as Okta, MongoDB (MDB) and Anaplan (PLAN) also appear overvalued on a relative basis.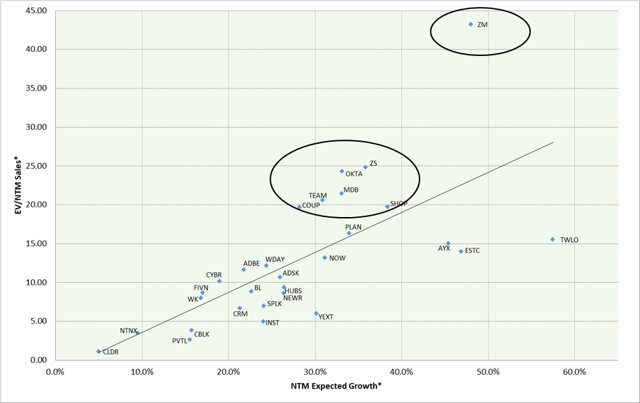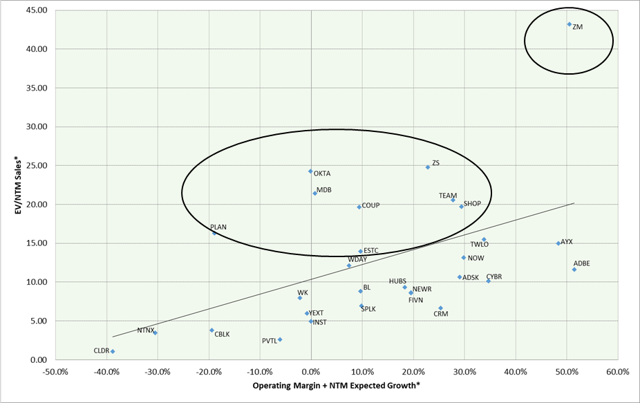 The table below gives an overview of the companies in the Enterprise SaaS Group and their current operating and valuation metrics.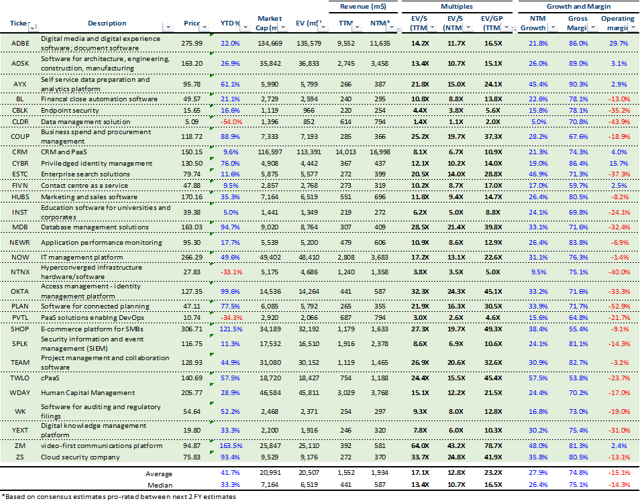 Summary
In summary, valuations continue to climb over the last quarter from already high levels (even accounting for the growth in revenue). Zoom encapsulates the bullishness among investors having more than doubled from its IPO price in less than 2 months. On the other hand, investors have sold down the hybrid cloud platform companies on growth and competition concerns.
Disclosure: I am/we are long CLDR, PVTL.
I wrote this article myself, and it expresses my own opinions. I am not receiving compensation for it (other than from Seeking Alpha). I have no business relationship with any company whose stock is mentioned in this article.