Green Shoots continue to emerge from the African continent, once again disproving many skeptics that feel that African geopolitical issues are to convoluted for entrepreneurial development. Today plans were announced to start an underwater logging project on Lake Volta, in Ghana, estimated to be valued over $2.8 billion. Two Canada companies are partnering on this lucrative venture, Clark Sustainable Resource Development(CSRD) and Triton logging. CSRD has partnered with the Ghanaian government for cite control and Triton logging is an expert in underwater logging expeditions. The project consists of 350,000 hectares (864,500 US Acres) of area. Volta Lake was originally created as a result of the construction of the Akosombo Dam in 1964.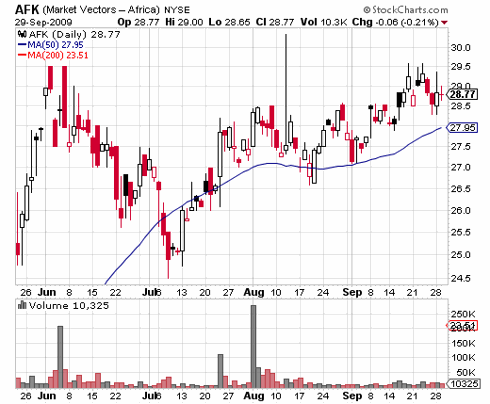 The project is estimated to generate $100 million in Foreign Direct Investment(NYSE:FDI) over the next four years in Ghana. Clearing of the underwater lumber will reap boundless benefits for the local economy. According, to an employment study produced by CSRD, this development is expected to employ approximately 400 people and have a employment multiplier effect of 3.5, thus creating upwards of 1400 jobs in the region and creating broader tax base to support infrastructure projects for the country. Regional prospects of entrepreneurial development are more favorable once the underwater forest is cleared and lake transportation established, which has been quite hazardous since the dam's construction, due to shallow waters and unseen deeply rooted trees within the lake.

Once operational, Volta Lake has a potential to produce $100 million in FDI annually. Projects like these and many others in the incubation stage continue to prove "The Investment Case For Africa"(See the Dark Continent Shining Star" Sept. 2008). This region is overlooked far to often for investments, due to much of the political strife abound on the continent. Many companies listed on the Ghana Stock Exchange(NYSE:GSE), which is down -39.86 YTD will be able to participate in this project directly or indirectly. Also Van Eck's Market Vectors division has an Exchanged Traded Fund(ETF) AFK, that covers African continent and has exposure to Ghana which has returned 35.6% YTD. Ghana is just one of many countries in Africa and Frontier Markets alike that present a unique opportunity for ground floor investments.

Disclosure: No Positions Owned