COLDEST WEATHER YET TO STRIKE THE EASTERN 1/2 OF THE U.S. & LAST FOR MOST OF DECEMBER!
This explains why Electric Utilities in the Ohio and Mississippi Valleys had been using Coal suddenly for the past several weeks. No doubt they needed to lock in contractual Natural Gas prices without the extra speculative Price Pressure that the Future's Market would have brought to the table!
THE FORECAST MAPS SUGGEST A SHIFT IN MEAN TEMPS FROM 15+ ABOVE NORMAL SEASONAL TO UP TO 15-20 F BELOW SEASONAL
The effect of the massive Cold Front should be upon most of the Eastern U.S. by Mid-Week. However, the Natural Gas Draws in the Next 2 E.I.A. reports will likely show below average draws for December! The report released on Thursday, December 7, will have been for the time frame that ended last week whereas the report released on December 14, will have only another 2 days to accrue its details. So 2 more Inventory Reports from the E.I.A. without the benefit of the "REAL-TIME" EFFECTS of the Cold Front that is about to strike the Eastern Half of the U.S. over the next 72 hours and will last 2-3 weeks, just on the basis of current information.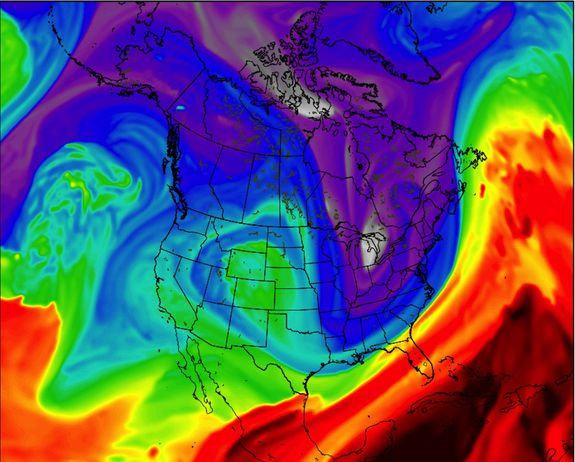 GIVING CREDIT WHERE CREDIT IS DUE TO THE WEATHER CHANNEL & MICHAEL PALMER!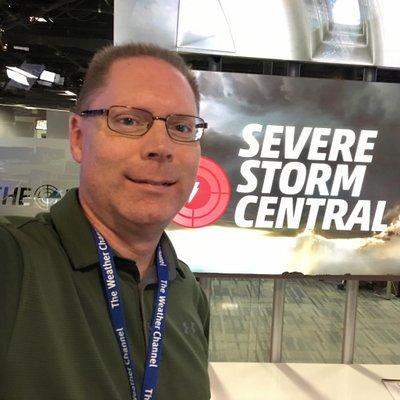 Michael Palmer - Excellent graphic recreation by Mr. Palmer and the Weather Channel!
Tweets
Lead meteorologist at The Weather Company, an IBM Business. University of Oklahoma. Boomer Sooner!! Avid tennis and baseball enthusiast.
Atlanta, Georgia
Long awaited hemispheric longwave amplification gets underway this week ending our warm, boring pattern. Winter's chill set to stay over eastern half of CONUS next 15+ days. Can we get a major storm?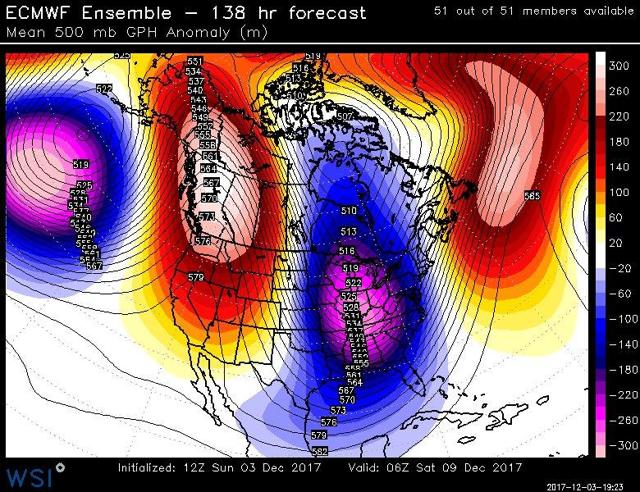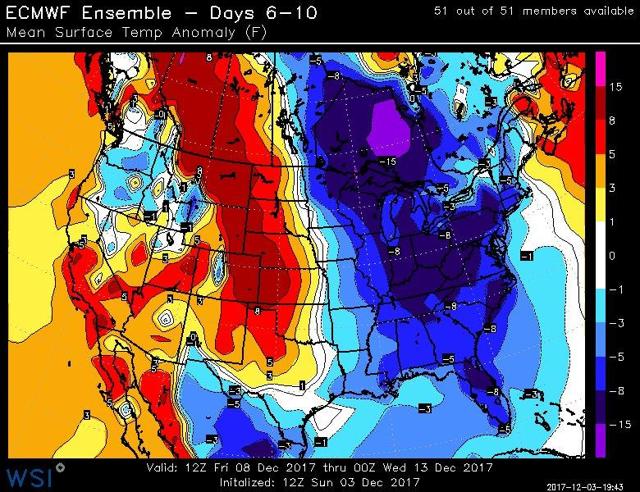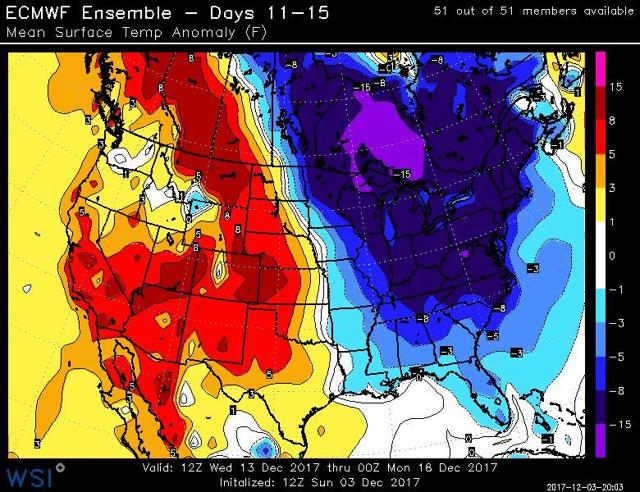 IN ENGLISH: IT'S BEGINNING TO LOOK A LOT LIKE A "WHITE CHRISTMAS" EVERYWHERE ONE LOOKS EAST OF THE MISSISSIPPI!
With Natural Gas prices depressed all year and only $3 as of yesterday, little has been done to bring the hundreds of DUCs, especially in the Marcellus/Utica Shale-Gas basins, to completion for the 2017-18 Winter Season. Hence, the reserves are essentially the 3.7 Bcf we already have. in combined regional storage, plus the ongoing daily production of ~ 90 Bcf daily. Until recently we had been producing, during the injection season, a SURPLUS OF ABOUT 15 Bcf Daily. This means that even during periods of low demand ~80% of our Net Domestic Production has been consumed or Exported!
THE MAPS ABOVE ARE GAME CHANGERS! HUGE DRAWS ARE NOW GUARANTEED THROUGHOUT DECEMBER ASSURING "BULLISH" NATURAL GAS SENTIMENTS
Of course, my interest's are unusually objective having adroitly avoided any direct investment in Future's of any kind since the 1970s. Gold and Silver in those days and the lesson that one can get his hands burnt were well learned. Instead, I aimed toward the "Mining/Materials" sector for Precious Metal exposure and Multinational Oil companies for Oil and Gas exposure. That's why Exxon and Chevron represent ~3/10 of the $$ share price value of a 28 [was 27] component long term trust. I recently sold out all of our "Discretionary" [outside the trust] Conventional Energy positions which had been strongly dominant in size just as they still are in the Trust.
WHERE HAVE WE MOVED DISCRETIONARY INVESTMENTS TO IN ORDER TO AVOID OIL OVEREXPOSURE?
In our "Discretionary Diversification Securities Account" Next Era Energy, replaced Exxon as our largest holding outside the Trust. Other major Discretionary investments were [in order of size] Buckeye, BPL, Enterprise, EPD, Magellan, MMP, Alliance Resource Partners, AHGP, Energy Transfer Partners, ETP. These have been replaced by MMM, Black Hills Corporation, BKH, Johnson and Johnson, PPL, & Aqua America, WTR. Aqua America and Johnson and Johnson were already in the trust and these buys represented additional "Discretionary Diversification Securities Account Funds" BUYS, outside of the trust. In the case of Aqua America, Black Hills, and PPL I also have DSPPs which I have recently ramped up for electronic 2x monthly auto-buys.
The Exxon that we retained outside of the Trust is only 1 DSPP and that was begun in 2017 when shares seemed headed to multi-year lows. I have kept that account, but am only using it as a DRIP while the Energy market sorts itself out.
OTHER USE OF ENERGY SHARE SELL-OFFS! REPLACEMENT OF TRUST DIVIDENDS FOR LIVING TO ACCRUE LARGER CASH POSITION IN TRUST!
Feeling strongly that a major shift in Energy usage proportions, especially with gains for Natural Gas, short term and mid-term, and for Renewables, increasingly over time, having already commenced. Our investment in Next Era Energy, the largest and fastest growing utility with the largest Renewable Energy build schedule versus all others in the sector is the direction we are leaning toward. 
A TANGIBLE SHIFT IN STRATEGY NEEDS A FUNDING SOURCE
Although we live principally on Unearned income, I have desisted from drawing from the Trust, and instead am allowing the dividends and distributions to be "SWEPT" into a Money Market brokerage account for further usage. That is -- when I know where to put it. In the meantime, the ~1/8 of our common stock in the Discretionary Account, provides ample income to live on and continue funding the Electronic Buys in the DSPPs I mentioned above. I have doubled their frequency to 2x per month and increased the amounts per investment between 30-80% [x2]. 
So while we have upped the electronic buys toward companies which are going to benefit from the likely changes in Energy type produced and consumed, we have allowed the trust income to simply go into a Money Market account which can be used at a moments notice because we have been using the smaller Discretionary Account for our personal living expenses as well as gifts, and other major expenditures. So as 2018 approaches we are ready for whatever new opportunities appear and am prepared to take action with larger individual actions than in the past. Natural Gas, Renewables, and the companies that make these Technologies feasible is the objective of future investments which are becoming increasingly placed into stable and secure income growing positions, while minimizing OIL EXPOSURE!
BACK TO THE WEATHER: COLD DECEMBER WILL SEND SHOCK WAVES THROUGHOUT THE ENERGY SECTOR!
Whereas the world has been getting use to the world becoming warmer, the reality of more frequent and sudden EXTREMES in weather has been somehow overlooked. That has been the essential finding that a lifetime of Climatic research has left me with. Hotter - Colder - Wetter - Drier & all the ramifications these Extremes will bring are what we have to be prepared for.
YES IT IS GETTING WARMER: ESPECIALLY THE OCEANS: BUT CHANGING CLIMATE  ISN'T PURELY LINEAR DESPITE CO2 LEVELS
That's because there are other factors beyond just simple CO2 concentrations that affect the Global Climate. Methane, Aerosols, the Albedo and Deforestation that's coupled with the human terraforming of Planet Earth to inadvertently suit its needs. The bottom line will be many events like today's news of a major COLD FRONT attacking the Eastern portion of the U.S. for most of the rest of December.
SURPRISE FORECASTS IN FUTURE WEATHER A WEEK FROM TODAY ARE JUST AS LIKELY AS THIS RECENT SURPRISE COURTESY OF THE TWC!
Unfortunately, in a world with Increased Variability, "MIDTERM FORECASTS", those covering the next 30 days, are the toughest to get right. It is easy to say that it is getting warmer and that by 2100 AD the Global MEAN Temperature will have risen by >2.5 F versus 2000 AD! But what happens day-to-day, and place-to-place, is a much more difficult thing to detail in any useful or meaningful way. Of course, Coastal and low-lying regions are becoming increasingly prone to flooding and Storm Surges are growing more intense due to the warming of the Oceans that power Hurricanes and have caused ambient sea-levels to rise.
RIGHT NOW: HIGH POTENTIAL FOR MAJOR DECEMBER NATURAL GAS WITHDRAWAL THAT WON'T BE INDICATED BY THIS THURSDAY'S INVENTORY!
With the 1+ week lag-time in E.I.A. Inventory data that has always persisted, we will likely see small NET WITHDRAWALS in the report on Thursday [12/7], and the following Thursday, [12/14] because the report of 12/14 will be for the week ending in several days, which won't reflect higher Natural Gas Demand.
ELECTRIC UTILITIES THAT COULD USED COAL OVER THE PAST 2 WEEKS [SURPRISE] IN ORDER TO LOCK IN LOWER HEDGES AGAINST THE HIGHER PRICES THAT COLDER TEMPERATURES PROMISED!
I must admit to have been confounded by the sudden shift throughout the Midwest during mid November as Electric Feedstock shifted more dominantly toward Coal and away from Natural Gas. This was a fact that I saw first hand and checked on, as to motivation. The collective answer [paraphrased] was NOT surprisingly -- "Your the guy that's supposed to know about Climate". Admittedly, I am recovering from a Stroke 3 weeks ago and shouldn't have even checked myself out of the hospital, but I didn't see what they could do for me after it had already happened and I am lucky that the Stroke was an "Ischemic" one, [my 5th] but it apparently left me slow on the uptake.
ELECTRIC UTILITIES HAVE USED COAL - RECENTLY - IN ORDER TO PRESERVE THE NATURAL GAS STOCKS AT CONTRACTED PRICES!
In case it wasn't common knowledge -- Electric Companies have a FIXATION ON HDDs & CDDs. I didn't realize that they have professional climatic modelers under contract or in their direct employ until very recently. That explains how they [Electric Utilities] were ahead of everyone in acting to protect the low price of Natural Gas long enough for them to "Hedge" & "Contract" for their more precise needs! It makes sense, after all, who has more at stake on TOMORROW'S WEATHER than Regulated Electric Utilities!
Disclosure: I am/we are long NEXT ERA ENERGY & MANY OTHER ENERGY UTILITIES & PRODUCERS.
Additional disclosure: My personal investments are in individual companies that use Energy products rather than Future's trading.