Brazil's gross domestic product fell 3.6 percent in the fourth quarter of 2008, the most on record. And even though it is expected that Latin America's biggest economy shrank in the first three months of 2009, signs of recovery are becoming more visible.

Indeed, during the last few years, exports of agricultural and industrial commodities  had been big drivers of the Brazilian economy and as long as the global economy was performing well, foreign capital was flowing to the country. However, with the worsening of the global financial crisis, the demand for Brazilian products dried up. This January, for the first time since March 2001, Brazil recorded a trade deficit. To make things even worst, unemployment rate spiked to 9% in March and industrial production dropped 17% in January, the biggest fall in 17 years.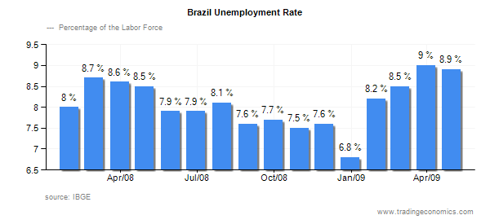 Yet, the Brazilian economy seems to be recovering since April. In fact, exports are steadily rising since reaching the bottom in February.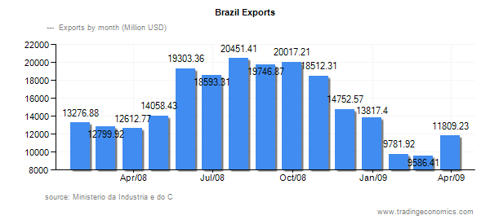 Moreover, in April, Brazil posted a current account surplus for the first time in 19 months as prices and demand for the country's commodities picked up. More importantly, the government has taken various measures to boost credit supply and domestic demand. It has cut taxes and eased bank reserve requirements while the central bank has cut the benchmark interest rate to a record low. In addition, Brazil has built up $200 billion of currency reserves to defend the real and foreign-currency borrowings have mostly been exchanged for real-denominated ones. So, the currency deterioration no longer hurts the government's balance-sheet. The Brazilian real has appreciated 13% against the U.S. dollar since reaching the bottom last November and we expect this rally to continue trough out the rest of 2009.