Crude Oil futures have been on strong sell off these past few weeks.
The markets and by products witnessed a very large sell off between Oct 2018 and Dec. 2018, followed by a very nice bounce and then recently here another sell off which was signaled by the red diamond in the weekly chart below.
Variety of news affecting the crude oil sector, China tariffs, middle east tensions, over supply and much more which you can read about in the news – my focus is the technical outlook and how can one try to take advantage of it.
I feel that the harder the sell off, the more vulnerable the market is for short term spikes, even "violent spikes" at times when short covering takes place or when positive news hit a bear market.
My longer term objective is for crude oil futures to hit $45.16 level within the next 4-8 weeks but I suspect that the psychological $50 mark will be the first line of defense.
$53.41 will be the immediate mark of resistance in case the market attempts to reverse.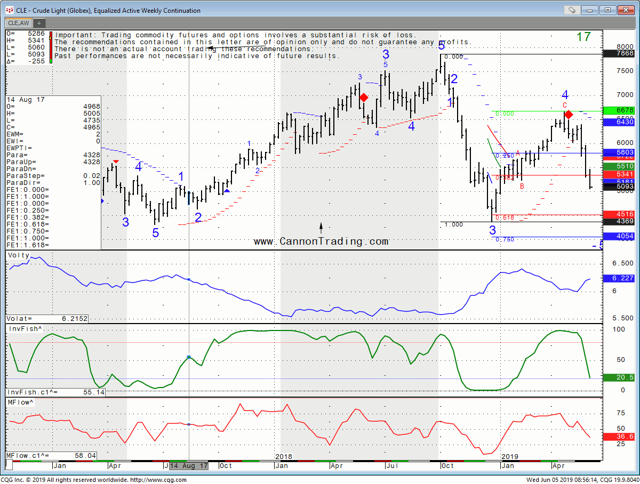 My personal preference is to sell vertical call spreads on rallies and use the cash generated to purchase vertical put spreads. This is a more advanced/ riskier strategy that require better than basic understanding of futures options and the risks involved.
I like the Sept. put spread of $48-$42 ( you buy the 48 put and sell the 42 put on the same transaction). If one can initiate the spread for approximately $1200, I personally feel it offers good risk-reward ratio. If a trader is looking to be more aggressive, he or she can look to sell shorter term call spreads ( Aug 54-57 call spread) if and when the market has a strong bounce. The premium you will collect can help you finance the put spread but on the same token increases your risk.
Either way, be ready for some more wild turns and action in crude oil, heating oil and RBOB ( formerly unleaded gasoline)
To read more about Ilan Levy-Mayer, visit his profile.
You can read Ilan's blog along with daily trading levels on the Cannon's website.
Many ways to trade any market, many ways to lose money in any market and only very few ways to lock in gains - this one is not different. If you need help creating a trading plan, visit our broker assist services.
Disclaimer - Trading Futures, Options on Futures, and retail off-exchange foreign currency transactions involves substantial risk of loss and is not suitable for all investors. Past performance is not indicative of future results. You should carefully consider whether trading is suitable for you in light of your circumstances, knowledge, and financial resources. You may lose all or more of your initial investment. Opinions, market data, and recommendations are subject to change at any time.
There is no guarantee that a quantitative investment strategy will achieve its objectives or that any investor employing such strategies or following such trading recommendations included herein will make a profit. In no event shall Cannon Trading, Inc. or any of its members, officers, employees or representatives, be liable for any claims, losses, costs or damages of any kind, including direct, indirect, punitive, exemplary, incidental, special or, consequential damages, arising out of or in any way connected with any information contained herein.
Disclosure: I/we have no positions in any stocks mentioned, and no plans to initiate any positions within the next 72 hours.
I wrote this article myself, and it expresses my own opinions. I am not receiving compensation for it (other than from Seeking Alpha). I have no business relationship with any company whose stock is mentioned in this article.
Additional disclosure: The writer is a commodity broker and advisor and may be long, short different commodities intraday and may advise clients on longer term positions as they happ