"Getting a second life is one thing. Making a better life, that's the trick."
― Rick Riordan

Announcement: Free-Trial
Last week, I invited you to submit a new name for this Marketplace service which is expanding in the scope of coverage and growing in membership. Thanks to your enthusiastic participation, a new name was found: The Natural Resources Hub or TNRH. 
To celebrate the occasion, I decided to offer a FREE TRIAL to the followers and beyond (see here). I rarely do Free-Trials, so this is a great opportunity.
The FREE TRIAL now is available for a limited time only. Sign up for a FREE TRIAL here now! Contact me at Laurentianresearch01@gmail.com if you think there might be schedule conflict between your free-trial and the Thanksgiving holiday.
Try The Natural Resources Hub risk-free for two weeks and see for yourself how it can help you be a better-informed investor in the natural resources sector.

For the week of November 12, 2017, the Weekly Rambling took us to visit the following names:

Oil & gas resources: Gastar Exploration (GST), Jagged Peak (JAG), Rosehill (ROSE), Canacol (OTCQX:CNNEF), GeoPark (GPRK), PentaNova (OTC:PENYF), Silver Run II (SRUN), Resolute (REN), Granite Oil (OTCQX:GXOCF).
Mineral resources: Nornickel (OTCPK:NILSY), Clean TeQ (OTCQX:CTEQF), Orocobre (OTCPK:OROCF), Eldorado Gold (EGO), Compass Minerals (CMP).

Oil & Gas

Last Friday, after I wrapped up the previous issue of the Weekly Rambling, I opened a bottle of Shiner Bock and sat down to have a moment of rest. Somehow, I suddenly began to worry about oil price. I thought oil price might have a sneeze and I shared my hunch with the subscribing members in the Chat Room at TNRH. We concluded it might or it might not; but if it fell, it would be an entry opportunity because the longer-term outlook could not be brighter. 
Well, I forgot to say knock wood! By sheer bad luck, the week indeed opened with strong headwinds. So I implemented the pre-determined plan and bought a bunch of oil stocks, adding to my oil and gas positions. By today, the newly added shares already start to deliver positive results. I know it's silly to rejoice for one day's gain, but I do feel good regarding two aspects of this week's purchases:
We were able to hash out a plan before the week unfolded. Because I was prepared, I didn't panic when the sell-off swept through essentially the entire oil and gas space, I didn't whine about what was happening, and I acted and bought the stocks I'd like to add at really attractive prices.
These names were not just any random oil stocks whose tickers turned red on the screen. They have been carefully studied with estimated intrinsic values to go by when deciding whether to make the entry. I was there already, trading orders placed, waiting for these stocks to drop to my accounts. As these stocks succumbed one after another, I felt relief and happiness. That's the beauty of valuation-based investing!
This is a busy week with numerous 3Q2017 earnings reporting. I wrote quarterly reviews on the following companies:
On the research front, I wrapped up the research on Gastar (GST). Gastar coverage was initiated back in July 2017, with Asset Report (see here) and a three-part series Company Survey (see here, here, and here). However, a lot has changed in the Mid-Continent region since then. The merger between Silver Run II (SRUN) and Alta Mesa really changed the competitive dynamic there, lifting investor interest in the STACK-SCOOP play through the roof. So it's high time to conduct a major review of the small-cap STACK pure play. With countless literature read, annual reports, quarterly filings and presentations of offset operators digested, I finally finished writing a lengthy 3Q2017 review of Gastar, "Whither Gastar: New Light Shined By 3Q Results", which comes in three parts: Part I, Part II and Part III. Each of these three parts stands as an independent full-length article but, together, they form a multi-faceted in-depth survey. 

Mineral Resources
In response to the request of a subscribing member, I put together a list of 49 lithium E&P companies, complete with their lithium extraction projects and stage of progress (see here). An Excel data sheet is attached for TNRH members to play with. This is just the beginning of a multi-year effort to follow these swarm of companies to rise, to fall, to survive, and to triumph. Along the way, entry or exit points will be identified, including shorting opportunities. Believe me, for some of the junior lithium explorers, there is no way they will survive a lithium price correction, which may arrive unannounced at the maximum complacency (see here).
I continue to conduct research on several mining companies I uncovered in the previous week, with my actionable investment theses on them to be expected in the near future.Orocobre (OTCPK:OROCF) had a great run since we initiated a coverage in early October. The stock made a spoon-and-handle pattern and seems to be on the way to some great gains. However, November 9, it has entered a period of respite. Nothing is alarming because, in the medium-term, the stock looks quite strong (see here).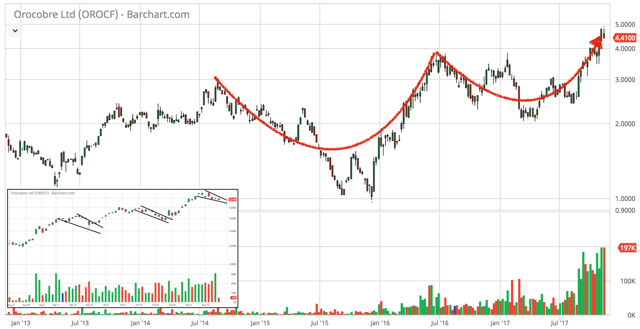 Eldorado Gold (EGO) dropped to an incredible level of undervaluation in the week. At one time EGO touched $1.13 per share, which is even 3 cents lower than the low I predicted in a private chat with one member! During the week, The stock was on the Buy/Sell Alert, which I now send out to subscribing members, all week. Several fellow Seeking Alpha Contributors concur EGO is a deep value. If you bought it during the week, you would enter the weekend a happy person because EGO took off today and shot up by 5%.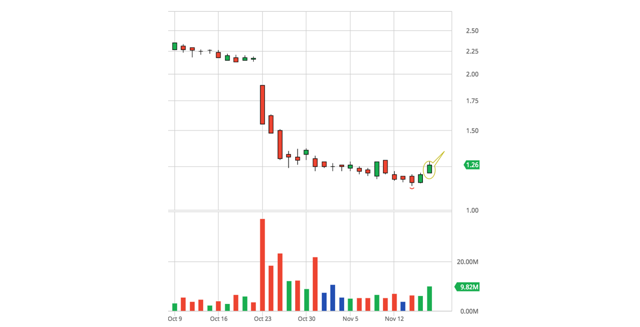 Clean TeQ (OTCQX:CTEQF) also had a correction, which made it land on the TNRH Buy/Sell Alert in the week. Nothing untoward seems to be happening in its business operation. A correction like this is just part of investing life. The key is to go by the valuation-based playbook.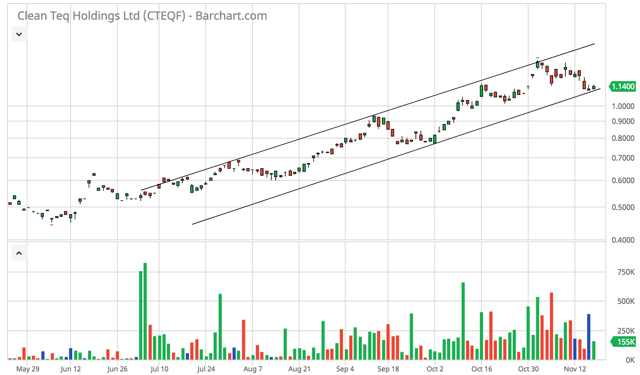 Compass Minerals (CMP) is inching toward the bottom of trading range again. The stock is a "government staple" play supplying highway deicing salt to municipal governments and highway agencies. It is paying a secure 4.47% dividend yield, so qualifies as a member of the Model Portfolio: Income Play.
Else:
Nike (NKE) was a great call made by TNRH in mid-October. It had a powerful run after I alerted an entry. Nike today received a boost from the strong earnings reports of Foot Locker (FL) and Hibbett Sports (HIBB); it rose 3.4%. Foot Locker also announced an elevated partnership model with Nike in what is likely to be a closely-watched development in the retail sector.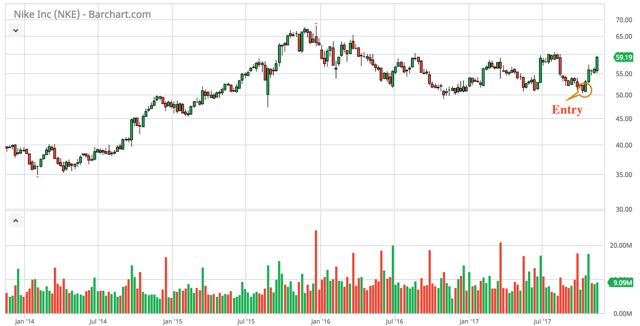 Interesting readings

As oil price recover, investors seem to inch toward a complacency and ignore various risks including geopolitics. The Council on Foreign Relations, aka, CFR, published an article entitled "Oil and a More Muscular Saudi Arabia" (see here). In the article, the author highlighted the conundrum the Kingdon faces domestically and in the Gulf region. 
Maybe the CFR is looking at the House of Saud wearing a pair of rosy sunglasses. Chris Martenson, on the other hand, paints a rather intense future involving a destabilizing Saudi Arabia, regionally hegemonic Iran, an ambitious China, a conspiring Russia, and a U.S. that has been much weakened during the Obama years. He prophesies, "unless something very dramatically changes in either the supply or demand equation for oil, and soon, we can now put a timeline in place for when the great unraveling begins. Somewhere between the second half of 2018 and the end of 2019 oil will dramatically increase in price and that will shake the foundations of the global mountain of debt and its related underfunded liabilities. Think 9.0 on the financial Richter scale." Read here for yourself and excuse me for my having to go and get prepared for the predicted events.

What I bought in the week & how does it perform?
As the Marketplace subscribers have already been alerted to, I initiated a few new positions and closed a few cyclical play stocks last week.

To the Model Portfolio: Cyclical Play,
I bought a whole bunch of oil names that had plunged during the week, as I alerted to the subscribing members. These include Canacol (OTCQX:CNNEF), Resolute (REN), and Gastar (GST). 
Resolute Energy (REN) had an extremely weird week. On November 13, it first announced it was going to have a debt offering; then, within a few hours, it withdrew the offering, thus leaving the entire world wondering what might have happened behind doors. The confused investors got panic and sold like the company was going to declare five dry holes in a row, even S&P and Fitch's normal credit ratings couldn't calm the market. We analyzed the situation in the TNRH Chat Room extensively as it developed and quickly figured out what was going on with a great number of members participating including some top industry insiders. Based on the conclusion reached in the Chat Room, I backed up the truck on REN, exiting the week a very happy man.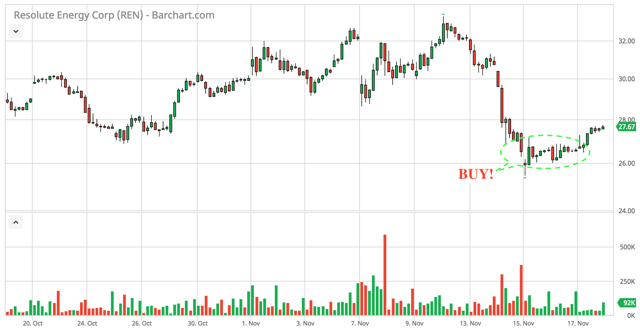 To the Model Portfolio: Long-term Play:
I added Eldorado Gold (EGO) and Clean TeQ (OTCQX:CTEQF), both mentioned above.
To the Model Portfolio: Income Play, 
I recently added Nornickel (OTCPK:NILSY) and Granite Oil (OTCQX:GXOCF). In the past week, I added a little to the Granite Oil position in the Model Portfolio: Income Play. Granite Oil pays dividends monthly at a dividend yield of 11%. The sell-off was totally irrational and the capitulators will most likely regret their decision soon.
Compass Minerals (CMP), which is yielding 4.47% in secure dividends, looks attractive now.