"When I was able to get down the road a ways and look back, I realized success is 90% perseverance. The key is to stay in the game." - Trevor Rees-Jones

Oil & Gas
What distinguishes this round of oil price weakness from those in August, October, and November is the lack of a parabolic rise in the culminating part of the upswing.
This can be caused by a number of factors, individually or in combination. Among them, the short-term supply-demand variations comes atop; since Wall Street banks began to chant oil supply-demand is balanced, the contrarian part of me murmurs maybe in the short-term (yes, it's February now), supply is a bit on the strong side for demand to handle, considering the U.S. shale producers ramp up output and OPEC really didn't cut production as recent news suggests. The recent trends in Treasury note interest rates and U.S. dollar may have complicated the oil price movement too, which I am totally ignorant.
At any rate, the crude oil prices have been in an uptrend for seven months by now, rising over 50% from the June 2017 low. A bull of any breeds would be a bit tired after that long a run. Going forward, where the oil price is hearing? I don't know and allow me to share a secret with you: nobody knows for sure.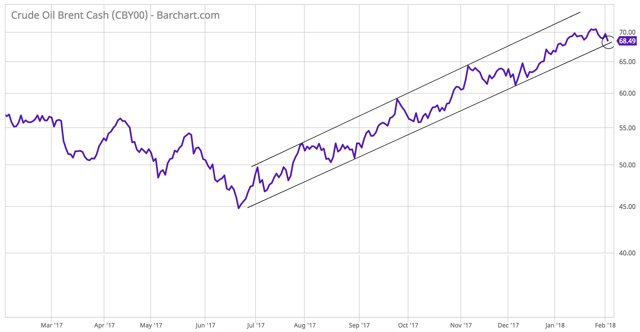 However, I strive to exclude an assumption of future crude oil price from my investment thesis. My goal is to identify E&P businesses that own low-cost assets (so that I can be sure they will survive the oil crashes and can make more money per barrel produced while emerging from the industry downturn) and are capable of growing rainy or sunny. Oftentimes, I am proved totally wrong on my commodity price forecast (usually too pessimistic) but still make money from oil equity, which is okay to me because I invest to profit rather than to be proven right. In other words, I am lucky time and again.
The little secret of the good luck lies in my stubborn insistence on the presence of a sizeable margin of safety before I open the wallet. No, I don't rely on anybody's oil price forecast, no matter how uplifting or dispiriting it is, into buying a stock. No, I don't trust the management's promise of growth targets, regardless of how sexy they are. When I hit the purchase button, I need to have the conviction accorded to me by the margin of safety, which is secured by low-cost assets, efficient operations, and profitable growth, which are made possible by a frugal, shareholder-friendly, and able management.
In the past two weeks, I have immersed in the research on Eagle Energy (OTC:EGRGF), a $20-million E&P company with assets in Canada and Texas. I believe the right elements are aligning up for this wee-sized firm to get some recognition from the market. My results are presented in three articles here, here, and here.

Mineral Resources
The lithium developers/producers came out of a bear market in early 2016 and had a hell of a run in the last two years, rising over 100%. Along the way, they had only one real respite, i.e., from middle to late 2016.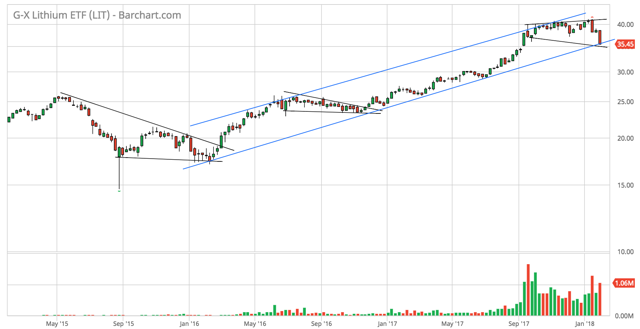 Well, they are now officially in the second correction, which would have been a mild rest but the market has been quite antsy of late so it looked for an excuse to throw a fit. The long-sought-after agreement reached between SQM (SQM) and Corfo, the Chilean government agency, triggered a rather scary fall. True, Corfo got everything it wanted from SQM but it is beyond me how a Chilean royalty term can affect lithium developers in Argentina and Australia. The agreement pretty much went along the line of a previous agreement reached between Corfo and Albemarle (ALB). True, SQM can now apply for large-scale production ramp-up, which may flood the market in five year's time. But aren't we aware of those hundreds of lithium projects all over the world in various stage of exploration or development? 
My article entitled "Norilsk Nickel: This Mining Giant Is Poised To Deliver" was presented to the free side this week (see here). Read as soon as you can because, according to a Seeking Alpha new rule, articles like this are only accessible for free for 10 days before they are placed behind a paywall.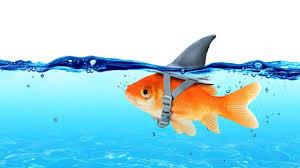 Others
I began to pull money out of the long-term buy-and-hold positions a couple of months ago. The first group is pharmaceutical/biotech stocks, e.g., Novo Nordisk (NVO), Regeneron (REGN), Acadia (ACAD), and Gilead (GILD), because they have risen to giddy altitudes. Second, I sold railroad operator Union Pacific (UNP), one of my favorite long-term holdings, because the transportation sector as a whole seems ripe for a major correction. Third, I withdrew my bet on Shopify (SHOP) and MercadoLibre (MELI) after a nice gain in a few month, both of which I have entered and exited multiple times in the past. 
These divestitures led to some dry powder for deployment in the natural resources stocks which are currently being sold off.
What I bought in the week & how does it perform?
I alert the TNRH members on buy and sell trades in two ways. I tell the members of the trade orders I am about to enter or just entered on the fly in the Chat Room; I also summarize the trades executed or unfilled during the day in the Daily Buy/Sell Alert, which goes out to members through email upon market close.
Over the past week, I have been on a buying spree for the stocks identified for acquisition for the TNRH Model Portfolio. If these stocks continue to fall, I plan to continue to buy. Why? Because they are below the entry levels as defined by their estimated intrinsic value and requisite margin of safety. That's how I actively manage my actual and the model portfolios.

Interesting readings

Last week, I mentioned a few reading materials that I believe can be quite useful for those who would like to have an idea of how to value oil stocks.
This week, I am pleased to recommend some great pieces written by our TNRH members. I was really inspired and learned a lot from these articles and I hope you will enjoy them too:
"E&P Investors: 18+ Things To Watch In 2018" - Part One (see here) by Raw Energy;
"E&P Investors: 18+ Things To Watch In 2018" - Part Two (see here) by Raw Energy;
"This Is Why The Rally In U.S. Treasury 10-Year Yield Should Be The Only Thing The Market Pays Attention To" (see here) by HFIR.
I don't think these three articles will hide behind the newly-erected paywall, but I still highly recommend you read them while it's still warm. If I were you, I couldn't wait to read them. 

TNRH Infrastructure
The Great Chat Room of TNRH is becoming a popular salon where business information is exchanged, investment ideas are sound boarded, questions are asked and answered, and the fun of investing is shared. It is really a beautiful sight to see a wonderful community is taking shape there. I encourage all of the TNRH members to take advantage of this great resource.
Some gems are extracted and compiled into articles for TNRH member's convenient access. Here is the latest article resultant from such an effort: 
"Stock Warrants: What, Why, And How?" (see here) by Archangel Investment Group.
The Grandfathering Rule & Subscription Rates
As part of TNRH infrastructure building, I wrote an article to explain one great benefit Seeking Alpha Marketplace service subscribers, i.e., you can take advantage to but some of you, unfortunately, didn't (see here). 
I am talking about the grandfathering rule. According to that rule, your subscription rate is locked in at the level when you last became a member of TNRH for life. In other words, your subscription rate is grandfathered for life.
Even though TNRH will be raising the rate schedule as a result of our coverage and scope expansion, your rate will stay as it was. So every time when the rate is raised, your investment in the membership at TNRH appreciates at the same pace.
The next rate hike is scheduled on March 1 and the increase will be 33% on the monthly subscription and 18% on the annual subscription. That means your membership will be appreciating 18-33% on that day. 
The implications for you are: 
It is a rational move for the monthly subscribers to switch to an annual subscription because the annual subscribers get a substantial discount. To switch to an annual subscription, send an email to subscriptions@seekingalpha.com and tell Seeking Alpha that you'd like to adjust your The Natural Resources Hub to an annual subscription and they will do that for you quickly.
Tell your friends to act now and subscribe to TNRH to lock in the current, low subscription rate. They can subscribe here.
This Free Trial is an opportunity to save 33% and gain access to all of my now-paywalled articles!
The natural resources sector is poised for massive upside. I'd like to help you take advantage of the profit potential built into this once-in-a-decade opportunity. My Marketplace service, The Natural Resources Hub, provides timely commentary and insights, along with my best investing ideas, to help you become a better-informed and more successful natural resources investor.

My stock pick for 2017 ended up the best performer in the E&P space. That's right! GeoPark (GPRK) rose some 130% in the year. You could benefit from my best ideas too by joining The Natural Resources Hub.

I am currently running a free trial. Come and experience one of the top Marketplace exclusive services for two weeks for free. Better yet, lock in the current, low subscription rate before a price hike scheduled next month. This is a limited-time offer so act now! Sign up for The Natural Resources Hub today.
Disclosure: I am/we are long The TNRH model portfolios.