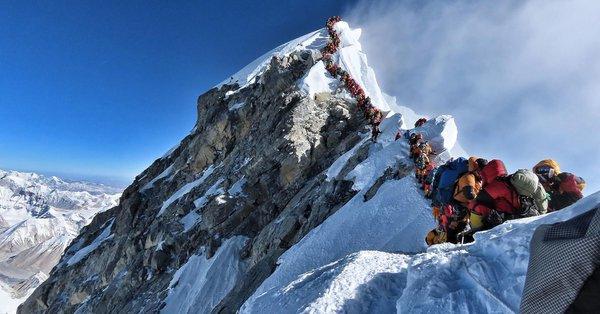 Dear followers of Laurentian Research,
We just turned on free trial at The Natural Resources Hub (TNRH®). It's risk-free for you to sign up for two weeks of trial. This is an opportunity for you to find out why so many TNRH® members are crazy about our proprietary contents, tools, and services.
For the general public, we are offering a 20% discount during the holiday season. For you, dear followers of Laurentian Research, we have a special offer of a 30% discount for a limited time; if you're interested, please contact Laurentian Research via DM by clicking "Send Message" at the top.
Warmest regards,
Laurentian Research

While we continue to search for new ideas in the natural resources sector, closely monitor our stock picks therein, and adjust the portfolios accordingly, it is about time to relaunch the Digitial Resources for GARP and DGI investing.
I think you will be very pleased five years from now if you pay attention to this new development at TNRH®. Allow me to explain below why it is so.
The digital resources space is part of the wide-moat stocks which I have been investing in for decades. Digital Resources has been my favorite hunting ground for years. Some of my multi-baggers are from this space (Fig. 1), e.g., 15-bagger Copart (CPRT), 10-baggers Intercontinental Exchange (ICE) and Visa (V), and seven-bagger Moody's (MCO), (see here).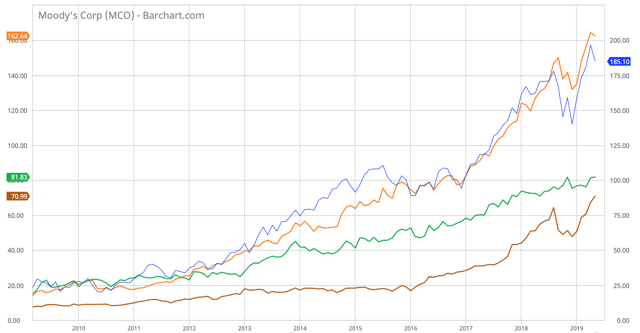 Fig. 1. Stock charts of a few examples of participants in the digital resources space. Golden, Visa (V); blue, Moody's (MCO); green, Intercontinental Exchange (ICE); brown, Copart (CPRT). Source.
You probably sensed the palpable excitement I showed when I talked about stocks in the digital resources space, e.g., Equifax (EFX)(see here). But you probably have never heard of the term Digital Resources; that's because I coined the term to refer to a collection of businesses that share important commonalities.
This is a special group of businesses hailing from various industries, in a nutshell, share the following features:
A unique value proposition. By accumulating and processing big data, or enabling data-intensive operations, these B2B companies generate recurring, subscription-based revenue from business or government customers.
Wide moat. They command a monopolistic or oligarchic position in their niche, protected by enormous barriers to entry, some network effects, and switching costs, which gives them a sustainable competitive advantage over the fellow industry participants they serve. They tend to show resilience during industry crises.
Dominance in native industry. They are deeply entrenched in their respective native industries. Some of them were even bankrolled at their birth by home industry advocacy groups. They then expand into adjacent industries.
Aggressive acquisitions. In an expansion of their service into adjacent verticals, they usually face a fragmented competitive landscape, fertile for M&A, which further fuels rapid growth.
Capital and operational efficiency. They develop scalable solutions that are built once and installable or sellable countless times. So, they are capital-light and can operate very efficiently. They typically generate superior profitability and deliver a high rate of returns on invested capital.

Table 1. The competitive landscape of the digital resources space. Source: Laurentian Research.
The digital resources plays are similar to natural resource extractors in that both own certain assets; they differ from the natural resource extractors in that their assets are digital and intangible.
The digital resources plays are different from the generic IT companies in that they own digital assets from which they generate revenue from recurring customers, but they are relatively insulated from the cyclicity.

In investing, it is important (1) to always avoid the crowd; (2) to know that investors are not rewarded for the degree of difficulty as in gymnastics. The picture atop this article demonstrates these points; three climbers died while getting stuck in the crowd which all wanted to reach the peak of Mt. Everest.
The digital resources space is full of opportunities for investors. However, to successfully invest in this space, we need advantageous entries. Entry opportunities into the incumbent members of this space typically arise during market crashes (Fig. 1), while entry opportunities into emerging players come with early identification of domain disruptors before they are discovered by the multitude.
As with any other investment space, there are established players and emerging new members in the digital resources space (Table 1). Examples of the former include Moody's (MCO), while examples of the latter include Palantir.
There appears to be a pecking order in the digital resources space, from information vendors at the bottom, via infrastructure plays, to platform owners (see here)(Table 1).

To me, it is a natural decision to extend the TNRH® coverage from 'natural resources' to digital resources. From my previous work experience, I believe I have grown a particular understanding of digital resources, which deplete so must be replenished, which show a spectrum from commodity-like to rare and sparse, and which can be valued in a way similar to natural resource assets.
Please note, this expansion to digital resources won't negatively affect our existing coverage of the natural resources sector. That is because, as you may have noticed, with TNRH® 3.0, I began to focus on quality names and stopped covering a host of minion ideas, thus freeing up time for new areas such as digital resources.