We're just moments away from a big election surprise that will shock most Americans…
And if you know what to do, you could walk away with a handsome return on investment the moment the midterm election result is announced.
There's no time to waste… You only have one shot…
Once the election result is announced, this opportunity to make 16 grand in one day could be gone forever!
This is one of the closely contested election races in all US mid-term election history. Voter turnout is unusually higher than past midterms. The pollsters and the mainstream media are predicting there will be a "Blue Wave" where Democrats will steal control of the House of Representatives from Republicans. Media houses and investors have hedged their bets on a Democratic victory and that's pretty much the sentiment on Wallstreet, markets have already started to factor in a Republican loss.
Everyone should prepare for the biggest shock in this midterm election. Everyone will be astounded, everyone including Democrats, the media and investors will stunned in disbelief and disappointment. When the final results are tallied, it will confirm one thing: they were all dead wrong! There will be no Blue Wave.
Republicans will score a major surprise victory, dominate the House of Representatives and continue to control the political agenda in Washington.
This sounds crazy and goes against the popular sentiment that we are hearing from the mainstream media. But this is not the first time that the media is wrong.
In 2016, the pollsters, the mainstream media and liberal pundits all predicted Brexit would never happen. They were so certain that if anyone said they were all wrong, everybody was stunned.
And 99.9% of investors lost money the day Brexit was announced because they listened to the media and the pundits.
But a small group of smart investors who followed advice based on contrarian research actually had a chance to make $2,850 in a matter of days.
The same thing happened a few months later.
The pollsters, the mainstream media and pundits all predicted Hillary Clinton would sweep Donald Trump and claim the Presidency.
Once again, they were all wrong.
Again, investors who listened turned small investments of $5,000 into $44,650. Why? The markets exploded higher after the Trump election.
We are now just moments away from a similar surprise. Republicans are about to score a surprise victory and hold the House.
It's important for investors to turn off all the media noise. And if you listen carefully to the market signals and know what to do, you could turn easily $1,000 into as much as $16,330 on the day midterm election results are announced.
How do you know that's the potential here? There are several credible investible opportunities and you could walk away with excellent returns on your investments
First, let me show you why the polls are wrong.
Bad polling samples. By now you've probably heard that the polls are predicting the Democrats will steal control of the House from Republicans.
Like in 2016 the model used by pollsters to predict the outcome is heavily skewed towards oversampling liberal leaning voters – Democrats. According to the Washington Examiner, "mainstream polls use 29% more Democrats than Republicans."
This means that many polls you hear are actually biased and those results cannot be relied on.
Misleading voter turnout. The other problem with polls is that people are not truthful whether they will vote or not. The Harvard Business Review says, "People tend to say they're going to vote when they won't".
You can never predict who will vote on an election day based on a poll. So you will hardly see the so called "Blue Wave" the mainstream media is talking about.
An energized Republican base. The third reason is that Republicans are energized by the chaotic Kavanaugh hearing, which was nothing more than a circus orchestrated by Democrats. Even the Washington Post admits that:
"We know that Republicans support Kavanaugh and are energized to vote [this election]."
So expect a greater turnout of Republicans at the ballot box during the mid-term elections.
All of these combined give way to a Republican surprise victory on November 6th.
Let's illustrate this by means of an example or two.
Newmont Mining. In early in June 2016, the shares of gold stock Newmont Mining was flashing a buy signal but most investors ignored this.
On June 24, 2016 the so-called Brexit shocked the world when UK voters chose to leave the European Union. This created widespread panic in the markets. USA Today published a story with the headline, "US stocks hammered as Brexit shock rocks markets."
It then went on to say, "The US stock market suffered its worst drop in 10 months Friday as shock over the UK voters' move to exit the European Union… sent global markets into a tailspin."
In the US, the big surprise wiped out roughly $800 billion in market value. Then a few weeks later something interesting happened with shares of Newmont Mining.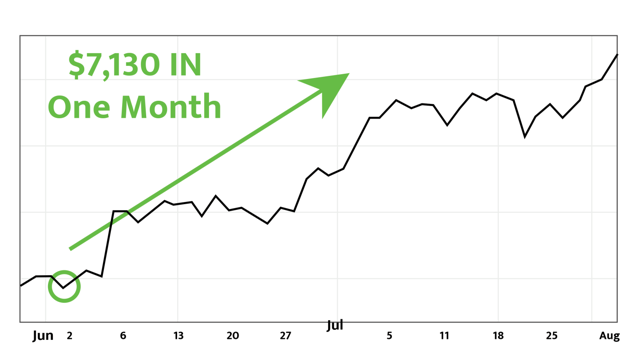 In the midst of the market carnage, shares EXPLODED after Brexit was announced.
Later a story by CNBC explained what was behind the big move: "Newmont is likely benefiting from its gold mining operations as investors seek safe havens from the volatile markets."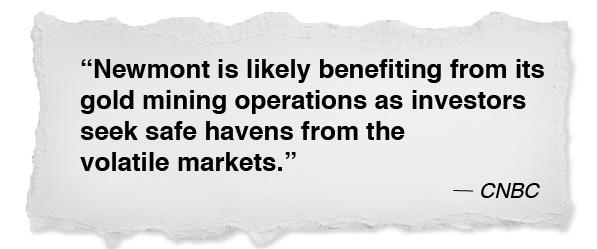 By the time regular folks like you heard about this from CNBC it was already too late to profit.
2016 the Presidential Election
Here's another case in point. Let's quickly see what happened during the last presidential election.
Right up until election night, the so-called political analysts were giving Hillary a 98% chance of winning. And by all accounts, it appeared that they were right.
It would have been foolish for anyone to go against this sentiment and downright stupid to claim that Trump would win. But that's what happened.
On November 6, two days before the election the shares of steel companies, US Steel and AK Steel, were flashing buy signals. Again but most investors ignored this.
Three days later shares of those two companies exploded after the election result was announced.
Remember, during the election campaign Trump promised to spend $550 billion on infrastructure projects, including bridges, highways and buildings. Projects that would boost demand for steel.
Was the signal on those two steel companies telling us Trump would win? Had you invested $1,000 when the buy signal flashed for AK Steel, you could have made $10,830 in a little more than two weeks.
When Trump was declared the winner at 2:45 am on November 9, shares of those companies exploded instantly.
By the time the markets opened, it was already too late to profit. You had to be in the trade before the election result was announced.
Everyone else was late to the party.
It wasn't until November 14 that the Financial Times wrote, "US Steel and AK Steel saw their stock ratings upgraded by Morgan Stanley analysts in the wake of last week's election, pushing their share prices up."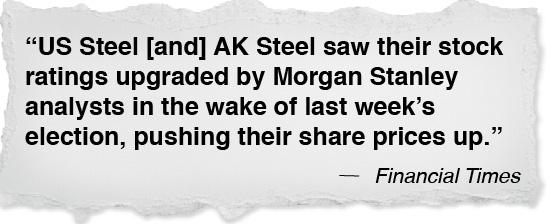 What these example show is that you cannot rely completely on the mainstream media to influence investment choice. You sometimes need to switch off all the noise.
The mainstream media says that the Democrats will steal the House. Our data we have indicates there will be another election surprise – the Republicans will keep the house. You decide.
Disclosure: I/we have no positions in any stocks mentioned, and no plans to initiate any positions within the next 72 hours.